Another year and another season ends with our rival losing consecutive games to close out an unfulfilled campaign. That Team finished the 2018 "Revenge Tour" by losing to Ohio State and Florida by a combined score of 103-54. Over the last 18 seasons, our rival has finished the season with at least two straight losses 15 times.
Harbaugh's Record in Big Games

| OPPONENT | RECORD |
| --- | --- |
| RANKED OPPONENTS | 8–10 |
| OHIO STATE | 0–4 |
| BOWL GAMES | 1–3 |
| MICHIGAN STATE | 2–2 |
Ending a season with losses to Ohio State and their bowl opponent is nothing new for the fans of the most miserable team on the planet. Since the Jim Tressel and Urban Meyer eras began in 2001, the Wolverines are 5–31 (.139) in the last two games of the season and have only finished one season with a win over Ohio State and its bowl opponent. That year? 2011, when the Buckeyes were led by Luke Fickell, an interim coach. 
If you like seeing That Team and its fan base suffer, the numbers get better. Over the last 18 seasons, our rival didn't make it to a bowl game 3 times and has lost to Ohio State in 16 of the 18 games played. Since 2009 the Wolverines finished with three or more straight losses four times. Speaking of 2009, that year our rival's season ended with five straight defeats and the team stayed home during the bowl games. 
Harbaugh, Their Hero
Remember when mgoblog celebrated the hiring of Jimmy Boy with "It's Happening"? Well, this is what has happened, The One Who Wears Khakis is 1–7 against Ohio State and his bowl opponent. The lone win was in his first season against Florida in the prestigious Buffalo Wild Wings Bowl. Since that great victory, the Wolverines have gone 0–6 and have been defeated by an average score of 37-25.
Go here to see how Jimmy H. compares to John Cooper.
Although their record to close out a season is abysmal, at least the fans of That Team are getting to go to some great bowl games under Crazy Jimmy's regime, right? Nope. Not unless you consider the Capital One, Outback, Peach and Buffalo Wild Wing Bowls top-tier. I sure as hell don't. 
The One Who Wears Khakis has a losing record against ranked opponents, is 1–9 against Top 10 teams and has accumulated 14 losses in four seasons.To put that in perspective, Urban Meyer has 9 losses as Ohio State's head coach over seven seasons.
So, let's find out how the fans of That Team responded to their beloved squad finishing with back-to-back losses for the third consecutive season under Captain Crazy.

It was hazardous, but well worth the venture on mgoblog.com to read through the comments in the game recap on mgoblog. Now you don't have to read all 344 comments. 
As always, the words are theirs. It was difficult, but spelling and grammatical errors were not corrected. 
Note: This is written as a reminder on how not to respond when your favorite team loses or struggles. It's also nice to revel in their misery.
 
TURNING ON THE ONE WHO WEARS KHAKIS
mgoblueben
Any chance at us becoming an elite squad under Harbaugh has dwindled to zero. Pissing off elite players who then transfer, cant get your players to stand by their brothers for a NY6 game, continuing to use an archaic offense in 2018, and not beating your rival once. 

taut
Well, with the aggregate performance over the last four seasons and particularly the last two games, it seems Harbaugh's coaching, game time management, offensive scheme and play input, and defensive adjustments (yes, I know, D Brown, but the buck stops with Jim) haven't been worth the $30 million he's been compensated. Underperforming/overpaid, take your choice, but I'm not impressed.

Michigan is still clearly not in the top tier of performance despite being in the top tier of compensation.

Maize4Life
Ok I'll say it.JH should pay back his salary for accomplishing Absolutely NOTHING

Blue Sharpie
These 2nd half collapses are brutal.  Two in a row, and last year's bowl game.  Our bowl preparation is highly suspect.

There seems to be enough data over 4 years to show a trend of late season underperformance compared to earlier in the season.  Why?

JPC
When your team "body blows" every opponent, that's twelve times more damage to your guys than you are inflicting on any single opponent.

It's 100% Harbaugh.  

TheCube
This is not 7 million dollar material. 

HateSparty
The fans who mention his pay are the worst. Jealous and inferior feeling. Losers.

bluepdx
Huh?

His pay is directly relevant to his value as a coach. The results are not consistent w/ what expectations are and should be for someone at the top end of the pay scale. 

That's an objective concept, having nothing to do w/ inferiority complex of the commenter.

93Grad
Sadly this is the justification of most pro Harbaugh posts at this point.  They compare him to the worst decade of Michigan football in the modern era 

taut
Top-3 compensation, at a Top-10 reputation football school shouldn't yield merely Top-15 performance. Something's out of whack here.

The finger has to point at the coaches, starting with Harbaugh.

glmike
Embarrassing game plan on both sides!  If no staff/philosophical changes are not made, next year will have a minimum of three regular season loses (ND, OSU, @PSU)... pathetic!

KBLOW
It's the way we lost, not just losing. Seemingly a team that quit, a coaching staff who couldn't motivate the team or come up with a good game plan or adjust on the fly, an experienced QB not playing up to his potential,  failure to use our great WRs effectively, etc,. etc. etc. 

This wasn't just a sloppy game that we lost through bad bounces and poor reffing. This was a beat down. 

Boomer519
OK ok, I'm finally on board. If there is not big time change then it's time to move on from Harbaugh. 38 wins in 4 years sounds great till you look at these last two losses. Michigan is no closer to the playoffs than they were before Harbaugh arrived. 

Jevablue
harbs is yet another rigid dogmatic unadaptable coach.  His particular dogma is better than RichRod and Hoke but he ain't changing and the outside reality cannot change it. 

M-Dog
I'd rather have somebody coaching that can beat Ohio State and win big games against top competition, even if he does not know the difference between Ufer and Yost.

Harbaugh is not a great college coach at this point.  He has put in a system that does not work well with college players.  

Don
I suspect Harbaugh at Michigan might be Johnny Majors at Tennessee: the legendary hero comes back "home" to right a troubled program, raising expectations of yearly championships... which turn out to be a rarity.

stephenrjking
Michigan is inferior in the key moments. The talent is there. The effort is there-it's not like they don't watch film and practice. 

The issue is Harbaugh. 

Clarence Boddicker
That offense is disjointed trash. We need a real OC to install a modern spread or an rpo, and to call plays. Harbaugh has got to give up playcalling. 

Maize4Life
We now have Michigans version of John Cooper..Time for a change..for 7 Million ud think he could beat somebody besides Maryland

thevetdoc1
We do not have a top ten coach. A good coach, no Hoke Joke, but not a great coach.

UM2002
To me, until JH changes his offense and defense strategy to adjust to the core talents he recruits every year, we should expect more of the same. This year's Ohio State game opened up my eyes to it.
All hail Harbaugh the 5th best coach in the BIG and top 25 nationally ...  – UMFan1980
TURNING ON DOWN BROWN 
M-Dog
Has Don Brown at Michigan ever beaten a team that finished in the top ten (i.e. a truly good team when it was all said and done)?

Maybe PSU in mid-season 2016 when they were still figuring out the Moorhead system.  I'm not sure I can think of anybody else at all.

He has not stopped or even slowed down top teams at all.

Maizenblueball
I don't think he has.  I agree with your other comment about Don Brown needing to modify his scheme. Like you said, he needs another pitch besides just a fastball.

M-Dog
Don Brown needs to modify his scheme. 

He needs another pitch besides just a fastball. 

He gets burned too often in situations where he just needs to contain.  Dudes running themselves out of the play is not going to change that.

bweldon
7 Touchdowns of over 20 yards in the last 2 games.  This defense has gone from playing good assignment football to trying to make the big play.  There have been to many busted coverages and to many run assignments that have been missed.  

JohnGalt
Michigan played three teams with an offensive pulse and lost all three games and should've lost to Indiana.   Brown is a major contributor to the problem. 
Don Brown needs to go.– Go Blue 80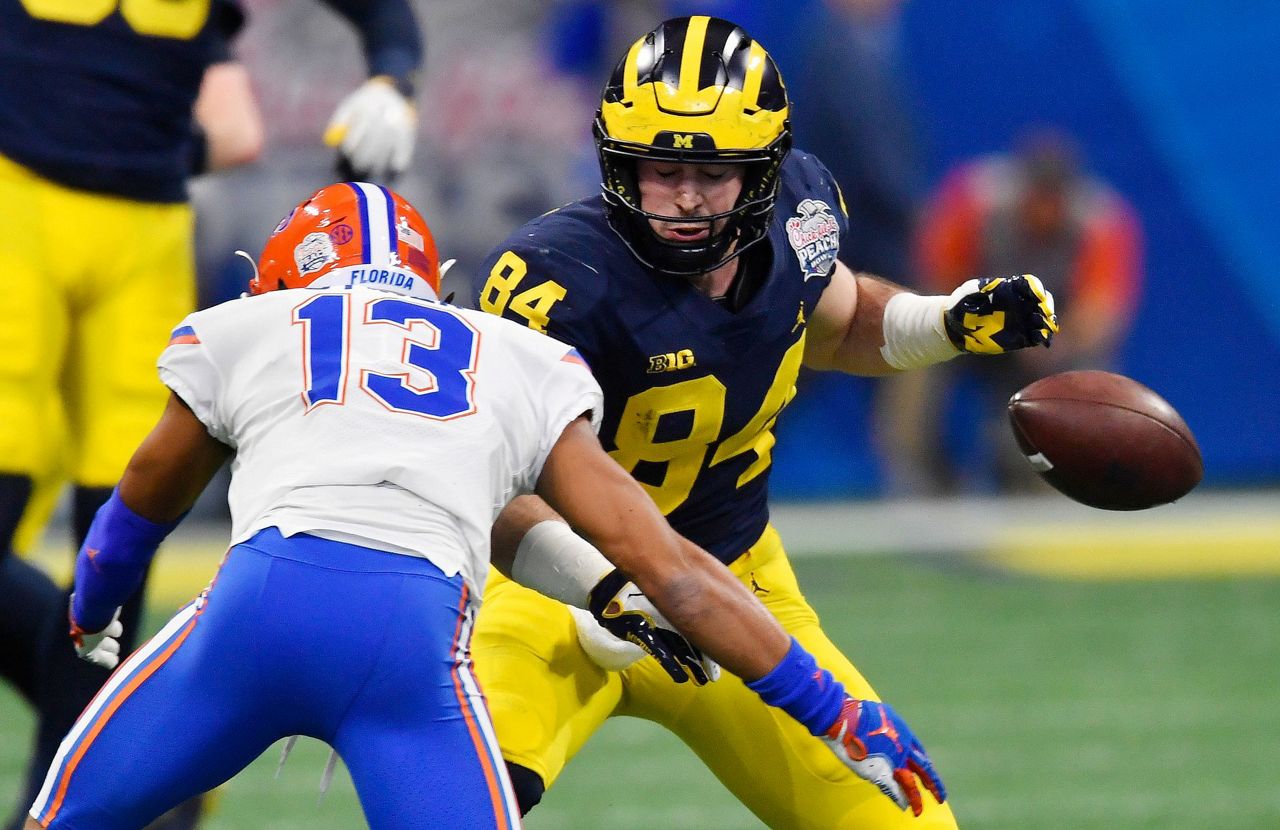 TURNING ON THE TEAM AND THOSE THAT DID NOT PLAY
blueday
Losers quit ...

JohnGalt
College football is the opportunity to audition for the NFL.  If you don't want it, then let someone else have a shot.   If you do then shut the fuck up, play football, don't quit, and go to class.  These kids live like fricking kings so stop the pay the player shit because they receive benefits that the average American can only dream of. 

Maize4Life
I'm not wasting One more dollar on a bowl game to watch a JV version missing selfish players who QUIT on the team and fans...

ST3
I started reading a book during the third quarter. If this selfish, "me first" attitude continues, don't be surprised when the fans who make those millions possible for the lucky few stop giving a fuck and the gravy train stops running for all the rest of the scholarship athletes.

Khaki
Semester is over the guys who did not play are not going to enroll for Spring semester. The bowl game is actually the university asking for a freebie.

Kevin13
At the very lease I wouldn't take the players to the bowl game and let them enjoy all the festivities with it. You quit now and don't want to be part of the team. Ok fine head home and get yourself prepared for the draft. 

FrozeMangoes
The player should do whatever the hell he thinks is best for his future.. Just like the school has zero problems cutting him the second he isn't good enough to help the team.  

ghostofhoke
Brian (site owner) should've quit after that stupid podcast with John U Bacon prior to Ohio St where he was yapping about how the game would be a cakewalk and we'd blow them out. Dumbfuck

User -not That user
For some reason Florida doesn't seem to have a problem convincing their best players to play in a "meaningless" game.

Magnum P.I.
Whether you consider the game meaningless or not, this is going to hurt program morale. A lot.
"The Team, The Team, The Team," has been replaced by, "The me, the me, the me." – ST3

TURNING ON EACH OTHER

FGB
They (bowl games) are meaningless and shouldn't be played at all. As evidenced by the apathy of the coaching staff, a large chunk of players, probably TV ratings too.   Can't blame the players that rich greedy old white men force the games to happen anyway. 

Um1994
"rich greedy old white men"...I went to Michigan..this is typical Michigan.. . congratulations.  

rice4114
Its time to hold the fans responsible. 350 posts about how this doesnt matter. Fuck thr majotity of this fan base. The players are following the lead of all these bsndwagon fans. Get the fuck off the train and stay off. If #7 in a NYE6 game means nothing to you stay off this board. Take off your jersey and put on your patriots jersey or whatever. 

HateSparty
The fans who mention his pay are the worst. Jealous and inferior feeling. Losers.

bluepdx
Huh?

His pay is directly relevant to his value as a coach. The results are not consistent w/ what expectations are and should be for someone at the top end of the pay scale. 

That's an objective concept, having nothing to do w/ inferiority complex of the commenter.

JohnGalt
Sparty typed that as he cleaned off his 25 participation trophies for little league soccer 

Hei2man
Fuck this. Michigan fans should never have to apologize for having expectations and anyone who accepts this line of thinking is a fucking loser.

TheCube
What gives UM FANS THE RIGHT? How about the god damn AD always parading around the fact that we are the winningest program in the sport!!

 

Maybe Michigan should just stop marketing itself like a blue blood then since you know we were never good to begin with. 

 

Fucking idiots you guys are. 

the Glove
Worst fan base in football based on reading these comments. Fire your 10 win coach...? Three 10 win season in 4 years for the 4th time in program history. So dumb.

MercuryHaesInRetroGrade
The problem with the fan base is people who are accepting of shelling out this level of cash and getting this level of return. Maybe he can go to south africa and prepare his team to come out super soft and get waxed in every big game they play!
THOUGHTS ABOUT NEXT YEAR
glmike
Embarrassing game plan on both sides!  If no staff/philosophical changes are not made, next year will have a minimum of three regular season loses (ND, OSU, @PSU)... pathetic!

ESNY
Better make wholesale changes to coaching staff. The delay of game on the first play after the safety is a perfect representation of how disjointed, confused and inept our offense has become. 

M-Dog
I have not felt this way since the Oregon loss in 2007.

There are STRUCTURAL issues with this team.

Both the offense and the defense are constructed to control teams with lesser talent.

There is NO evidence to-date that either is effective against elite top ten competition.

And there is no magic recruit or transfer on the horizon that is going to change any of that.

Maizenblueball
There need to be coaching changes on Offense.  Harbaugh needs to hire a great OC, AND be willing to relinquish his control of the Offense.  The O just isn't working.

As for the D, welp, clearly the better teams have figured out how to attack Don Brown's man defenses.

Chork
Well, here we are.

mitchewr
If today's results was the coaches participating and doing their best, then maybe they should sit out. 
Jevablue
Coach needs to understand that the only person deceived by his game plans is himself.  And the players deserve better. Mullen is no future hall of famer but dang did Harbs make him look like one. 

Come on man. Be honest with yourself and change some stuff. 

Esterhouse
What's truly sick? Based upon past Michigan experience James Joseph Harbaugh, aka The Second Coming of Bo Schembechler, will double down on his failures.

Jim literally must be stopped before he ruins it all. Yet our community won't take active steps to recall Jim, will we? In fact Jim's son Jay continues to ruin players under his domain and we merely witness the failure parade.

Northville
On the bright side, no way he marches back in with Pep next year. Surely a highly-paid, proven OC is in UM's future.
They all suck, players and coaches. Soft pussies.– Kevbo1
THE DELUSIONAL
wolverine1492
We are literally just as good as Alabama over the last 5 years!!!

CincyBlue
#basketball school

XtremeUmich
Sac the fuck up! (If you have them) you can be upset at what was left of our team losing but quit the nonsense bitching and whining. Brian Kelly was 4-8 in 2016, and today they get to pose a CFP game. Keep building, go blue!

Blarvey
To everyone pointing to Harbaugh's record, I'll just say that Dabo Swinney was 1-3 against South Carolina in his first four seasons and his bowl game in that fourth season was the 70-33 beatdown from WVU in the Orange Bowl. He took Clemson from "Clemsoning" to national champs.
SIGNS OF INTELLIGENCE
Crootin
When your argument is "Harbaugh is better than RichRod and Hoke", you know you're completely lost

Cranky Dave
I spent today working on my "mini farm".  Have 3 chickens with a 4th on the way.  Expanded my composting from a small bin to a 45 sq ft chicken wire enclosure. Added to the pile so that I have 90 cubic ft going. 14 year old stepson helped all day. 

All that to say I'm glad I didn't watch or even look at the score until now. I'm not even mad, or even surprised at the score. 

Esterhouse
I've been an active fan and It's been decades since we've actually been a contender. Since we have managed to win the clutch games against a top opponent.

Obviously I care else I wouldn't be posting here. However I just don't care very much anymore.

Catchafire
OSU has hurt program morale... Losing the last game religiously every year does that.

jbrandimore
Simply a complete disaster.

The entire season was a failure.

Billy
The fans here would have you believe that this program is a top 5 program....based on what?  one title in the last 60 some years lol based on 11 titles which all happened before anyone gave a flying fuck.  

Crime Reporter
Didn't catch a second of it and I'm fine. It sounds like typical Michigan bullshit. I just laughed upon seeing the score. The days of this stuff bothering me are fading. It feels good.

BlueSided
Saying that non-playoff bowls are "meaningless" is something mostly losers do and will continue to say.  The game would not have been viewed as meaningless had UM won. 
This is who michigan is: Can't win big games, can't beat osu, and cant stop living in the past. – Billy
DAD JOKE TIME
444
Has Michigan ever given up 103 points in back to back games before???

jbrandimore
Yes...Beilein has done it dozens of times.

M-Dog
Probably less than Harbaugh though.

stmccoy
Michigan football showing up unprepared to disappoint in a big game is as predictable as the sunrise. 

"FANS" WHO QUIT WATCHING THE TEAM
Goggles Paisano
Good call (skipping the game).  Watching it was like walking in your parents having sex.  It scars you for life and really elevates your Bpone. 

alablue
Glad I opted to go to a wedding today with the wife. It was the long version of a Catholic Wedding. Still less painful then this game sounds. I won't even both watching the replay. Man iam getting tired of saying next year. 

McConkey
Really glad I spent the majority of this afternoon shooting guns until the real football started.  Embarrassing in big games.  Plain and simple.

Alumnus93
don't feel so bad... i'm currently vacationing in Lake Tahoe, and took the day off of skiing, so I could watch the game.... whoops...

SouthOfHeaven
Wow, glad I had to work today for this one. I hadn't missed a game in years, but it looks like if there was one to miss, this was it. I don't think I'll be watching this one after the fact, either.

BE CONCERNED FOR THIS INDIVIDUAL
Couchman
Wow. Four hours and a bottle of Tequila since the game ended and I'm actually MORE depressed. It's going to be a long seven months before that barn-burner of an opener against the Middle Tennessee Dental College Fighting Hygienists.