Really, the only way for Michigan to have make an early season tilt against the woebegone Nebraska Cornhuskers at all entertaining in any way was to completely destroy them, but everything else about this season suggested that wasn't super likely.
So of course they went out and won by 46 points in the most watchable Michigan win of the season. Shows what I know.
I mean, I get the argument from some people who say they want Michigan to be terrible and boring for all eternity and that they'd love watching the greatest rivalry in sports fart itself to death. I'm just not that guy. Crappy, boring Michigan teams will force me to rename this thing to Penn State Pthursdays and hope nobody notices.
Good or bad, my first inclination is to hope that Michigan is at least interesting; the Rich Rod teams were terrible, but they were a fascinating kind of terrible that were fun to watch go up against a Jim Tressel program that was its complete opposite in every way. And a good Michigan team furthers a rivalry that I think makes both schools more important.
But a mediocre, predictable Michigan? Nobody wants that. And they weren't that last weekend.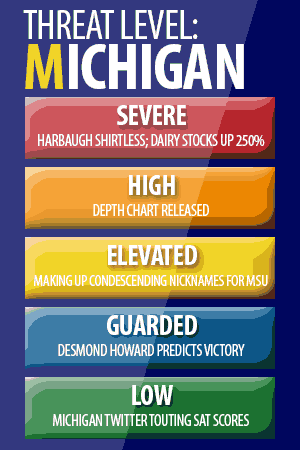 THREAT LEVEL
This was complete domination from Michigan on virtually every level. They had almost 500 yards of total offense (including 285 on the ground), and Karan Higdon made a huge statement with 136 yards on only 12 carries. Shea Patterson had a somewhat quiet game, but that's mostly because he really wasn't needed to administer the ass-kicking that was taking place. Still, if you absolutely have to hear a negative from me in terms of offense, it's odd that Donovan Peoples-Jones was a ghost receiving the ball despite his monster game last week.
But wait, the dude had a punt return for a touchdown! And Quinn Nordin hit a 50 yard field goal. And Michigan got a safety. Etcetera.
Defensively, Michigan held Nebraska to only 132 total yards and allowed 12 first downs, and it feels like all of those were accumulated on the final few Husker drives of the game. Nebraska quarterback Adrian Martinez was 7/15 for 22 yards and an interception, which... hang on, I'm checking my notes here... is bad.
But you know what? Screw all that. The real hero here is fullback/bowling ball filled with cement Ben Mason, who scored three touchdowns on runs of 1, 4, and 1 yards. Mason has nine rushing attempts in 2018 for 23 yards. And four touchdowns. Last season he had three carries for four yards. And two touchdowns. He's the best player on the team.
Anyway, this was good and fun and entertaining. Let's see if Harbaugh and company can keep this up in Evanston against Northwestern. The Threat Level has been tentatively raised to ELEVATED.