The B1G's worst NCAA Tournament loss in recent memory took place in West Lafayette. Last week, it switched to Columbus.
It was an ironic juxtaposition. Back in 2021 your 2-seed Ohio State Buckeyes gave Oral Roberts its first tournament win in 47 years, losing to the Golden Eagles on Purdue's home floor that brought March Madness to a humiliating end.
The Buckeyes traveling to West Lafayette and taking a shocking loss? I know, imagine that.
But just two seasons later, Purdue became the second top seed ever to lose to a 16-seed, falling to Fairleigh Dickinson in Nationwide Arena. This is a loss without peer - FDU plays its home games in a building that cannot accommodate 1,200 people without a visit from the fire marshal.
That "arena" was built in 1987 for a cool one million dollars - the price a "house" in New Jersey. The undersized 23-point commuter school underdogs beat the Boilermakers by five.
It's not always cataclysmic, humiliating upsets like those two. Usually, it's just quietly bowing out unspectacularly, like Indiana did late Sunday night to Miami. The Hurricanes, who looked like a high school team lined up against the much rangier and favored Hoosiers won their meeting by 16 points.
Purdue's game was designed for drawing whistles and play stoppages. That's not how NCAA Tournament officiating works.
IU's Trayce Jackson-Davis and Purdue's Zach Edey - 40% of this season's 1st team All-America team - were the tallest guys on the floor for their respective final college games. And they were both small-balled out of the tournament. Neither one of them got into their normal rhythms, and their teammates panicked.
No one seems to be asking why. Why did two of the best teams in the conference look like that? Well, we stopped being curious years ago - this happens every season; curiosity hasn't been rewarded.
B1G teams with established identities suddenly look nothing like themselves as their progress comes to an undignified and often premature end. It's not talent (Oral Roberts? FDU?) or coaching.
B1G men's basketball teams end up not looking like themselves for the better part of 40 minutes because the two months leading into March put them in position to fail, annually. It's the conference officiating, which transforms "basketball" into "B1G basketball" every year.
Those two months establish the teams' identities, which become liabilities once conference play concludes. We're into our third decade of this tradition. The last B1G program to star in the One Shining Moment video was Tom Izzo's 2000 Michigan State team.
Only two current Spartans, both grad students, were alive for that. MSU has been to six Final Fours since then, and is the only B1G program still currently dancing. They're still viewed nationally as underdogs despite the program's pedigree.
Unfortunately, they're mired in the same trap as the rest of the conference. Izzo would be better off coaching in any other conference than the one he's lorded over for a quarter century.
January
February
Izzo#B1Gstats x #MarchMadness pic.twitter.com/FsgKOKawO8

— Big Ten Network (@BigTenNetwork) March 21, 2023
Every other B1G program got knocked out early, or like Ohio State and Michigan, did not get the chance to pull their jerseys over their sad faces this year. This isn't a blip or a run of bad luck. This is the conference's track record and perception for every current player. Even the grad students.
B1G's non-Sparty programs have combined for just nine Final Fours since 2000, and no we're not counting pre-B1G Maryland, whose six tournament wins since coming over from the ACC in 2014 ties them with Penn State, Northwestern, Rutgers and Nebraska combined, all-time.
That's nearly a third of the conference with a deeply unserious men's basketball legacy. The Cornhuskers have never won a tournament game. They have been fielding a team since 1897. This century, the optics seem better, the money is definitely flowing - but the results are mediocre.
B1G feels like a serious basketball conference in November, when it's punching its weight in key non-conference matchups and performing admirably in events like the B1G-ACC challenge. The ACC has produced 30 (!) more NBA lottery picks than the B1G since 2000 and only went 13-8-3 in it. B1G flexes its considerable strength up right until the calendar flips.
And then conference play descends on the Midwest and everywhere else B1G now plants its flag.
Its teams enter the schedule hot off their winning records against a major opponent or two along with several directional schools and rec league teams before descending into the slog of *Raycom voice* Big Ten basketball. And thus begins the descent into the inevitable March exit.
The pace slows down. Officials conspicuously decide to make each night all about them. If any half of B1G basketball gets to the 8-minute media timeout without both teams in the double-bonus, well someone with a whistle must have been sleepy.
By the time February bows, offenses are designed to get to the foul line and their success relies on free throw attempts while sending opponent starters to the bench. You cannot watch a B1G broadcast without the FT line comparison becoming a prevailing theme. Star player foul counts dominate the discussion.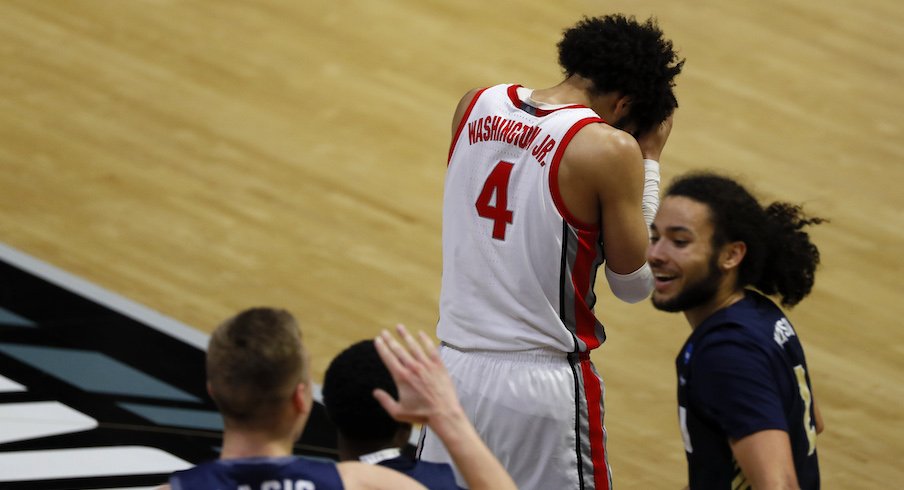 For this year's conference champion and no-1 seed, that meant shooting more free throws than all of its opponents - every single night - in part because of its seven-and-a-half foot foul-magnet of a center. Edey shot 241 free throws this season. He gets the ball inside and scores, gets fouled, or draws enough attention to free up a shooter. 
The Boilermakers arrived in Columbus coming off the B1G Tournament intent on continuing to play its brand of basketball - not the one that wrecked Duke and Gonzaga in November, but the one designed for whistles, play stoppages and unhindered 15-foot flat-footed one-point baskets complemented by open three-pointers.
The one that won them a conference title. That's B1G basketball. It's the perfect recipe for winning in Indianapolis and then securing a participation trophy in the NCAA Tournament.
When FDU's coach watched Purdue's tape, he told his team on camera he thought they could beat them. It seemed audacious, but he was watching entire games - not just highlights. He knew what Purdue was getting into. He knew they were going to be uncomfortable no matter whom they were facing.
He knew what its conference mates were getting into too - he probably would have said the same thing if they were facing Illinois or Iowa. There is a reason B1G teams are annually throw off-schedule when B1G refs are no longer controlling the games.
So when its chosen few are reintroduced into the wild after the conclusion of conference play, they generally look confused. Routine fouls teams relied on the past two months are now a part of what's deemed permissible defense.
B1G doesn't Participate in the type of basketball that's played in March — until the tournament starts, and it shows.
As a result, the game moves far more quickly than they're accustomed to and without nearly as many official stoppages. The transition game takes over. In their only tournament outing, Edey had FDU guys hanging off of him while staring at the officials to do their jobs.
But they were not B1G officials. This wasn't a B1G game. They were doing their jobs.

March delivers the high-stakes, win-or-die basketball the country loves, featuring a game that closely resembles what the rest of the country participates in during January and February. The B1G doesn't get involved in this type of basketball until the tournament starts, and it shows.
It's decades-long March problem is of its own making, from how gameplay morphs into a slog every January to how its officiating has turned basketball into a Draw the Most Fouls contest. Then the prosecution of the rulebook changes, and the teams dancing abruptly find themselves in a strange land.
It's a tough needle to thread for programs like Ohio State, who need to demonstrate competitiveness during conference play (they were projected among the top 16 seeds back when it started) while also maintaining the seasoning for playing a basketball game that isn't dictated or directed by how the refs are feeling that night.
A better strategy would be to align B1G officiating with what's seen in the rest of the country. Then, maybe more than just one program - usually, the same one - might live to see the second weekend. The teams that survive and advance into the tournament might be in better position to actually look like themselves in March.
Instead, they look like talented teams who just spent two months studying for the wrong exam.