The transfer portal continues to fill up at an unprecedented rate.
Dozens of players have decided to put their names into the mix, and the list of players seeking new destinations only continues to grow. More than 1,200 college basketball players are either currently in the portal or have already transferred this cycle, and the number grows larger by the day. 
Some of the transfers stem from the NCAA extending a blanket waiver to give all players an additional year of eligibility. Some of them are due to coaching changes. Some happen because of an increasingly widespread belief that they'll be able to get waivers to be immediately eligible. But in large part, this transfer craze is just the nature of college hoops in the modern era.
Transfers are part of today's game that isn't going away anytime soon, and the Big Ten isn't immune from that fact.
Ohio State experienced it first-hand a year ago when DJ Carton, Luther Muhammad and Alonzo Gaffney transferred out of the program which replaced them in part with Harvard's Seth Towns, Bucknell's Jimmy Sotos and Utah State's Abel Porter. This year, the Buckeyes haven't seen quite so much movement in the two weeks since their season came to a close. They have lost Musa Jallow to transfer and added Penn State's Jamari Wheeler. Some familiar names – TCU's Jaedon LeDee (transfer), Missouri's Torrence Watson (decommit) and North Carolina State's Braxton Beverly (decommit) – are going through the process right now. 
The conference as a whole, however, has been impacted in a big way, which obviously affects the outlook of the 2021-22 season in a significant way.
A total of 36 scholarship players from the Big Ten have entered the transfer portal – they're either in there now or have already chosen a destination – and the Final Four hasn't even gotten underway. Put differently, approximately 20 percent of all scholarship players in the conference last season have already announced plans to transfer.
Combining those with the losses of Illinois' Ayo Dosunmu, Iowa's Luka Garza and others either graduating or heading to the NBA, it's clear that the Big Ten will look drastically different the next time these 14 teams take the court.
With the transfer portal the topic du jour in college hoops right now, we figured it would be helpful to go through the conference and update everybody on who's leaving – or at least is exploring options. Here's a look at the outgoing transfer situation for each Big Ten team.
Illinois
Miller grew up in Illinois, managed 8.3 points in 25.5 minutes per game as a true freshman and was set to take over as the go-to guy for the Illini next year with Dosunmu and (presumably) Kofi Cockburn moving on. So, his addition to the portal on Thursday was a complete shock. Provided Brad Underwood can't convince him to stay, Illinois will have to retool on the fly around Andre Curbelo and Giorgi Bezhanishvili. Not ideal, to say the least.
Indiana
Al Durham (Providence)
Armaan Franklin (TBD)
Jordan Geronimo (TBD)
Khristian Lander (TBD)
Race Thompson (TBD)
Jacquez Henderson - Walk-on (TBD)
Archie Miller's firing naturally opened the door for several Hoosiers to explore options elsewhere. Franklin, Durham and Thompson were the second-, third- and fourth-leading scorers on the team, respectively. The good thing for Mike Woodson? Some of these guys have said they're open to the possibility of sticking around. Lander, a former five-star point guard who enrolled early, struggled last season but is a native Hoosier and has a high ceiling. Keeping him, along with guys like Thompson and Franklin, would give Woodson some important pieces for Year 1. But since they're in the portal, it's not a given by any means that they'll be back.
Iowa
Jack Nunge (TBD)
Michael Baer - Walk-on (TBD)
Austin Ash - Walk-on (TBD)
The only scholarship transfer so far has been Nunge, whose father tragically died before the beginning of last season. Understandably, the Newburgh, Indiana, native wants to finish his time in college at a school closer to his family. On the court, the Hawkeyes will miss him, considering he would have been a big part of their post-Garza frontcourt plans.
Maryland
Chol Marial (TBD)
Connor Odom - Walk-on (TBD)
Mark Turgeon saw several guys transfer last year, but there hasn't been much transition in College Park thus far. Marial played sparingly as a 7-foot-2 reserve center. 
Michigan
Nothing yet. The Wolverines' season just wrapped up. 
Michigan State
Rocket Watts (TBD)
Jack Hoiberg - Walk-on (UT Arlington)
So far, there has only been one scholarship player – Watts (7.7 points per game) – to bounce. Watts never put it all together after arriving in 2019 as a top-40 overall recruit. The Spartans already landed Northeastern guard Tyson Walker to help replace him. After a turbulent season in which the Spartans only snuck into the NCAA tournament with a late push, most expected some roster movement, so this isn't much of a surprise. But Tom Izzo's teams have had exceptionally few transfers, so anybody leaving is at least somewhat of an anomaly.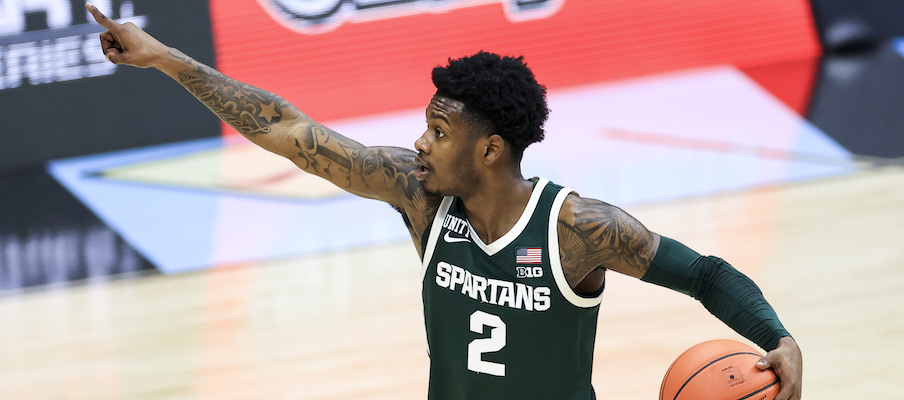 Minnesota
Marcus Carr (TBD)
Sam Freeman (TBD)
Gabe Kalscheur (TBD)
Jamal Mashburn Jr. (TBD)
Martice Mitchell (TBD)
Jarvis Omersa (TBD)
Tre Williams (TBD)
Um. Good luck, Ben Johnson. Richard Pitino didn't leave his successor with the cleanest roster situation, to say the least. Carr was a first-team All-Big Ten selection who averaged nearly 20 points a game. Kalscheur put up 9.2 a game, and Mashburn showed some promise as a freshman. Johnson will try to keep whoever he can. But the Golden Gophers are a full-fledged rebuilding project.
Nebraska
Teddy Allen (TBD)
Akol Arop (TBD)
Yvan Ouedraogo (TBD)
Elijah Wood (TBD)
Bret Porter - Walk-on (TBD)
The Fred Hoiberg transfer mania continues. Roster continuity won't be a theme of his tenure, and that's the case once more as he retools again this offseason. Ouedraogo, Arop and Wood were all sparsely-used players off the bench, but Allen was the leading scorer at 16.5 points per game. Allen has already been on three Division-I teams, so he might end up just going pro.
Northwestern
The positive? Chris Collins has only lost one guy. The negative? That one guy was the second-leading scorer last season and a key piece of Northwestern's future plans. Kopp, who had 11.3 points per game last year, is seeing what else is out there for him. The Wildcats are set to bring back most other key pieces, including Chase Audige, Boo Buie and Pete Nance, so they could be more formidable next season. But losing Kopp hurts.
Ohio State
So far, just one Buckeye has hopped into the portal. Jallow's exit wasn't too much of a surprise considering his ankle surgeries slowed down his development and that fact that he wouldn't have been in line for a much larger role next season. It's 2021, so it wouldn't be surprising to see one more player opt to test out the portal. Right now, though, Jallow has been the only departure.
Penn State
Trent Buttrick (TBD)
John Harrar (TBD)
Myreon Jones (TBD)
Patrick Kelly (TBD)
Seth Lundy (TBD)
Kyle McCloskey (TBD)
Jamari Wheeler (Ohio State)
New head coach Micah Shrewsberry has one heck of a challenge in front of him given the number of guys who have already gone into the transfer portal. Three of the team's top four scorers are searching for other homes, and Wheeler – a two-time All-Big Ten Defensive Team pick – is Ohio State-bound. The Nittany Lions will be rebuilding regardless of whether or not Shrewsberry can get any of the guys in the portal to stick around for the beginning of his tenure.
Purdue
Emmanuel Dowuona (TBD)
Aaron Wheeler (St. John's)
The majority of Matt Painter's exceedingly young roster plans to stick around, but the Boilermakers did lose Wheeler, who was a rotation player off the bench. He had 3.9 points and 4.4 boards in 18.3 minutes per game last season. Dowuona played nine games in three years at Purdue. Unless others bounce unexpectedly, Purdue will be a popular pick atop the league next year.
Rutgers
Myles Johnson (TBD)
Jacob Young (TBD)
Rutgers just won its first NCAA tournament game in 38 years, but that didn't ward off the transfer bug. The Scarlet Knights lost both their starting point guard and center to the portal. Young was second on the team at 14.1 points per game, and Johnson averaged eight points and 8.5 boards a game. Replacing them won't come easy for Steve Pikiell.
Wisconsin
Trevor Anderson (TBD)
Joseph Hedstrom (TBD)
Nate Reuvers (TBD)
Walt McGrory - Walk-on (South Dakota)
As one of the most veteran teams in college basketball last season, the Badgers already knew they'd have a lot to replace. And now they'll also have to move on from an outgoing senior starter (Reuvers), a backup guard (Anderson) and a reserve big man (Anderson) too. Wisconsin will look pretty different when next season comes around.