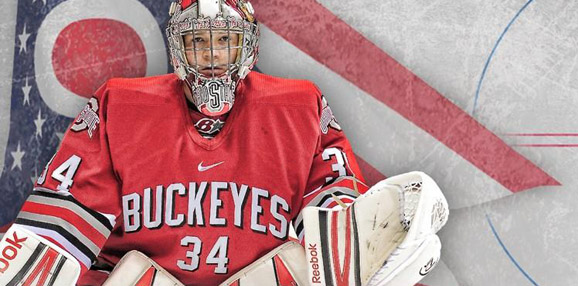 Ohio State senior goalie Brady Hjelle was one of three Buckeyes honored with all-conference selections by the CCHA on Wednesday. Also named were sophomore Tanner Fritz as a second team forward and sophomore Ryan Dzingel, who earned honorable mention recognition at forward.
Hjelle was a workhorse for the Buckeyes, starting 24 games – including the final 22 games – helping the team secure the four seed for the CCHA tourney. He led the league with four shutouts, and his 1.89 goals-against average and .937 save percentage ranked second among CCHA goaltenders that logged at least 50 percent of their team's minutes.
Fritz, from Grande Prairie, Alberta, won the league scoring crown, leading the CCHA with 32 points in league play, including 23 helpers. Fritz was named CCHA Player of the Month for February and finished the season on fire, scoring 11 points in Ohio State's last five games.
Dzingel finished third in CCHA scoring with 28 points, coming on 10 goals and 18 assists. He's also riding a hot streak, with a point in 12 of his last 14 games. 
Big Ten hockey begins next season, so the CCHA will disband and Hjelle, Fritz and Dzingel will become answers to trivia questions (really, obscure trivia questions). Ohio State, along with Bowling Green, Ohio University and Sant Louis University were founding members of the league in 1971.
No. 4 Ohio State hosts No. 5 Ferris State this weekend in a best-of-three series beginning Friday at 7:05 p.m. at the OSU Ice Rink. The teams will meet again on Saturday at the same time and place. They two teams will play again Sunday if needed.