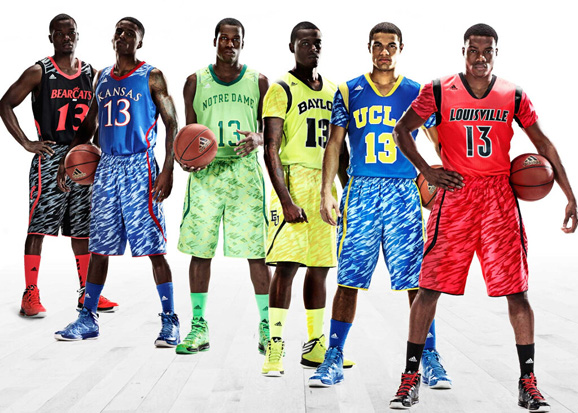 These are the new Adidas-designed uniforms six college teams – Cincinnati, Kansas, Notre Dame, Baylor, UCLA, and Louisville – will debut for their conference basketball tournaments in two weeks.
Here's a description of these monstrosities, from a Notre Dame press release:
"The adizero uniform system gives players the leading performance technology with a distinctive on-court style," says Chris McGuire, adidas Director of Sports Marketing. "The postseason brings together the best teams in the country and these uniforms celebrate the excitement of the game letting players stand out during college basketball's biggest moments. The Notre Dame basketball teams will wear the most innovative basketball uniforms and footwear to help them elevate their games during the most important time of the year."

Designed for a bold on-court look the adizero uniform system is made from 60 percent recycled materials and features FORMOTION technology for comfort and maximum mobility during shooting and dribbling. The uniforms feature adidas' quick drying Revolution 30 technology found in current NBA uniforms and ClimaCool zones which move heat and moisture away from the body to keep the jersey light and dry during heavy sweating. The super-lightweight woven short is designed for improved breathability and a closer, more comfortable fit with compression base layers.
Who cares if they have sleeves and bring back memories of the worst of the early nineties, these things have FORMOTION technology. Whatever that is.
Never been a better day to be a Nike school, really. Also, we're incredibly crestfallen to learn Michigan will not be one of the schools embarrassing its fanbase in these. C'mon, Dave Brandon, we thought you were edgy.