The third eligible member of the Pickerington Borens with NFL aspirations gets his shot to impress today. Zach joins quarterbacks, wide receivers and his fellow running backs at the NFL combine. He'll be back at his original Ohio State position.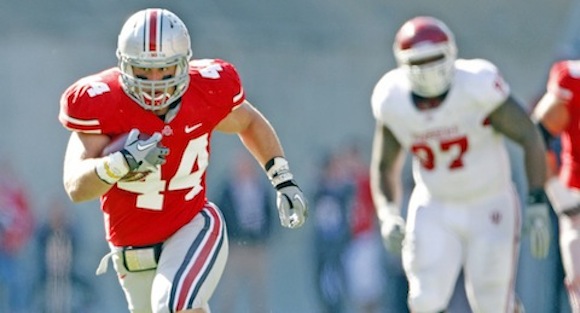 STRENGTHS Utilized as a lead-blocker from I-formation and H-back spot during his career. Brings attitude to his blocks, dropping his hips to explode into the chest of bigger defenders to knock them backwards. Athletic enough to stay on linebacker blocks throughout a play if he chooses. Presents a good target out of the backfield, possessing flexibility to adjust to throws while turned and solid hands. Has some quickness into his route and agility to make a defender miss, and can run through an arm tackle for the extra yard. Also uses flexibility to adjust to oncoming defenders as a lead blocker, chipping them off their route to the ball. Anchors against blitzers in pass protection.Will contribute on special teams coverage units. Showed awareness and agility as a linebacker

WEAKNESSES A bit shorter than teams prefer as an H-back. Does not have a lot of experience carrying the ball. Needs to prove he can be effective in short yardage situations. Could stay on his blocks more consistently, at times preferring to punch instead of latching on, allowing his man to get back into plays. Lack of experience at the linebacker position.

NFL COMPARISON Korey Hall

BOTTOM LINE The Ohio Defensive Player of the Year as a senior in high school took to his new role of fullback immediately, and has proven the blocking skills to stick at the position. However, his emergence at linebacker for the Buckeyes towards the end of his season will perhaps entice teams to use him there. Regardless, Boren will find at the very least be able to find a role in the NFL based upon his special-teams ability.