The 2014 Ohio State recruiting class is billing itself as the "Dream 14." There's no doubt that the class has already shown camaraderie and a little bit of swagger.
But the question most Buckeye fans have is: just how many of these guys can make an impact in their first year?
Urban Meyer is putting together an extraordinary class of young athletes. As such, I believe several members of the Dream 14 group could see significant playing time next season.
You really never know what to expect out of a freshman, and it's a good rule of thumb never to expect too much too soon. It's possible that none of those mentioned below will sniff the field, and it's equally plausible that many of the Dream 14 players not discussed herein could become surprise contributors almost immediately.
We're still a few weeks away from National Signing Day. What better time to speculate on which players (most of who are still unsigned) might see the field next year? To me, there are 13 guys who stand out as having a decent chance to get on the field early.
Let's start with a position battle that has limited competition. Sean Nuernberger is an early enrollee out of Buckner, Ky. The incoming freshman kicker has a big leg, and will battle it out with veteran backup Kyle Clinton. This will be an open competition with Drew Basil's graduation. It all comes down to whoever performs best, but if Nuernberger is as good as advertised — and shows it — he could nail down the starting gig.
A good place to look for potential freshman contributors is in areas where the team lacks depth. Ohio State specifically will need to address departures and/or depth issues at wide receiver, linebacker, offensive line and defensive back.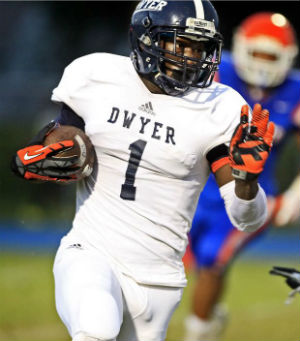 Philly Brown and Chris Fields are moving on, opening up a couple of slots at wide receiver. In addition, Devin Smith and Evan Spencer have not yet performed at the level they must for Tom Herman's offense to reach its full potential. As such, there are opportunities for young receivers to see the field.
While the favorites to move up the depth chart are returning guys like James Clark, Jalin Marshall, juco transfer Corey Smith and Georgia Tech transfer Jeff Greene, the fight for the two-deep at wide receiver will be quite a battle.
Johnnie Dixon out of West Palm Beach, Fl., looks to me like a player who could challenge for a spot early. Dixon has impressed me and already appears to be more polished than many older players on the roster were coming out of high school.
Curtis Samuel from Brooklyn, N.Y., is another player I like, although he'lls serve in more of a Dontre Wilson-type hybrid role than as a straight-up receiver. Samuel has been described as a bigger, faster Wilson and that speaks volumes. Both Dixon and Samuel enrolled early and will have a jump on the rest of the incoming competition.
No position has been as big a question mark for Ohio State these last two seasons than linebacker. Ryan Shazier is off to the NFL and everyone else has had only limited success, at best. There will be ample opportunity for spots to be taken in the two-deep and possibly even as starters.
Raekwon McMillan out of Hinesville, Ga., has made it clear that he came to Columbus to start, not be a backup. McMillan enrolled early and will press hard for early playing time. I would not be surprised if he made good on his mission to crack the starting lineup as a freshman. He's a gifted athlete with good size (6-3, 235 pounds), speed and instincts. He'll be tough to keep off the field.
Kyle Berger (Cleveland), Sam Hubbard (Cincinnati), and Dante Booker (Akron) are Ohio boys who will also be in the mix early. Along with McMillan, this trio will be battling with incumbent starters Curtis Grant and Josh Perry. Other competition will come from Cam Williams, Darron Lee and Mike Mitchell. Linebacker is a position that appears to be in good hands moving forward.
With four starters on the offensive line graduating, Ed Warinner will have his hands full this off-season. Warinner has worked wonders in the past, converting college tight end Reid Fragel into an NFL lineman and plugging freshman Taylor Decker into Fragel's vacated spot last season. Jack Mewhort, Andrew Norwell, Corey Linsley and Marcus Hall are moving on. There will be opportunities.
Decker, Pat Elflein and Jacoby Boren seem like locks for three of the spots on the line. That leaves two starting spots and a bunch of positions in the two-deep to fill. Meyer has done a great job filling needs on the line, despite missing out on a few targets. Look for early enrollee Marcelys Jones out of Cleveland's Glenville (Pipeline) program to compete for playing time. You may recall he was the first member of the Dream 14.
Kyle Trout out of Lancaster is another large young man who is already enrolled at Ohio State. That will help his chances of getting into games in 2014. One freshman who won't be on campus until the fall, but who I believe has a chance to possibly even push for a starting role due to his natural ability, is Demetrius Knox out of Fort Worth, Texas.
While some are high on Chicago product Jamarco Jones, I think not enrolling early may be the difference between getting into the O-line two-deep and possibly redshirting.
The times they are a-changin' in Ohio State's defensive backfield. Bradley Roby has declared for the NFL Draft, leaving an open starting position at corner that will see plenty of competition. I expect new assistant Chris Ash to evaluate guys a little differently. I never liked that Ohio State separated guys into "field" or "boundary" corner positions.  Let the best corners play, I say. But hey, I'm not getting paid hundreds of thousands of dollars to coach.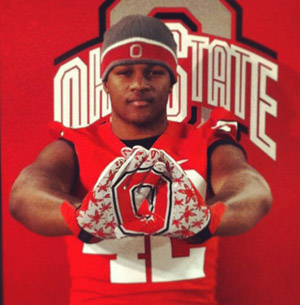 Armani Reeves will be the frontrunner in the battle to replace Roby at cornerback, opposite returning starter Doran Grant. But even Grant may feel some heat from the younger guys if they perform in camp.  Eli Apple and Gareon Conley will provide that heat, but so too might a couple of young guns.
Erick Smith is another Glenville product and he has been extremely impressive. His coming out party occurred at Friday Night Lights, and he was all over the field in the Army All-American Bowl, showing the ability to cover, effectively serve as a force player on the edge, and tackle in space. Smith plays with good instincts and may prove hard to keep off the field, especially since he can play safety or corner. He, Cam Burrows and Ron Tanner will likely press Vonn Bell and Tyvis Powell at safety.
I also love Damon Webb's game. Meyer stole Webb out of Michigan's back yard at Detroit's Cass Tech. Webb looks like a future lock-down corner to me. I'd be pretty surprised if this kid doesn't become a stud for Ohio State. He'll likely push for playing time early in his career.
Yet another guy who will be hard to keep off the field in some capacity — possibly at defensive back, possibly elsewhere — is the electric Marshon Lattimore. He's another Glenville stud and he should make an impact somewhere very early — potentially on special teams if he can't crack the two-deep at corner.
Finally, the Buckeyes seem to have plenty of depth at defensive line for new D-line coach Larry Johnson, but you never know who might break through. My gut tells me that Jalyn Holmes is a guy who could push for playing time his first season, despite a lot of returning players in the two-deep and a number of redshirt freshmen returning to the position battle.
I'm certainly not counting out other members of this very impressive Dream 14 class from making a run at some playing time next season. The above are simply the players who have impressed me as being the most ready at this time, and many of them have a head start on their classmates by virtue of already being on campus.
In fact, the only early enrollee I don't see making a serious push for the two-deep is quarterback Stephen Collier. But that's only because the Buckeyes return a two-time Big Ten Player of the Year in Braxton Miller, as well as talented youngster J.T. Barrett and experienced backup Cardale Jones. Collier may be able to displace Jones as the third string guy, though.
Those are my thoughts on the incoming freshmen (so far — this class isn't even full yet). Who you got?