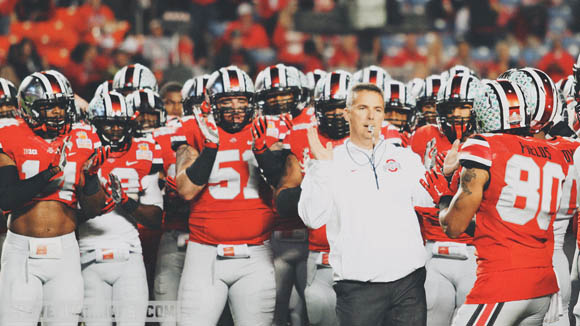 Evaluating events is a tricky business. If you look back too soon, perspective isn't always included in the process. Just days after Ohio State's loss to Clemson in the Orange Bowl, the wounds from a second consecutive loss to end a once promising season remain open. But 2013 was far from a throwaway year.
Steps were taken to win the national championship, flaws emerged and now Ohio State enters the long offseason looking to right those wrongs. The process will begin immediately and with a work ethic that's among the best in the nation.
Less than a month ago, the Buckeyes were in the midst of a 24-game winning streak, a fairy-tale beginning of the Urban Meyer era that seemed to defy the odds. Now an equally shocking two-game losing streak is attached to the program.
Primetime wins over Wisconsin, Northwestern and Penn State seem like they occurred in a far-off place. A dramatic final-minute defensive stand to hold off archrival Michigan happened years ago – or at least that's how it feels to Central Ohioans. But Meyer chooses to find the good in an unhappy situation and point to a future that still burns bright.
"If you'd have told me when I walked out of that team meeting [two years ago] that this group would buy in and we'd go on a nice run and have the highest scoring offense in program history and 24 straight wins and all that, I'd have looked at you and said, 'You're out of your mind,'" Meyer said. "But I didn't value the quality of person in this program, especially this senior group. This group turned into being unbelievable."
Suddenly, there are more questions than answers, though. The biggest – Braxton Miller's return – may have already been solved, but there remain riddles relating to the defense, a cohesive offensive line must be replaced and Ohio State must find a running back that can produce like Carlos Hyde.
NFL-bound linebacker Ryan Shazier summed everything up with a few words, saying the Buckeyes can't be a national title contender if it continues allowing 40 points and 500 yards a game. Meyer put it even simpler than that: "We've got to get a lot better," he said.
That goes for Miller, whose production tailed off significantly during a crucial November and December stretch run. He accounted for more than 3,000 yards of total offense on the season, but it's the underwhelming five-game finish that gets remembered.
Meyer's statement also groups together the offense and defense. While the defense yielded yards as if they were Christmas presents, gifting opponents with regularity, it was the offense that faltered on 4th and 2 in the Big Ten Championship Game and turned the ball over four times in the final 20 minutes of the Orange Bowl.
"We expect top-10 defense at Ohio State, top-10 offense and top-10 special teams, and I don't believe we accomplished any of those," Meyer said. "So we've just got to go out and recruit our tails off, develop players and work real hard with scheme. We'll get there."
Next season, it will probably take an unbeaten season for the Buckeyes to reach the new four-team playoff. The schedule is favorable once again and the pieces are in place to succeed, even with considerable losses on each side of the ball.
The most encouraging signs were the flashes young defenders showed Friday night. And as Meyer alluded to, another top-flight recruiting class will be welcomed to campus in February. It grew by two during Saturday's U.S. Army All-American game, including the pickup of Ohio's top player, athlete Marshon Lattimore.
Pausing for a moment allows one to fully appreciate what Ohio State did for the better part of two seasons. It didn't win a conference or national championship, but the Buckeyes won 24 consecutive games, establishing a school record, and took fans on a joyride that won't soon be forgotten.
For now, though, negativity resides at the forefront of most thoughts. Philly Brown's Twitter mentions featured hundreds of negative comments after his fumbled punt return swung momentum to Clemson. Cornerback Bradley Roby, who missed the game with an injury, was criticized for what fans perceived as a selfish act, accusing him of protecting his draft status instead of matching up with Sammy Watkins.
Roby hit back at the unruly rob, tweeting, "The fact that people Tweeting at me sayin' all this negativity is crazy to me. It makes me ashamed to even have played for y'all." He went on to add, "To the true fans I truly appreciate it the support you have given me and this team over the years."
In eight months, the cycle begins anew. Ohio State will take the field, fans will worship at the alter and Jerry World will become the destination of choice for early January, 2015.
Perspective will be far behind.