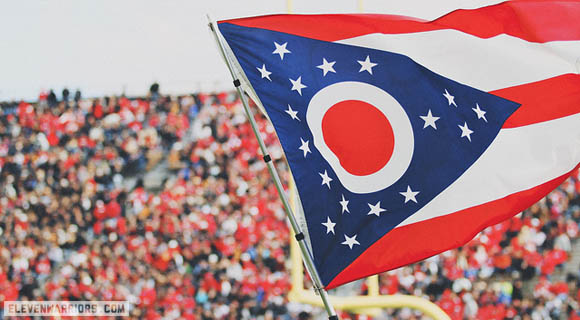 2013 was an amazing year for Ohio State athletics. The football and men's basketball teams combined to go 42-7, collecting an Elite 8 and Orange Bowl berth along the way. There were individual and team NCAA titles to celebrate, along with a marching band that might just be bigger than Led Zeppelin right now.
#11: Mirror Lake Monday
Ohio State announced restrictions on Mirror Lake Jump this year, requiring students to obtain wristbands among other measures. Needless to say, this did not go over well.
So, a night before the officially sanctioned event, thousands of students gathered at Mirror Lake, probing the new perimeter fencing. A few minutes later, Chilliam Wallace gave the Braveheart speech and the best party in Central Ohio was on.
#10: Big Ten Hockey is a Thing
In their 117th meeting, Ohio State and Michigan's men's hockey teams finally met each other as Big Ten foes. Big Ten hockey was finally a thing and it was beautiful.
Thanks to Penn State's evolution from club team to varsity team, the Big Ten was able to satisfy a conference bylaw requiring six teams to form a league by raiding the CCHA for Ohio State, Michigan and Michigan State and the Western Collegiate Hockey Association for Minnesota and Wisconsin. BTN quickly announced they would televise 27 regular-season games this year, including eight consecutive Friday night double-headers from Jan. 10 to Feb. 28.
The impact of the move may not be felt yet, but the creation of a league in a sport that's extremely popular in the upper Midwest is important for the Big Ten and the BTN. And Ohio State fans get another sport to battle Michigan for B1G titles in.
#9: Blaz Rola OWNS THE COURT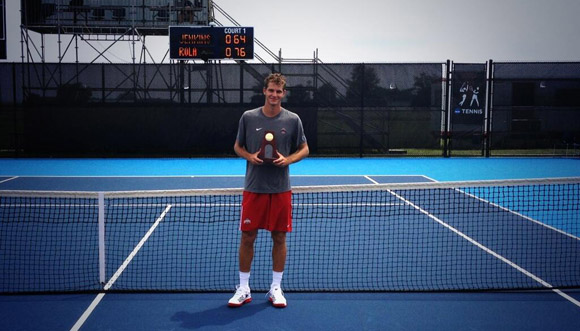 With a 7-6(8), 6-4 win over No. 3 Jarmere Jenkins of Virginia at the NCAA Tennis Championships in May, junior Blaz Rola became the first NCAA singles champion in Ohio State history.
It was the culmination of an amazing season for Rola, who went 32-1, defeating 11 ranked opponents in matches en route to the title on the courts of Illinois' Khan Outdoor Tennis Complex. The four-time All-American and three-time unanimous First Team All-Big Ten selection added the singles title to the 2012 NCAA Doubles Championship he won with Chase Buchanan.
#8: Love for Dom
Longtime WBNS-10 TV sports anchor Dom Tiberi lost his daughter, Maria, in a car crash Sept. 17. It was senseless, sad, and left a father without daughter he cherished more than anything on earth.
Ohio State honored Maria by featuring "MT" stickers on their helmets for the Florida A&M game, but it was the players' reaction following the 31-24 win over Wisconsin a few weeks later that showed just how much they cared. One by one, players lined up to hug Dom, expressing their regrets and well wishes.
Stay classy, Columbus.
#7: Stieber Fever
Ohio State junior wrestler Logan Stieber is no stranger to success. As a prep wrestler for Monroeville, Stieber became just the 19th wrestler in state history to capture four state championships, going 184-1 with 134 pins along the way.
As a freshman at Ohio State, he continued his winning ways, capturing Big Ten and NCAA championships. As a sophomore, he repeated as an NCAA champion in March, defending his 133-pound title with a 7-4 victory over Tony Ramos of Iowa. It was Stieber's 27th win of the season, paired with zero losses.
"We are so blessed this small-town kid from Ohio chose to be a Buckeye," Tom Ryan, head coach, said. "He exemplifies the very best version of what we can accomplish when we dream big and fight consistently to be the best. We are so proud of him."
Indeed, coach. Indeed.
#6: Tom Crean's Sad Net-Cutting Ceremony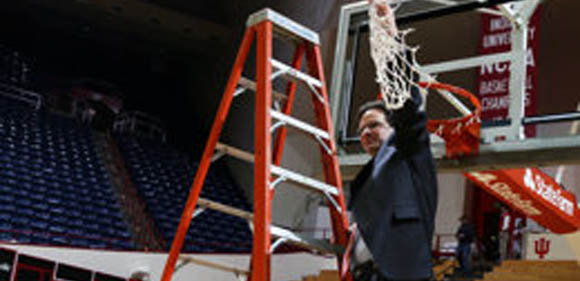 On a cold Bloomington night in March, Indiana's Assembly Hall was packed for Senior Night as fans awaited a celebration to recognize the Hoosiers' first outright Big Ten championship in 20 years. The Hoosiers, ranked No. 1 or No. 2 for most of the season, had clubbed Ohio State in Columbus in February, so the outcome of this late season Big Ten game was a mere formality, right?
Nope.
Behind a strong defensive effort that limited Indiana star Victor Oladipo to seven points, the Buckeyes ran away with things, notching a 67-58 victory, Ohio State's first road win over a top-five Indiana team.
Indiana would now have to share the Big Ten regular season crown, but that's not the best part. Because Tom Crean is Tom Crean, he cut down the nets following a loss, after midnight, in front of an empty arena.
Glad to be a part of it.
#5: All of the Guiton Moments
What's there to really say about Kenny Guiton that hasn't already been said. The senior backup to Braxton Miller's throne rose from a lowly signing day afterthought as a freshman to the guy that saved ohio State's season when Miller went down with an injury in the opener against Buffalo.
In his three starts in relief of Miller, Guiton completed 68 percent of his throws for 643 yards and 12 touchdowns, including a school record six touchdown tosses against Florida A&M.
From his infectious smile to his selfless style of play, Guiton was everything that was right with amateur athleticism. 
We're cheating here, but all of the Guiton moments were fantastic.
#4: The Q-Bomb Detonates Over Arizona
With the West Region final against No. 3 Arizona knotted at 70 and a berth in the Elite 8 on the line, the Wildcats and the Buckeyes appeared headed to overtime.
The Buckeyes would get one last look and with 20 seconds remaining, Aaron Craft brought the ball up the court. Craft was picked up by Arizona's Nick Johnson and drifted left of the center circle, then moved into position at the top of the key. With four seconds on the clock, he dished to LaQuinton Ross, who buried a three to put Ohio State up 73-70.
Arizona would have two seconds for a miracle, but a Lenzelle Smith, Jr. steal iced the game and for the second time in his career as a head coach, Arizona's Sean Miller would suffer a late Ohio State three knocking his team out of the NCAA tournament.
#3: The New King of Ann Arbor
Despite the national championships, the Heisman trophy winner and the incredible winning streaks, Urban Meyer had never had a 1,000 running back. That is, until he got his hands on Carlos Hyde.
As a junior, Hyde finished with 970 yards, so getting to 1,000 as a senior was a given. Until trouble hit, and Hyde was suspended for the team's first three games of the 2013 season by Meyer. Hyde took the adversity to heart, putting the team on his back week after week – going Superman on at least one occasion – on the way to earning All-Big Ten honors behind 1,408 yards on the ground.
He earned all but 41 of those yards in just nine Big Ten games, highlighted by an Ohio State record of 226 yards rushing against Michigan in the Big House.
#2: The Year of TBDBITL
The Ohio State University Marching Band, or TBDBITL as they're affectionately know, owned 2013. Under second-year band director Jonathan Waters, the band earned national recognition from the likes of The Today Show, while seemingly topping the exploits of their undefeated counterparts on the football team.
With tributes to Gettysburg, Michael Jackson, Disney and others, it's hard to pick a signature performance, but for our money, their tribute to Hollywood during halftime of Penn State game stands as their best.
#1: A New Standard for Excellence
When Urban Meyer won his first 12 games in Columbus, it was something. When he won his next 12, breaking Ohio State's program record for consecutive wins, it was time to start making busts of this man.
Ohio State is one of the top-five winningest programs in the history of college football – a veritable blue blood program if there ever was one – and this man matches into town and shatters a 44-year-old record like it was no big deal.
The game that secured the mark, Urban's 23rd win in a row, came against Indiana, in a 42-14 romp on Ohio State's senior day. He would, of course, add a little room between the new mark and the old mark, by securing No. 24 in dramatic fashion in Ann Arbor when Tyvis Powell intercepted a Devin Gardner pass on a final, desperate two-point conversion from the Wolverines.
Sadly, the streak would die against Michigan State in the Big Ten Championship Game the following week, but it was a hell of a ride, every step of the way. Stop for a second to appreciate it. If you think you'll see another streak like this one, you're likely wrong (we'd love to be wrong).