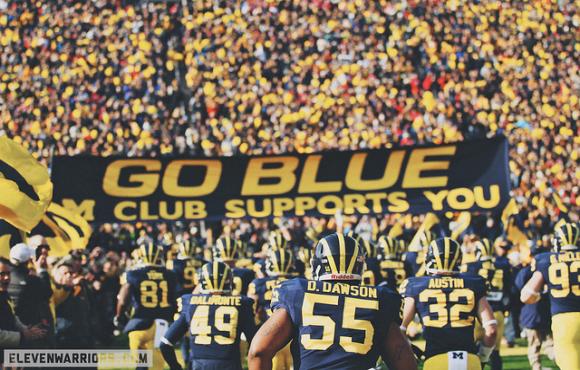 The scoreboard on Nov. 30 inside the Big House said Ohio State only defeated Michigan by a single point, 42-41. And the Buckeyes did so in dramatic fashion with a final minute interception on what would have been a game-winning two-point conversion.
In reality, the gap between Ohio State and Michigan continues to widen. It's seemingly so big now that Robbie Knievel or the Flying Wallendas could perform a stunt over the cavernous drop. In the wee hours of Sunday morning, the Wolverines ended a dismal 7-6 season with a 31-14 loss to Kansas State in the laughably irrelevant Buffalo Wild Wings Bowl.
After suffering through a 2-10-1 spell with John Cooper at the helm, the Buckeyes have been victors of 11 of the past 13 games against their archrival. It's not just The Game itself where Ohio State is superior to Michigan. Where each program currently resides in the national landscape continues to get further apart as well. The Wolverines have slogged through four six-loss seasons in six years while tallying a 43-34 record. They own zero wins over top-10 teams in the past six years. It has been so bad that Michigan is no longer No. 1 when it comes to winning percentage in college football history. 
Since winning the 1997 national championship, the Wolverines have not had a single season where it lost one or fewer games. During that same span, the Buckeyes have won a national championship, finished undefeated twice and had two other seasons of one loss. 
"I would hope there would be higher expectations," head coach Brady Hoke said. "It's Michigan."
When Hoke took control of Michigan football in 2011, many believed the once mighty program would assume its spot near the top of college football's summit. An 11-2 record in Year 1 lent credence to that thinking. But it now appears nothing more than an aberration for the Wolverines. Three and four-loss seasons are increasingly becoming the norm in Ann Arbor. In 2013, the Wolverines lost five games – in the Big Ten. 
You can pinpoint the shift back to Ohio State just two days after the Michigan's triumph in 2011. Urban Meyer was named head coach the next Monday and the Buckeyes washed away any ground the Wolverines had made up in a steady stream of success. Michigan is 15-11 since the 2011 edition of The Game.
Twenty-four consecutive wins, two victories over Michigan and a top-five ranking followed before Ohio State lost its first game. While Michigan's recruiting rankings give the appearance of a glitzy roster, it's the Buckeyes that show off all the bells and whistles. The latest blow to the Wolverines came in November when the nation's top recruit, defensive end Da'Shawn Hand, thought to be a Michigan lean, instead committed to Alabama.
"Coach Meyer, he came in with a great spirit," senior safety Christian Bryant said. "He wanted to try to turn this program back to where it was before coach Tress left, and I feel like he did a great job of that."
Said backup quarterback extraordinaire Kenny Guiton: "Coach Meyer came in and changed the leadership around. He changed a lot around. He helped for the better."
A bulk of the significant pieces are pre-Meyer era, but it's his staff that's molded them into playmakers. Then there are names like Noah Spence, Joey Bosa and Dontre Wilson who all ventured to Columbus after Meyer's hiring.
"We did a lot of growing up, as far as maturity goes. I think when Coach Meyer got here we realized that we were the older guys now, and we had to assume some responsibility and not just take a back seat and watch other guys do it," senior left tackle Jack Mewhort said. "It's been a lot of fun, and it's been a great journey and I love this senior class."
Meanwhile, Hoke's highly-rated classes remain low on accomplishments. Michigan hasn't won a division crown yet nor has it won a Big Ten title since 2004. An argument can be made that the Wolverines were fortunate to be bowl eligible this season. Three wins were escape acts, heists that could be considered grand theft. Akron, Connecticut and Northwestern each had Michigan beat, only to see a win slip away in the final moments.
"Is the goal always to win the Big Ten championship? No question about it," Hoke said. "We won't make excuses nor back down from it. Have we played and coached as well as we needed to? Obviously not."
November was the low point during the Hoke era. Michigan went 1-4, had its lowest rushing output for a single game and become the first FBS school to have negative yards rushing in consecutive games. Offensively, the Wolverines ranked near the bottom of FBS. Keep in mind, Michigan was a favorite to win the Legends Division in August.
"I know that this is going in the right direction," Hoke said, adamantly, during November's struggles. "What am I going to say? It's going backwards? I mean, seriously. I feel very confident in what we're doing, and how our kids are responding."