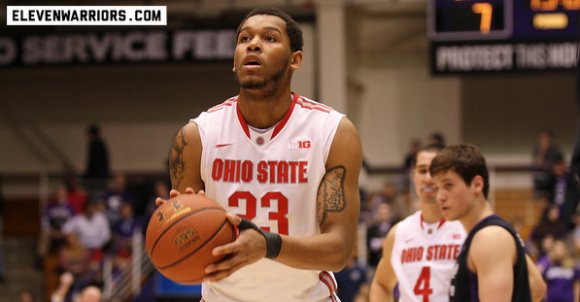 Ten games through the non-conference slate with just three more remaining before the start of conference play, much has gone right for the basketball Buckeyes. 
Coming off an Elite Eight campaign that ended prematurely in a loss to Wichita State, the Buckeyes were forced to figure out how to replace nearly 20 points of offense provided by Deshaun Thomas and 17 minutes of post play from Evan Ravenel while seeking individual growth from all the returnees as Marc Loving was the only incoming freshman expected to contribute – sparingly at best – in an effort to retool for another run at a conference and potential national championship. 
Admittedly against a soft schedule, Thad Matta appears to be up to his old tricks. The scoring concerns have been addressed by committee with three guys averaging double figures and six scoring at least 8.5 points per night. Lenzelle Smith Jr. has stepped up to lead point seeking with 13.4 a night via 54% shooting including 49% from distance.
The man many expected to be main source of offensive production, LaQuinton Ross, has overcome a slow start and is now averaging 11.8 points per game. In the paint, rebounding remains a work in progress as the Buckeyes sport a rebounding margin of +2.1 against the noted weak schedule which brings us to the biggest surprise of the young season, junior center Amir Williams. 
Struggling to show much improvement from year one to year two which was a huge source of frustration for Thad Matta and fans alike, Amir is finally showing consistent signs of life early in his third season in the program. The jump in production has been stunning, quite frankly, to the point where I think even the insiders are secretly surprised at just how good he's looked through 10 games. The particulars, thus far, look like this:
AMIR WILLIAMS: CAREER OHIO STATE STATS

| YEAR | MIN | PPG | PTS/MIN | FG% | FT% | RPG | REB/MIN | BLK |
| --- | --- | --- | --- | --- | --- | --- | --- | --- |
| 2011-12 | 6.6 | 1.7 | .25 | 53% | 36% | 2.1 | .32 | 0.8 |
| 2012-13 | 16.5 | 3.5 | .21 | 56% | 56% | 3.9 | .23 | 1.4 |
| 2013-14 | 24.4 | 10.0 | .41 | 70% | 69% | 7.3 | .30 | 2.4 |
Scoring right at 10 points per game, Williams has nearly doubled his points per minute from last season which has been, by far, the most shocking piece of his emergence. In the first two years, Amir barely looked to shoot and frankly, his teammates barely looked for him in the paint, because they (1) had a bevy of better options and (2) there was surely a fear he either wouldn't be able to consistently catch the ball or he might lose it as he made a move thanks largely to a lack of strength and a confident sense of how to score. 
Williams still has a tendency to bring the ball down below his waist too often – negating his height and making his susceptible to strips from sagging guards – but improvement in his ability to catch the ball, his footwork and the development of a few moves has seen his confidence soar. 
The improved footwork has helped him carve out position in the post so scoring is even an option when he receives an entry pass and while it's still a work in progress, Williams has shocked many with the addition of a short jump hook that he's sparingly featured with either hand. With the more polished offensive skill-set, Amir is shooting a stellar 70% from the floor.
Impressively, after reaching double figures just once in 66 career games coming into this season, Williams has scored at least 10 points in six of Ohio State's first 10 games. 
Not to be overlooked at this end of the court, he's also added 13 percentage points to his free throw accuracy which is huge considering the increased touches and while he won't be compared to Bill Walton any time soon, the new and improved version plays more instinctive, allowing him to be a little bit better passer out of the post. The continued development of that skill, while nuanced, is key as the Buckeyes could continue to face a hefty dose of zone defense meaning the need for smart reversal and skip passes from the post to open shooters and cutters would be huge.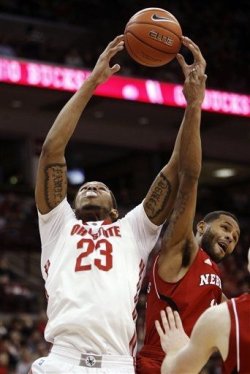 Defensively, Williams leads the squad in rebounds and blocks, allowing Aaron Craft and Shannon Scott, in particular, to play aggressively out top knowing they've got a bit of a security blanket if their man penetrates the lane. 
The caveat to all of this good news is that while it's great to see Williams finally produce consistently even if it's against weak teams, there's still no guarantee he'll be able to approach his current numbers, especially offensively, once conference play gets underway. Despite his impressive start, his worst three games have come against arguably three of the four best teams the Buckeyes have played. 
He shredded Wyoming for 12 points and 16 boards but totaled just nine total points on only five shots in wins over Maryland and North Dakota State. Defensively, his rebounding was up and down as he totaled 25 in the wins over Wyoming and NDSU but just four in the defeats of Marquette in Maryland. The blocks were more consistent as he averaged 3.3 in the four wins. 
Though the B1G isn't exactly loaded at center, the league does sport an elite big in Adreian Payne along with guys like Mitch McGary and A.J. Hammons of Purdue, among others, which begs the question, will Amir have the juice to be a factor at both ends against improved competition? 
It's hard to see him not getting torched by Payne twice though Williams wouldn't be alone in that category. Payne has the skill-set to post him up or drag him out near the three-point line and that's not where Matta wants Amir to be. As for McGary, Williams will only see him once during the regular season. 
It's likely Ohio State won't need Williams to score 10 points a game to challenge for the league title but he can't allow himself to constantly be pushed off the block. Doing so would virtually eliminate the short half-hook he's worked so hard to develop, jeopardize his ability to hit the offensive glass, and extend more defensive traffic toward the perimeter where Thad's skilled wings want to operate. Quite simply, Williams cannot allow his offensive game to totally regress once the competition ratchets up. 
Defensively, Matta needs Williams to continue to serve as an anchor allowing the wings to pressure the basketball without fear of losing their man leading to an easy bucket. If Williams can do, the likely dip in his offensive production will be easier to manage. 
Bottom line, Amir's overall play will be more important to the long-term success of this team than some may realize and without a track record of consistent results against tougher competition, there are still questions that need answered in the paint before Thad Matta and company can feel supremely confident about their chances of capturing another B1G championship and making a run toward the Final Four.