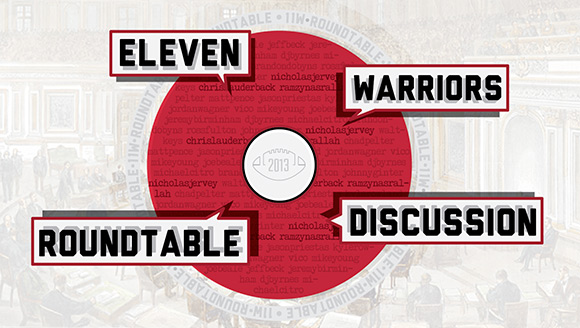 Only two games left in this storybook season. Savor it ladies and gentlemen. Savor it. This week we've got Ramzy, Nicholas and Chris answering all of your burning questions. Let's kick it.
Let's get it out of the way early. Will Oklahoma State beat Baylor this weekend? Why or why not?
Ramzy: They will, on account of a formidable defense that should keep Baylor under 40 points. The real mystery is will Oklahoma State jump Ohio State in the BCS rankings after the Buckeyes escape the Hoosiers by five touchdowns.
Nicholas: Yes, to the relief of Buckeye fans and BCS lovers alike. Even Baylor fans were leery about being a 13 point road favorite over the best, most balanced team the Bears will face all year. That was before Tuesday's announcement that starting left tackle Spencer Drago would undergo surgery for a ruptured disk and miss the rest of the season. Baylor relies on spacing and speed more than power blocking so this doesn't hurt them as much as it would other teams; nevertheless losing a multiyear starter hurts its offense just enough to tip the scales in Oklahoma State's favor.
Chris: Yes. I haven't seen a ton of Oklahoma State this year but I think they can score around 40 points on Baylor and I just have a feeling this is the week the Bears turn it over a few times. I'll say the other OSU wins by a field goal, 48-45.
Indiana served up a shoot-out in Bloomington last season. Will this year be more of the same? Why or why not?
Ramzy: The late scores Indiana put up last year were nearly identical in timing to what El Guapo tallied last week in Champaign. Both games were then described as escapes, even though neither were - the Buckeyes were up big early in both and coasted. IU's skill players are all formidable, but its lines are complete shit. This isn't unusual for lousy programs being built completely from scratch. 
Nicholas: Shootouts have to be relatively close, and judging by the 51-3 beating Wisconsin put on Indiana last week I'm sure this game won't be a shootout. Wisconsin is a great team with a great defense, and it forced oodles of turnovers and kept Indiana to just over four yards per play. Sure, Ohio State's defense can be exploited at linebacker for ~400 yards and 28 points. Without copious turnovers or Snow Bowl conditions, there's no way Indiana's sieve of a defense keeps Ohio State below 50 points.
Chris: On Senior Day against a team that seems to have refocused after last weekend's shoddy defensive performance plus gets some key guys back from injury, I don't see the Hoosiers breaking the 20-point barrier. Similar to what Ohio State experienced last weekend, Indiana really struggled to move the ball through the air in less than ideal weather conditions on the blowout loss to Wisconsin. While the weather won't be an issue Saturday, I think the defense is primed to give their most spirited effort of the season and though I'm sure IU will move the ball, I think the Bullets come up with 2 or 3 turnovers and probably score off one of them.
Carlos Hyde had a field day against the Illini last weekend. Will he have a similar game against the 119TH best rushing defense in the nation?
Ramzy: He could run for 400 yards if Urban allows him to. Illinois had the 121st-ranked rushing defense, at home. Indiana brings the 119th-ranked defense to the Horseshoe. There will be blood everywhere and endzone flexin' all afternoon.
Nicholas:  I don't know if Hyde can break off two long touchdown runs like he did against Illinois. I expect a performance like he had against Northwestern, where he went 8 yards minimum on seemingly every inside zone run. He ought to have 150 yards rushing before he's taken out to preserve him for Michigan.
Chris: Yep. I wouldn't be surprised if Carlos has 100 yards by the end of the 1st quarter and over 200 for the game. He's the best running back Ohio State has had since Clarett and I think Urban wants to give him a proper Ohio Stadium sendoff. I'll say 20 carries for 200 yards and 3 TD. Bonus: he also throws a pass, to Braxton, for a touchdown. Not really, but that'd be sweet.
Is there a better running back in the nation than Carlos Hyde? If so...prove it.
Ramzy: I can't prove otherwise. I also can't prove there's a better tackle than Jack Mewhort and wow, look at that - they're on the same team.
Nicholas: I think Hyde is the second best running back in the nation behind Boston College's Andre Williams. In case you're not familiar with Williams, he's rushed for 1810 yards and 14 touchdowns. He had 339 yards just last week against North Carolina State and 296 yards the game before that; with three games remaining he's already broken the ACC's single-season rushing record, and he's nearly 400 yards ahead of the nation's #2 rusher. His 6.2 ypc average is incredible since BC has no other offensive weapons and teams have been gearing up to stop him. The only knocks on Williams are his disappearance against Clemson and USC and his relative lack of touchdowns; he's still the rightful front-runner for the Doak Walker Award.
Chris: I don't think so. I really don't. If it wasn't for the suspension, he'd be firmly in the Heisman mix and it's a shame more experts don't say it. His blend of speed and power is incredible and he's become so much more elusive compared to last season when he tended to seek out contact. Now, he'll run you over if he has to but his first motive is to avoid you altogether and I love his hands out of the backfield for his size. I think he has the ability to be a top-10 running back in the NFL. I love his durability and NFL scouts should appreciate the relatively low mileage he'll bring to the League.
Braxton Miller had an off-game throwing the football last week. Should we be concerned or was this merely a symptom of a Champaign wind tunnel?
Ramzy: He was so inaccurate that it's hard to blame the wind entirely. The concern would be if he didn't compensate with his legs. The last time this happened was at Northwestern when he struggled, then Kenny Guiton started warming up - and suddenly he was terrific again. If his struggles flare up again, just give Guiton a ball to start tossing around on the sideline.
Nicholas: Champaign's wind is weird, and Indiana's secondary won't be able to keep up with Ohio State's receivers if they try the same hyper-aggressive stuff Illinois did. Miller should be back to his usual self.
Chris: I'm chalking it up to the wind but that was undoubtedly a disappointing performance. Beyond the poor completion percentage, I was most troubled by how that bled over to other parts of his game. He was too reserved on the field and the inability to handle a few snaps plus the careless fumble of the fake handoff on a read play just can't happen with so much at stake. As for physically throwing the football, the only thing that troubled me was his penchant for throwing sidearm when it wasn't necessary. My guess is he bounces back big-time this weekend.
The defense gave up 35 points last week. What do they need to do to continue to get better?
Ramzy: The defense gave up 28 points last week. The punt coverage, which could be accurately described as "armless' on Illinois' PR TD, gave up the other score. Having one serviceable linebacker hurt, and having no linebacker depth and no Christian Bryant continues to be this entire team's Achiles Heel.
Nicholas: Yell at their tendons and vertebrae to heal up faster. Why is everyone so concerned about the defense? It gave up 19 net points, accounting for the special teams touchdown (way to go punt coverage team), interception return and safety. Bradley Roby's tendency to get burned a couple times a game and the inability to defend jailbreak and tunnel screens are things to work on, but the best way to improve is to get everyone healthy.
Chris: Even though I still don't think either one of them is approaching all-conference status yet, getting back both Grant and Perry will be huge. The lack of LB depth was on full display last weekend and it wasn't pretty. Camren Williams might be a good player down the road but he looked not ready for prime time last weekend which forced Shazier to play 2.5 linebacker spots which is simply too much to ask. Grant and Perry will be busy this week in pass coverage which makes me cringe just a little and OSU will likely play a ton of nickel but having those guys back will be big for the defense.
What is your final score prediction?
Ramzy: Buckeyes escape again, 52-17
Nicholas: OSU 84, Indiana 28. Maybe Ohio State will play poorly and only score 60 again.
Chris: Ohio State 55, Indiana 17
In the coming weeks, will we see a Meyer BCS stumping effort reminiscent of his campaign for the Gators in 2006? Why or why not?
Ramzy: Urban is a far bigger politician than his predecessor - whom we called The Senator, ironically - ever was. Yes, without question.
Nicholas:  I hope not. It was pretty poor form the way Meyer stumped for Florida in 2006, and I'd rather see the frustrations with the BCS that he's expressed this year stay as frustrations and not out-and-out politicking. He might make positive statements about his team, but I'd be surprised if he bashed Baylor or Florida State to try to get OSU into the title game.
Chris: Probably. In this system, it's pretty much another expectation of the job at this point and I have to believe his blood will be boiling if Ohio State is 11-0 going into Michigan, riding a 23 game win streak and the media is doing nothing but dismissing his team. He won't be able to keep himself from playing the media game. He loves microphones/spotlight almost as much as he enjoys winning even though he tries to make us think otherwise.
Will Alabama or Florida State lose before the national championship game? If so...who gets the better of them?
Ramzy: I think they both make it unscathed. Auburn has a shot at Alabama, regardless of how improved it is this year, because [rivalry cliches go here]
Nicholas: Nope, though count me as one of those hoping for Duke to win its division and pull a hilarious ACC Championship Game upset.
Chris: Who knows. I don't see it happening but I think that's just my brain trying to perform a little reverse psychology.
Baylor's best win is against now #20 Oklahoma. The Buckeye's best win is against now #19 Wisconsin. Baylor climbs in the polls on perceived strength of schedule while the Buckeyes lose ground. How is this possible?
Ramzy: That offense is something to behold, but going into this weekend Baylor has played all of its games either as the home team or in the state of Kansas. Its schedule is backloaded both in terms of competition and plane rides.
Nicholas: Haterzzzz, and infatuation with Baylor's speedy speed of speediness.
Chris: It's possible because most of the media are sheep that just regurgitate what they hear on the 4-letter network and as Ramzy noted earlier this week, the Buckeyes are still paying for the blowout in Glendale.
Is there any margin of victory against Indiana that could keep Baylor from jumping the Buckeyes if they both win? Why or why not?
Ramzy: No. The B1G-sucks narrative is preloaded to diminish any and all wins including margin of victory. If they run it up they're bullies and if they only score 50-65 they're bullies. Impressive isn't part of the equation.
Nicholas: If Ohio State shuts out Indiana and Baylor wins on an obviously BS call, maybe OSU will gain some points. Otherwise, a road win against a top ten team is too much to ignore, no matter how it happens.
Chris: I don't think we'll have to worry about it because Baylor is going to lose. That said, if the Bears do win, Ohio State would probably need to hang a hundred on Indiana to keep from getting jumped.