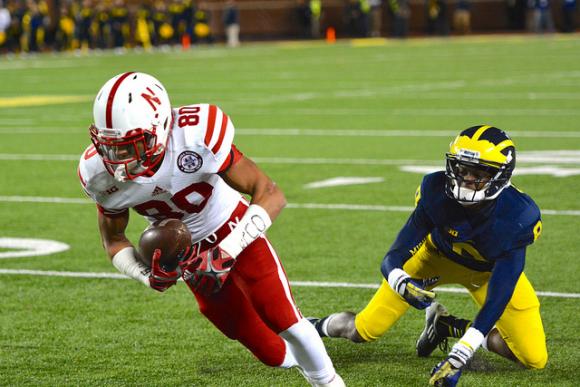 Michigan's slide down the firepole of sadness continued last Saturday with a brief stop at Huskertown, which added increased sadness and sped up their descent.
It's the same old story with the Wolverines. Their offensive line is terrible, they have absolutely no running game as a result, and though they do feature some competent wideouts, Devin Gardner is usually too busy being sacked or running for his life to actually get them the ball. The defense is competent in fits and starts, but any team with a decent passing offense can pick them apart completely.
Nebraska handed Michigan an incredibly embarrassing 17-13 loss that highlighted all of these problems, and further emphasized the need for change in the coaching staff at the end of the season. It's a bad look, and frankly while I'm not the type of person who wants Michigan to lose every game they play, it's still more than a little funny/absurd to see just how far Michigan has regressed in such a short amount of time.
Anyway, this week I continue to torture Ace from MGoBlog with inane questions about why his team is so bad right now. Enjoy!
Quarter 1
Nebraska jumped out to a 10 point lead on the strength of two short drives that made it seem like Michigan had no chance whatsoever in the game. Also adding to this feeling was the fact that Michigan had -11 rushing yards already at this point, but they were still driving at the end of the quarter on the back of several nicely executed passing plays. 10-0 Huskers.
Johnny: Let's start with the obvious, which is that Michigan has negative 69 yards of rushing in the past two weeks. I feel like there's only so many ways that I can ask you about the offensive line being bad, but does Borges have to try something radical here like dumping the rushing philosophy wholesale?
Ace: Part of the problem, I believe, is that Borges keeps changing rushing philosophies, not to mention personnel. First it was full-blown POWER MANBALL, then they tried becoming a zone stretch team, then they started incorporating the inverted veer, and now I honestly have no clue what their base run play is supposed to be. So if by "dumping the rushing philosophy" you mean "never running the ball again in 2013"—well, I'd be in support of this. (Devin Gardner's ribs may protest, however.)
Quarter 2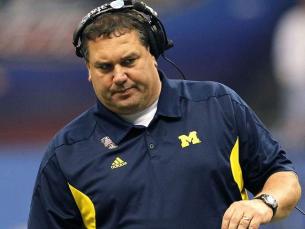 Of course, the problem with passing the ball over and over is that eventually you have to run it, and this is not Michigan's forte. Still, they got the field goal, which was about as much action as either team could pull off before the end of the half. 10-3 Huskers.
Johnny: Nebraska isn't exactly an offensive powerhouse, but I was impressed with Michigan's ability to hold it together for the most part on defense until the 4th quarter at least. The offense is putting a ton of pressure on those guys.
Ace: That's really been the story of the season for the defense; they're not a lights-out group but they're consistently keeping the team in games in which, at least based on the offense, they really have no business being competitive. For reasons that haven't really been explained properly, Michigan started two new safeties this week, and despite the fact that they were a downgrade compared to Gordon/Wilson the Huskers couldn't really take advantage of it outside of a couple plays.
There's been a fair amount of individual development on that side of the ball (in stark contrast to the offense); the freshmen defensive backs have been decent and are clearly improving, linemen like Willie Henry and Frank Clark have really come along in the past few games, and the front seven as a whole has been quite good—they're even generating a little pressure. There are Michigan fans complaining about Greg Mattison; these people shouldn't be allowed to comment on sports, First Amendment be damned.
Quarter 3
The second half started with a Michigan drive that showed they had fixed all of their problems on offense, forever, as they marched down the field and scored a touchdown to tie the game. Then Gardner was sacked twice on the next Michigan drive and disabused anyone of that idea. Still, it kind of looked like Michigan might just pull this thing off as Nebraska refused to get anything going offensively (the fumble didn't help). 10-10 tie.
Johnny: Honestly I think it's kind of remarkable that Michigan can still sometimes field a functional offense even when their running game is as bad as it is. On the first drive of the second half, all four rushing plays got a total of -2 yards, but you still got the TD.
Ace: Yes, and semi-infuriatingly, it was because the passing plays called by Borges on that drive were really well-designed and well-timed. He got Toussaint into lots of space with a slip screen for a big gain, called a little pop-pass to Jake Butt that perfectly countered a heavy blitz, and the touchdown came on a flat-curl-corner route combination that got Funchess wide open, which takes some doing, especially in the red zone. Of course, we didn't see stuff like this again for the rest of the game, because Al Borges. (He called two screens all game, IIRC, and both were wildly successful. Meanwhile, the one-back play-action get-Devin-murdered play is still a staple of the gameplan. The term "AAAAARRRRGGGGGGGHHHHHHHHHHH" comes to mind.)
Quarter 4
Michigan took the lead on a 40 yard Gibbons field goal, which if you think about it was really kind of cruel, seeing as how it set up a game winning Nebraska touchdown drive. Said touchdown drive ate up six minutes of clock with eight minutes left in the game, and Michigan's two minute drill is surprisingly not as good as you might think.  17-13 Huskers.
Johnny: That final Nebraska drive was about the most inevitable thing to have ever happened ever. Sunrise, sunset. Swiftly fly the years.
Ace: I was promised happiness in addition to tears and would like to talk to a manager, please.
OVERVIEW
Johnny: Michigan is now officially "bad." It's weird, you make jokes about a team being the worst good squad in the country and the like, but usually that's fairly tongue in cheek and said team goes on to rebound as the weeks go on. Instead, Michigan has gotten exponentially worse (especially on offense) in the past several weeks, and it isn't any less baffling than it was last week.
I wrote on Twitter to Ace that Minnesota is legitimately a better team now than Michigan is, despite Michigan being the living tar out of the Gophers just over a month ago. That unironic statement is now more or less fact, and makes me yearn for a universe that is calm and orderly instead of whatever fresh hell we live in that makes us question every single thing from week to week.
Oh well. Northwestern is up next for the Wolverines, and even though two trainwrecks should make for interesting football knowing my luck it will end up 13-5 with both teams playing for field position the entirety of the second half.
Ace: Not only am I unable to argue your point about Minnesota, but I found out that Northwestern is favored by 2.5 points and wasn't remotely surprised. Yes, that Northwestern, the one with as many Big Ten wins this year as Ann Arbor Pioneer High School.
If this isn't rock bottom, I'm really afraid to look down. While I'm not even close to being on the "FIRE HOKE/EVERYBODY" bandwagon, it's time to consider a serious staff shakeup on the offensive side, and what's most disappointing about all this is that I highly doubt one occurs.
On second thought, rock bottom will be on November 30th when the Big House is 60% Ohio State fans. Ready the "THANK YOU, AL BORGES" banner that I'm sure you guys have already made.