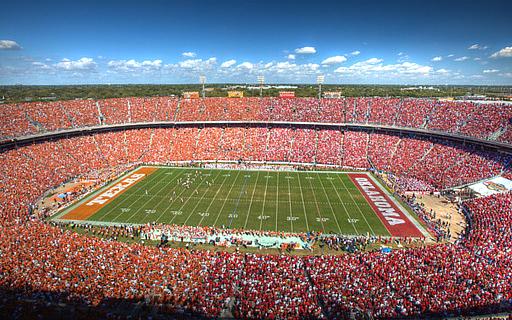 In the spirit of the University of Texas' friendly rivalry with the University of Oklahoma, the editorial boards of The Daily Texan and The Oklahoma Daily have exchanged editorials. The Red River Rivalry, played every October in the neutral meeting ground of Dallas, is a time-honored tradition that brings out both the best and, some would say, worst in Texas and Oklahoma football fans. In anticipation of Saturday's game, both editorials are running in Austin and Norman today. 
From the Daily Texan:
Hey Texas, how's it going?

We just want to say before we get into this, from the bottom of our hearts — thank you. Really. Your ultimate fail of a season is providing us so much entertainment. Whether it's watching you cheat your way through the Iowa State game or trying to understand your strange belief that you can actually win the Big 12, you never cease to amaze us.

But really, we have to give it up to you. You've beaten two of the worst teams in the Big 12. That's an accomplishment. It takes work to be as bad as you guys have been this season. And for once, hard work in Texas is paying off!

It's almost as impressive as your ability to dwindle all the talent around you.
And here's the attempted money shot, in full:
Math might be a little hard for you right now, so we'll break it down for you. If you guys were to double your national championships, you would still be short of Oklahoma's seven. It's all right. If it weren't for bad teams like you, good programs like ours wouldn't have anyone to entertain us when we're bored.
C'mon, staff of The Oklahoma Daily! Y'all are college students, and as such, are supposed to be well versed in the wonders of Wikipedia. Texas has four national titles. Don't worry though, you guys are probably going to drill Texas on Saturday.