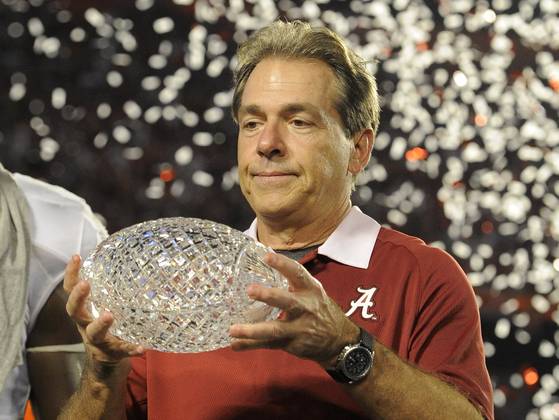 Cleveland.com ran a series this week called "Breaking Bama," a three-day look at Ohio State's quest to take down college football's reigning champion... 
COLUMBUS, Ohio – Kyle Berger was committed to Ohio State for a month when his phone rang with an unknown number on the caller ID. He picked up to find Alabama football coach Nick Saban on the line, calling to inform the St. Ignatius linebacker that he now had a scholarship offer from the Crimson Tide.

The conversation was short. Berger told him that he was completely devoted to his oral commitment to Ohio State, thanked him for his interest, and both parties moved on.

... "I talked to Marcelys Jones about Alabama, and he even gets that sense that they want to beat Ohio State," Berger said. "I feel like it is going to be an ongoing battle between Ohio State and Alabama off the field with recruiting. Coach Meyer and Coach Saban are going to butt heads."
Given that I wouldn't be mad about Urban Meyer putting out feelers on kids committed to other programs, I'm not going to fake-outrage about this. In fact, I think it's a great sign about Ohio State's recruiting when Nick Saban and Alabama are interested in the same kids, and it's even better when those kids slam the door in Saban's face.