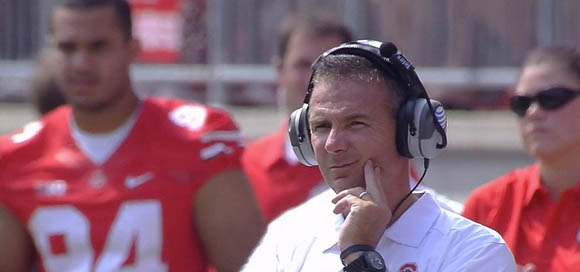 From Sports Illustrated:
In front of Herman sits a bottle of 5-hour Energy, a perspiring can of Diet Coke and five different-color pens—green, yellow, orange, pink and red. As the clock melts toward kickoff, Herman wrestles the black headset over his right ear and cuts through the nervous tension by saying, "We talking on a walkie-talkie here? O.K., here we go."

With that the 2013 Ohio State football season crackles to life, and what flows through those headphones over the course of the afternoon is the secret sound track of college football, from the details of the team's hyper-tempo, no-huddle spread offense to the overcaffeinated, adrenaline-fueled intensity of game day.

Listening in is like eavesdropping on a program's family dinner—spoken in mostly undecipherable jargon—complete with cursing, elation and the relentless tension of coach Urban Meyer asking for more. "It's not a fun three hours," says director of football operations Brian Voltolini, who shadows Meyer on the field. "You can't take anything personal that happens on game day. If you do, you're done."
It's a quarter-by-quarter breakdown, and frankly is a fascinating look at an under-reported area of the game that is literally right in front of all our faces when we watch. Color me surprised to learn Tom Herman dips, too.