As usual, Urban Meyer met with the media following last night's practice and with another pitiful opponent on the docket, all the news fit to print centered on the ever-evolving roster. 
Braxton Miller, still recovering from an MCL sprain, appears to be full-go when running in a straight line but concerns over his lateral movement remain.
It sounds as if Meyer would love to see Miller get some reps ahead next week's B1G opener against Wisconsin but a fear of Miller potentially aggravating the injury thanks to his running style could once again keep him on the sidelines for most, if not all of the game on Saturday. 
Considering Miller is a seasoned vet and is absolutely not needed for Ohio State to defeat an FCS foe, it might be best to give him one more week to gain strength and confidence.
Along the same lines, Adolphus Washington will again be held out of action as he recovers from a groin injury but Meyer believes Adolphus Maximus will be probable for Wisconsin. As with Miller's injury, the silver lining means more reps for other qualified guys, furthering the depth on a unit that, thus far, has admirably replaced all four starters with a talented rotation highlighted by the emergence of Joey Bosa, Steve Miller and Jamal Marcus to complement Noah Spence and Michael Bennett. 
The bad news sits just behind the defensive line as Meyer continues to lament "misses in recruiting" that have caused a lack of game-ready depth at linebacker. It's hard to believe Meyer would be speaking specifically of this year's freshmen since it's not often first-year linebackers make a significant impact putting guys like Joshua Perry, Camren Williams, and yes, Curtis Grant potentially on blast. 
Finally, this week marks the return of the team's best running back from a year ago in Carlos Hyde. With Jordan Hall blowing up and a host of guys pining for carries highlighted by Dontre Wilson and Rod Smith, we'll finally get an introductory glimpse at how Meyer and Tom Herman might choose to employ the full allotment of weapons though the pecking order for actual touches will likely be an evolutionary process.
ATHLETIC SUPPORTER. Bo Pelini continued his damage control tour following a recently released audio tape in which he blasted Nebraska fans with a series of F-bombs following the Huskers' 2011 win over Joe Bauserman's Buckeyes and took a shot at Tommie Frazier after the legendary quarterback called for the heads of the entire defensive staff following the loss to UCLA and the controversy is finally dying down. 
Nebraska chancellor Harvey Perlman and athletics director Shawn Eichorst issued a joint statement yesterday supporting the embattled coach. The statement squashes any thoughts that Bo would immediately be shown the door thanks to his rant on fans being made public but the the statement likely did little to satisfy a legion of pissed off fans. 
Enter Tom Osborne. 
The Godfather of Nebraska came out in defense of Pelini last night saying he heard the tape sometime in 2012, didn't tell Perlman or his future successor as AD, and handled the situation on his own.
"While the comments were certainly not good, I realized that Bo had gone through an emotional week and an emotional game and was in a setting where he thought his comments were entirely private. I visited with Bo on a weekly basis and did not find that his attitude toward the fans or the press as expressed by those comments were at all in keeping with what I knew his true attitude to be. He understands that the most important asset the athletic department has is the amazing fan support that we enjoy."
In further defense of Pelini, Osborne reminded fans of his accomplishments in Lincoln:
"Bo's academic record with the football team has been the best in my recollection. The behavior of his players has been excellent for the most part; he has won three divisional championships and had one of the best win-loss records in college football for the past five years. I recognize that there have occasionally been controversies, but I have seen a willingness to change, reflect and improve in Bo over the years. I am very hopeful that the players, coaches and fans will pull together as unity of purpose has been one of our major assets over the last 50 years."
Tommie Frazier might be kind of a big deal in Lincoln but he's not bigger than Tom Osborne. With Osborne's statement out there for the faithful to consume it will be fun to watch how the fans react this coming weekend.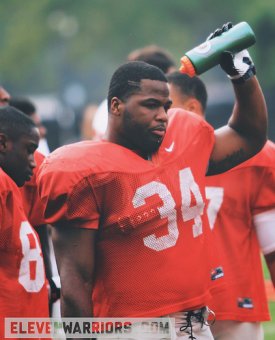 HOW MANY MICS. Switching to hoops for just a minute, CBS announced earlier this week that Clark Kellogg and Greg Anthony will swap jobs with Anthony taking over as the lead college basketball game analyst, effectively moving (ie: demoting) Clark to the lead studio analyst chair. 
Look, I love Clark as much as the next Buckeye but this is a welcome change. The fact of the matter is Clark tried way too hard to be hip and his undying love of off the wall analogies added nothing positive to a game telecast. That's not to say he didn't have strengths when actually breaking down a sequence or pointing out a subtle nuance but the combo of those ridiculous analogies and invented words overshadowed his basketball intellect. 
I mean, I have a soft spot for dirty minds but even then the term "spurtability" only goes so far.  Or how about "Dairy Queen'd" being shouted at you like it's clever when a guy fouls out? No thanks. 
Hopefully, Clark will focus on shelving some of the gimmicks and once again play to his strengths. Being back in the studio with guys like Doug Gottlieb should only help put the shine back on Kellogg's game. 
It sounds like there's a possibility CBS isn't done making moves with The Big Lead suggesting a Marv Albert for Jim Nantz swap might be next. 
SPARTY, FLOW. Following last Saturday's burn in which a Michigan fan paid to have "GO BLUE" sky-written over East Lansing, the executive director of Michigan State's Alumni Association was struck with a great idea.
Instead of scheming for revenge, Scott Westerman became determined to engage Spartan fans to raise money equal to or greater than the projected cost of the sky-writing in observation of ovarian cancer month (his wife has twice beat it) while challenging Michigan fans to do the same. 
He posted the following message on Facebook and sent it to the MSU Alumni Association:
To my Spartan friends and family:

A University of Michigan fan payed $3,000 to have a skywriter paint this over Spartan Stadium today. I'm all for school spirit, but the sheer cost of this momentary chest beating gives the unfortunate perception of malice. That's not what Spartans are about and I don't believe it's what true UofM alumni are all about. Will you help me show Wolverines everywhere what we can do with $3,000? This is Ovarian Cancer Awareness Month. As many of you know, Colleen is a two time survivor, one of hundreds in our state who are fighting this silent killer. Will you consider making a $10-$50 contribution to the Michigan Ovarian Cancer Alliance (which is based in Ann Arbor) and say that it's coming from a supporter of Michigan State University?

Whatever we raise over the next week, I will challenge my counterpart at the UofM alumni association to inspire his members to match.

Here is the link: http://www.mioca.org/donate

Let's show the world what Leaders, Lifesavers and World Changers do. Help me make this one go viral.
REMINDER: The Buckeye Charting Project here on Eleven Warriors is a real thing and a real public good. Please consider volunteering for chart work following this weekend's game with Florida A&M. Remember, when you chart alone, you chart with Hitler!
QUICK CLICKS. I think this hippie likes Widespread (video)... What a brain eating amoeba actually looks like... Clapping: verb... Update on the CFP selection committee... 17 Bizarre Sex Facts You Probably Didn't Know (mildly NSFW)... Old Pictures of World Trade Center, 1973... With friends like this... The Beetles... Gentlemen's guide to amputation... Sweet revenge... Michigan students won't come to football games but they're all geared up for hoops... The power of Oxi-Clean... The Love Rug... 6 Scandals That Could Tear Apart Your Local Pee-Wee Football Team... Kansas is using a new concussion testing system...  RIP, Maria Tiberi.