I'm going to go ahead and verbalize what we're all desperately pleading in our brains: someone, for the love of God, please stop the SEC's Robespierrean Reign of Terror over college football. The ideal scenario is that Johnny Manziel is eligible for just long enough to beat Alabama and then send the rest of the conference down in flames as he's busted in a cock fighting ring, but since that's not likely to happen (Manziel being busted, I mean. Cock fighting's in his blood) unfortunately it's looking increasingly likely that someone from another conference is going to have to beat them in a game.
Which no one has managed to do in seven years. Oregon came close and Texas might've pulled it off had the devil not decided to come for Colt McCoy's eternal soul at the worst possible time, but overall the rest of the college world has put up a pretty weak challenge to the SEC's dominance. Even worse is that the one time the SEC did lose, it also won, because it defeated itself. That's some crazy Nietzschean stuff right there.
But this season is the season. Alabama is the prohibitive favorite by many to threepeat, but today I'm going to tell you why I'm down on them and up on some dark horses to make some noise in 2013. It may not be enough to prove that the king has no clothes, but in the final year of the BCS it might be time for a little chaos.
Let's start with the obvious:
Alabama
My impression of the Alabama program under Nick Saban is something akin to people in North Korea practicing for a musical performance in front of the Dear Leader Kim Jong-Un. Sure, you might get an extra ration of bread if you do well, but is it really worth risking three generations of punishment by being banished to the darkest recesses of Alabama if you screw up?
I dunno. On paper this team looks very good. They have a stupid stable of elite RBs who they replace every season with basically zero dropoff. They return a solid QB in McCarron and an excellent WR in Amari Cooper and have an excellent looking young TE aanndd now I'm just getting depressed.
But here's the thing: their offensive line has been gutted, along with their secondary. Of course, they replace those guys pretty easily every year, again, with little dropoff. And they have a very favorable schedule, and even if they lose to A&M, it's early enough in the year that they could win the rest of their games and still make the title game (because I really don't trust A&M to not still lose more than Bama will).
Dammit. Ignore what I said. We're doomed to an eternity of kowtowing to the Legion of Finebaum and there's nothing we can do about it.
Oregon
OR IS THERE?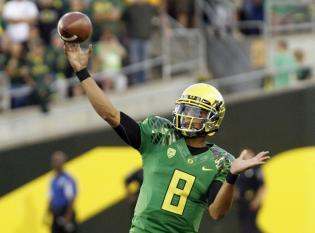 So here's the thing: Alabama, assuming they don't crap the bed in the regular season and the SEC title game, has the inside shot at making the national title game. But once they get there there might be several teams lurking who Nick Saban absolutely does not want to play. Oregon is one of them.
Last season Oregon looked unstoppable until Stanford stopped them in convincing fashion, but what makes them dangerous is that their secret formula works about 90% of the time. Their uptempo style of offense infuriates guys like Saban because the Ducks force opposing defenses to react and be creative rather than attack in a regimented way, which is what many SEC defenses are predicated on.
Oregon returns most of their big time offensive weapons, including Mariota, Thomas, and Huff and it will be up to the new coaching staff to make sure that they're utilized as well as they were under Chip Kelly, because the defense has taken some hits through attrition.
Texas A&M
It's been easy to overlook how good of a player Manziel is, given all the crap surrounding the dude. He accounted for almost 400 yards of offense, individually, per game last year. He makes a very good Texas A&M offense incredible, and makes a very average defense (which is losing some of their best players through attrition and suspension) look serviceable.
If he plays and TAMU beats Alabama, a favorable schedule makes a title run a possibility. If he doesn't, Sumlin starts looking for answers.
Louisville
Admittedly Louisville wouldn't be on this list had they not annihilated Florida in the Sugar Bowl, but since they did and QB Teddy Bridgewater returns, they suddenly look like a very balanced team that could go undefeated in the Big East and lurk as they wait and watch for teams ahead of them to screw up.
Clemson
People are going to find out very quickly if the Tigers are for real this time. Tajh Boyd is probably one of the top three QBs in college football, and they've quietly begun building a defense that might actually be worthy of a title run.
But there are some landmines in that ACC schedule. They start their season with an out of conference game against Georgia, have a midseason contest against Florida State, and then have to go on the "road" against South Carolina to finish up. In between those three games are the usual array of scum and villainy to be found in the ACC, but one good thing about their schedule is that there's no half-season long stretches for them to get complacent. Another plus is that if they can go undefeated, their strength of schedule should help propel them above the likes of even an Ohio State to the BCS title game.
Stanford
I almost hesitate to put them on this short list. They are going to be very good again this season, mostly on the back of an excellent defense. But their November schedule has them playing Oregon, USC, Cal, and then Notre Dame. Two of those teams are going to be very good, one might be dangerous by the end of the season, and the last one is coached by Lane Kiffin.
Which doesn't really mean anything, I just think the inevitable 42-6 beatdown that the Cardinal gives him will be pretty funny.
Anyway, the point is that the Pac-12 is essentially going to be a tossup between Oregon and Stanford. If the winner of that game is undefeated, then it'll be extremely hard for people to not give them priority.
Ohio State
Not going to spend a ton of time on the Buckeyes here. We know that the defense will be tested, and we know that they must go undefeated to have a shot at the title game. Right now they should be fairly well positioned to get there if they run the table, but given a lack of depth at key positions and a young defense, it's going to be extremely difficult to pull off.
But! It's a possibility.
Teams I didn't include and the various reasons why
I know Clowney's great, but he can't rush the ball and I'll never trust a two QB system, sorry South Carolina. Remember when Tommy Rees was benched least year at Notre Dame? Yeah, me too. Florida has and will continue to have zero passing game. Never, ever trust Florida State. Georgia's schedule is brutal and if they can somehow get through that unscathed then we should give them the title right there.
---
Preseason lists of teams are kind of ridiculous because they're entirely predicated on the perception them from eight months ago built from the Belk Bowl or some junk, which is why this list is really about who's more likely to meet the arbitrary standards of the BCS. So in truth, any team that wins the SEC and has one loss or less will get into the BCS title game. Any Big Ten, ACC, or Big East team with one loss or more is totally out of the running. Here's the hierarchy I've made up in my head:
Undefeated SEC team
An acceptable Notre Dame team
One loss SEC team
Undefeated Pac-12 team
An acceptable Ohio State team
Undefeated team rising from the wreckage of the Big 12
Undefeated Big Ten team other than Ohio State
Two loss SEC team
Various undefeated rabble from the ACC, Big East, MAC, whoever
What's going to be really fun about this season is that there are a number of legit contenders and also a number of big game bottlenecks scattered throughout the season which should whittle them down as the fall wears on. Welcome to the thunderdome, kids.