Imagine being first in your class at Ohio State, in anything where success is measured individually. Also imagine that when it happens, there will be a visible representation that will remind all of your classmates every day. How proud would it make you to be recognized this way? Now imagine you receive this honor without doing anything that is tracked or measured in any way.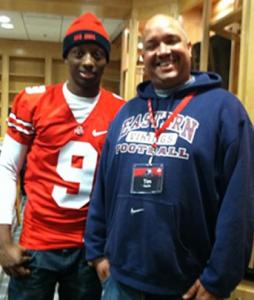 Being a freshman or transfer at Ohio State and being part of the football program means that you have this opportunity. This is because of a tradition Urban Meyer brought with him when he was hired as head coach. And that would be the tradition of the black stripe.
Last year Kyle attempted to explain it: "When he got his first head coaching job at Bowling Green in 2001, Meyer started putting a stripe down the middle of the freshmen's helmets. When they're removed, they officially become a member of the team." Or as Meyer himself described it back when he was at Florida: "It's basically to de-recruit, to get rid of the nonsense, to make them understand that they're not an outstanding freshman...They're just another guy on the team trying to make their way." 
The criteria for removing the stripe is subjective to a point: how well the player is practicing, is he showing leadership, is he being a good teammate. The evaluation is done by the coaches but with generous input from the player's "big brother" (an upperclassman at the same position who is assigned to mentor that particular newcomer). The first to lose the stripe will be remembered by everyone. Last year only Devan Bogard and Noah Spence managed to earn removal during the first week of practice.
Back in June, we ran a poll asking which freshman will be the first to lose his black stripe. A third of the responders chose Eli Apple, a stud DB recruit from New Jersey who enrolled early at OSU in order to take part in spring practice. Another 40% chose either Vonn Bell (22%) or Mike Mitchell (18%) and the rest of the choices all got less than 10% of the vote. 
Based on Meyer's comments above, it appears that humility and a sense of perspective on the part of the player regarding his place on the team is one of the main reasons for the stripe. Therefore demonstrating those qualities might be a prime consideration for those who have it removed. In that case, it would be almost foolish to try to predict who would be the first to lose his stripe, since those qualities are seldom shown in the public light before they are noticed in the private confines of the team space. But, being the fool that I am, I'll try to predict it anyway. Here goes.
ELI APPLE
As mentioned above, Apple was the top choice of the poll responders, and with good reason. Not only is he a great prospect, but he is apparently a person who understands how much he owes to at least one other person. Right before he went to play in the Army All-American game in January he announced that he was changing his last name from Woodard to Apple. This was to reflect the fact that his step-father Tim Apple had been his father in all respects since he was a 2-year old. It was a very public recognition of how much this man had sacrificed while helping mold him into the person he was. 
I have a soft spot for this kind of story, partly because it is such a departure from the normal behavior of star athletes on whom coaches and fans shower accolades and adoration. But the other part of it is because I also had a name change due to the fact that my former step-father adopted me and my two brothers (I now have three brothers; it's complicated) when I was only a kid. If humility is a big part of the equation, you have to think this kid is one of the leading candidates to lose his stripe quickly.
That being said, probably no one predicted Devan Bogard as the first last season, and so it is far from certain that it will be one of the obvious choices. Still, let's talk about another one.
MIKE MITCHELL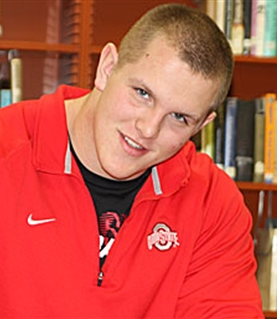 The thought here is that Mitchell is a freak of an athlete and he plays at a "position of need" on this team. Linebacker is a place where depth was a problem last season and where the team lost two starters from the 2012 team. Mitchell's performance alone might be enough to remove the stripe quickly, assuming he doesn't come off as too high on himself in the locker room. Speaking of which...
VONN BELL
Bell was the other popular choice of poll responders, and at first glance is an obvious choice. As Vico mentioned, Bell is the crown jewel of the 2013 recruiting class, due to his high ratings from all the services and the fact that he made his decision on signing day, thus ensuring maximum fanfare. But for this reason, I think it will be hard for him to gain perspective quickly and so I don't look for Bell to be the first non-striper.
EZEKIEL ELLIOTT
Elliott is another freakish athlete who comes in with accolades galore from those who have seen him play. I also like the close relationship he has with his parents. This guy seems very mature and I wouldn't be surprised to see him lose the stripe first. One that might work against him is practice reps, since there is a crowd of players vying for playing time at running back.
BILLY PRICE
This is my dark horse pick. Price has a low profile in this recruiting class for several reasons. First, he was an early commitment (3rd verbal for the 2013 class), thus avoiding the publicity that accompanies delaying the announcement. Second, he plays at the ultimate "grunt" position: defensive tackle. Third, he's a quiet person who likes to work and sweat and just tough it out, as evidenced by his eagerness to get into "mental toughness Tuesdays" with his high school track team.
The fact that Price declined to attend the spring game because of his track schedule tells you that he takes his commitments seriously, and this is the type of quality that might be the deciding factor in losing the stripe. That, and the fact that defensive tackle is a position where reps should be available since both 2012 starters have departed. I wouldn't be a bit surprised to see Price shed his stripe before anyone else.