In just under two weeks, football season enjoys a kick-off of sorts as the 2013 B1G Kickoff Luncheon gets underway in Chicago. Day one of the event typically features each coach in the conference giving a state of the union of sorts along with an opportunity to hear from Dr. Spock Jim Delany. 
Two years ago, the event was mostly hijacked by Tressel talk while the Bert v. Urban feud over the non-existent gentleman's agreement regarding whether or not coaches should continue to pursue recruits who have already given a verbal commitment to play for a school drew plenty of attention last season.
Day two also comes strong as three players from each team are made available to the media. 
This year's chance to gain some insight from players should prove newsworthy as a no less than 19 All-B1G performers from a year ago are scheduled to be on hand. 
Urban will bring Jack Mewhort, Braxton Miller and Bradley Roby to Chicago. Other headliners include Devin Gardner, Taylor Lewan, Taylor Martinez, Max Bullough, Kain Colter, Venric Mark, Nathan Scheelhaase, Jared Abbrederis, Chris Borland, James White and John Urschel. 
Urschel, a senior from Penn State, will also speak on behalf of all players in attendance. 
Jason and Kyle will be on hand to cover all the pertinent happenings so mark your calendars for July 24th and 25th. 
FOLLOW THE LEADERS. With the offseason trudging forward, BTN's Brent Yarina built Leaders and Legends all-star teams comprised largely from Phil Steele's All-B1G teams published last month. 
Six Buckeyes pace the offensive unit including Braxton Miller, Carlos Hyde, Jack Mewhort, Andrew Norwell, Corey Linsley and Drew Basil. Those are all no-brainers with the exception of Basil, who still has a strong argument in his own right. 
Defensively, the Buckeyes placed another six guys in the starting lineup including Adolphus Washington, Ryan Shazier, Curtis Grant, Bradley Roby, Christian Bryant and C.J. Barnett. No knock on Washington but it's interesting that such an unproven kid, though clearly projected for stardom, already looks like one of the top two defensive tackles among the teams in the Leaders division. 
Even more curious is the inclusion of Grant. His body of work is far less impressive than Washington's and he's been around a few extra years. Listen, nobody is pulling for Grant to succeed any more than I am but the fact of the matter is that he's done very little beyond having a good spring. If Grant does manage to emerge as one of the top eight linebackers in the entire league, I'll feel that much better about Ohio State's chances of running the table. 
Yarina likes the Legends team in a head-to-head matchup. I'll take the team with the best quarterback. 
IVORY TOWER HEIST. Upon request, USA Today received a copy of the NCAA's federal tax return and, as you'd expect from an outfit that makes the USPS appear well run, the man at the top brought home significantly more bacon than deserved. 
NCAA president Mark Emmert took home roughly $1.7 million in total compensation in 2011, his first year in the position, including $1.2 million in base pay. 
Interestingly, that total represents a 46% increase over the pay earned by former president Myles Brand in his last year at the helm. 
Considering Emmert's stellar work of late, it's probably safe to say he eclipsed the $2 million threshold in 2012. Unreal.
The NCAA also reported $9.5 million in legal fees for the fiscal year ending August 2012, a number exceeding the total of the previous two fiscal years combined though it was still well short of the $20 million spent in legal fees in 2006-07.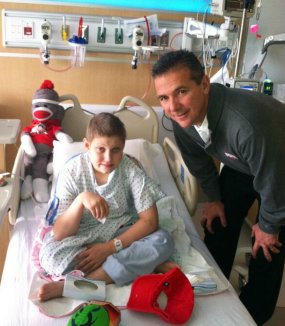 TROUBLE BRUIN? Though his hiring was announced back in late March, the terms of Steve Alford's new deal at UCLA were just announced this week and at least one of the terms is pretty amazing. 
The seven-year contract will pay Alford $2.6 million per season but it's the buyout clause that is drawing attention for both the amount and the provisions around it. 
The buyout amount is set at a whopping $10.4 million, and goes both ways. Basically, Alford is on the hook to pay the school $10.4 million if he quits before April 2016. Likewise, the school must pay Alford the same amount should they fire him before that date. Bottom line, Alford's got some pretty serious job security.
Associate AD Mark Harlan said all the right things about the deal, and Alford, touting the former Indiana standout as the perfect fit for the job, though most of us remember Alford was no better than their third choice. 
Additionally, Harlan made no mention of the fact Alford, just a week prior to taking the UCLA job, had agreed to a 10-year contract extension with New Mexico which is the real reason for the unusually large buyout. (Alford was able to leave the Lobos because he had only signed a letter of agreement when UCLA came calling.)
The school obviously doesn't want their hoops job to morph into a transitional stop for guys with one eye out for bigger and better opportunities. I'm not sure if that says more about the state of UCLA basketball, or Alford. Either way, this could get interesting in a few years if Alford fails to lead the Bruins to consistently deep runs in March. 
MMMM, TRUTH BOMBS. If you missed it last week, the Wall Street Journal brought a smile to my Tom Crean loathing face with an article labeling last year's Hoosiers, featuring top-five picks Victor Oladipo and Cody Zeller, the biggest underachievers in NCAA history.  
I'm not sure I'm entirely onboard with that argument but I'll go with it since, well, Tom Crean.
Essentially, the WSJ looked at the 13 teams in history to produce two top-five NBA picks and how those teams fared in the NCAA tourney. Besides the Hoosiers, just two of the 13 teams failed to make it past the Sweet 16 – Duke's 2002 team featuring Jay Williams and Mike Dunleavy Jr. and North Carolina's 1984 outfit featuring Michael Jordan and Sam Perkins. 
The difference between Indiana and those two schools is that both Duke (2001) and the Tar Heels (1982) each won a national title with those same top-five picks on the roster. 
Assumedly in response to the article, in a presser billed as a summer update conducted Tuesday, associate head coach Tim Buckley fell over himself touting the successes of last year's team while talking about what a great job Crean has done reassembling the program in the wake of Kelvin Sampson's AT&T sponsored tenure. 
Crean, who did not appear at the presser, instead glossed the players and the program via twitter:
"Cody Zeller and Victor Oladipo HELPED combine for 56 wins in two years and now they combine to make $7,184,000 this coming year. WOW!"
"We will never know how far we could have gone with them next year. New team=new challenges. We do know they left a legacy at Indiana. Thank U."
"With Vic and Cody's adjusted rookie scale, they combine for $8,490,360 this coming year. That's b4 endorsements etc. What a start!"
So subtle. Just like one of his patented drive-by handshakes following a loss. 
DUECES. Nice shot of C-Bus during RW&B... Go away, Marshall Henderson... Directory of growler fill stations in Columbus... Investigating the value of two-for-ones... This thing will absolutely give me nightmares for the next few weeks... This escalated pretty quickly... It's so frustrating when great bands can't get along and break up. Then there are these dudes... Can anyone spot me $5995? What chalk looks like under a microscope... If you're down and out, remember, things could always be worse.