Remember about two months ago when the collective moaning – and subsequent groaning – about the Ohio State offensive line recruiting situation was loud enough to drown out 108,000 Michigan fans rattling keys with all of their might?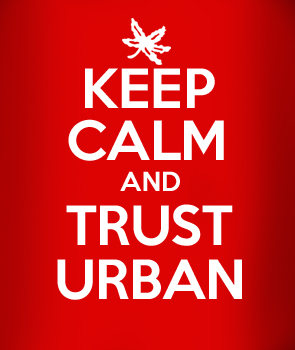 Welp, things are about to get real.
Last week the Buckeyes made serious moves on the recruiting front, snagging an unexpected commitment from Norfolk (Va.) star defensive end Jayln Holmes. Then, Georgia quarterback Stephen Collier and Indianapolis speedster Terry McLaurin followed suit, giving Ohio State three new verbals in a four day span. All three are heading to Oregon to represent the Scarlet and Gray for Nike's The Opening, and their pledges have revitalized and reinvigorated the Buckeyes' recruiting efforts.
The next domino to fall could – and by many accounts should – come tomorrow as Chicago native and top-five offensive lineman Jamarco Jones will announce his college choice at 2 p.m. Jones has been a key target for the Buckeyes for almost a year and a commitment to Ohio State, which is heavily predicted, would be a big recruiting win for the Buckeyes. Not only because Jones plays a position of serious need for the Buckeyes, but because their biggest competition for the star tackle is a pair of Big Ten foes, Michigan and Michigan State, and a head-to-head victory is always good for the soul.
If Jones verbals to Ohio State tomorrow, he would be the third offensive lineman in what could end up being one of the best offensive line hauls in Buckeye history, rivaling the 2008 "Brew Crew" in both numbers and stars. With Kyle Trout and Marcelys Jones already in the fold, the Buckeyes could add three to four more big uglies starting with Jones tomorrow. Not bad for what has been commonly perceived as the greatest flaw in Urban Meyer's recruiting philosophy since arriving in Columbus.
Who is the most likely to make the call for the Buckeyes? Let's take a closer look. 
After Jones makes his announcement tomorrow, things are likely to get much clearer along the Buckeye offensive line. If Jones chooses the Buckeyes, then Ohio State will look to add two — maybe three — more guys and that list is probably going to start with Jermaine Eluemunor, a 6-foot-6, 300 pound JUCO star from Scranton (Pa.) who is currently committed to UCLA. Eluemunor visited Ohio State last weekend and immediately rumors started circulating that a storm was "Bruin" that would culminate in Eluemunor's ultimate flip: a commitment to Ohio State.
While that has not happened yet it will be a bit of a shock if the Buckeyes don't receive a commitment from Eluemunor in the very near future. The only holdup currently is a trip to  Arkansas that Eluemunor had been planning for some time. Originally scheduled for mid-July, Eluemunor is hoping to move that visit up to this weekend, but it's now up in the air. Does the England native see the light at the end of the proverbial tunnel? It's starting to look that way and he is looking to end his recruitment sooner rather than later. Eluemunor has been "wowed" at UCLA and Ohio State, and he admits freely that this process has shown him more than he anticipated it would, a product of growing up in the UK.
"I've never been to a university before so going to all these schools amazes me," Eluemunor told Eleven Warriors. "I've never seen anything like because we don't have schools like this in England."
Try and take it easy on the big fella if he falls in love easy, that's all I am saying. He also informed us that if (when?) he commits to Ohio State that he will not take any more visits and that he will be 100-percent done with recruiting.
So, Trout, Jones, Jones, and Eluemunor in the hypothetical mix means one or two left, and that's where things get interesting.
Another JUCO, Chad Mavety was recently at Ohio State and is still very high on the Buckeyes. While many believe that Meyer and staff would only take one of the two junior college players, I tend to believe that's not true. If Mavety and Eluemunor both want in, then the Buckeyes will gladly take both. What gives Mavety an edge over other prep players that could play along the offensive line is the timeframe in which he intends to commit. Mavety recently updated his timeline from the fall to the end of July or early August, and that means he's tiring of the process and is seeing opportunities closing. Are those opportunities related to Ohio State and its suddenly filling offensive line class? That remains to be seen. I still think Mavety is in, and that leaves Ohio State with one final opening along the offensive line if it's a player with serious chops.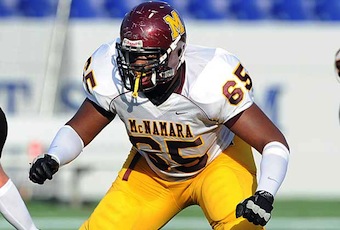 Well, it so happens that there are two players left that fit that specific description: Maryland's Damian Prince and Fort Worth (Texas) standout Demetrius Knox. Either Prince or Knox would be an excellent cherry on top of this mammoth offensive line class, and again it's likely to come down to one key element: timing.
Prince visited Ohio State last week and got his first taste of the Buckeye program and upon his departure the Buckeyes were suddenly the favorite for the Bishop McNamara five-star. Prince was escorted around campus by a legion of Buckeye dignitaries – including hopeful future teammate Kyle Trout – and loved everything about his Buckeye visit. While he didn't commit, the Buckeyes made enough of an impression to vault them to the top of his list. Can they stay there until February when Prince will choose on signing day? That's the biggest question about this big guy. He's a talent that Ohio State will wait for and take no matter what, if the chance comes their way. I expect this be an Ohio State vs Maryland battle when it's all said and done.
Last but not least is the curious case of Demetrius "Meechy77" Knox. Make no mistake, Meech is a Buckeye fan, but the UCLA rumblings have been persistent and seem to get louder daily. Ironically, it's the potential loss of Eluemunor from UCLA that could swing things in the Buckeyes favor. Knox, who was born in Springfield, Ohio and has been a lifelong Buckeye fan will choose between head and heart and it's not going to be an easy choice for a 17-year-old to make. He's grown to know Eluemunor well and the two have discussed playing alongside one another in college. If he wants to be a Buckeye, Knox will let it be known and the Buckeyes will be glad to take him. He's a big, nasty, angry guard with great feet and he's perfect for the offensive line in Columbus. 
Bottom line, if you want in on this class, it's getting to be high time to make the call. It's becoming increasingly more likely that Ohio State could take six offensive lineman in the 2014 class, but seven? 
We'll see.