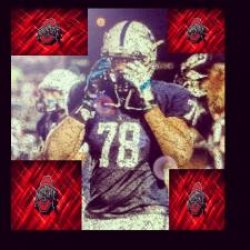 Meechy77
Member since 11 June 2013 | Blog
Helmet Stickers: 10,435 | Leaderboard
Favorites
COLLEGE FOOTBALL PLAYER: Braxton Miller
Recent Activity
I asked myself the same question my freshman year. I was like why am I here? But if it wasn't for All Saints in Fort Worth Texas, I would not be playing football still and I sure wouldn't be going to Ohio State. Being there has taught me so much in life, how to conduct myself in public, how important academics and hard work are. All Saints is the best high school I've ever seen.
That Meech fella will be wearing 78
Sad day... I was heated when I found out
I'm just curios, but what are some of the downsides?
Thanks again for all the love y'all show BuckeyeNation. I hope it doesn't come off as I'm trying to be an attention seeker but like others have said in this blog, IM A HUGE BUCKEYE FAN TOO! I was talking with Stephen today about OSU, and yes it's been a dream since 2nd grade to go to the Ohio state. It seemed so simple back then, dominate high school, be one of the best players in the nation, go to ohio state, win national championships. Go to the NFL, dominate and retire and be a coach. I even have an Ohio state SNUGGIE! Doesn't get bigger than that haha. The thing I had to promise myself was, even though I'm a big Ohio state fan, I can't let that get in the way of what's best for me. Maybe it's Ohio state and maybe it's somewhere else. I have until now and NSD to figure that out. But regardless of where I go, I'll always say two things. I was born in Springfield Ohio and I am a huge Buckeye fan! Thank you again.
Thanks for the love buckeyes