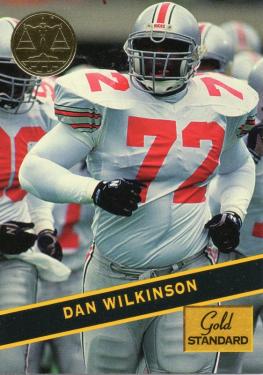 "Big Daddy" Dan Wilkinson is a big strong man with big strong opinions.
A standout defensive lineman at Ohio State in the early 90s and then a Cincinnati Bengal for the first half of his career, he experienced some of the best of times and some of the worst of times. Which is why we were delighted to have him come on the Dubcast and talk with Michael and me.
I'll be honest: I love this interview. Big Daddy is funny, forthright, and opinionated about a whole swath of issues, and I highly recommend listening to this if you're an OSU fan or a Bengals fan who wants to nod fiercely in agreement while clenching your jaw in rage.
And of course, we talk about the various topics of the day, including the untimely end of E. Gordon Gee's tenure at Ohio State, and in happier news, the induction of John Cooper into the OSU Sports Hall of Fame. Plus Ask Us Anything (which you can do at elevendubcast@gmail.com!), so this is another action packed, summer fun edition of the Eleven Dubcast.
0:23- Michael and I talk about Gee, Ohio State recruiting, and talk a little about the legacy of JHC and what that means to the Ohio State community at large.
18:53- Speaking of which, Dan is a large member of that Ohio State community, and he's got a lot to say about the topic of what it was like to hang with Mr. Cooper, but he also does a great job at talking about the role of recruiting, the transition between college and the NFL, and exactly why the Bengals were so bad in the 90s.
39:51- Ask Us Anything! I feel a little bad about maybe not living up to my Ask Us Anything responsibilities this time, but to be honest, arbitrary lists of things are just ridiculous. Geez.
55:20- On the other hand, at least we're not making fun of dying people!
Music for the Dubcast this week was Crunkburger in Paradise, a mashup by Tanner4105, My Favorite Mutiny by the Coup, and The Volcano Song by the Budos Band. And that wraps it up for this month, see you guys in July!