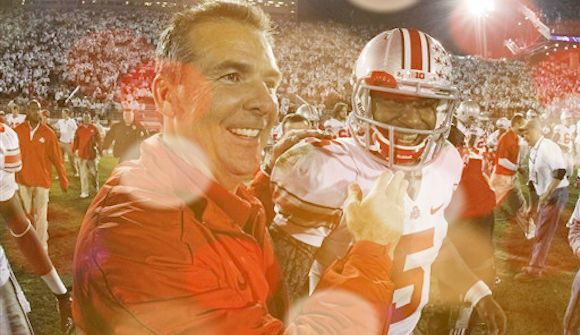 Seventy-five days from now the Ohio State Buckeyes are going to play the Buffalo Bulls, and they're going to beat the living shit out of them.
Home openers are impossible to look past, so Buffalo will get the full, gruesome treatment and no one will bat an eyelash at the outcome. People will just be relieved that college football is finally back and happy there's a three-day weekend as well.
San Diego State visits Columbus the following Saturday. That guest appearance on the schedule was elevated when Vanderbilt of the SEC - a conference that will play anyone, anywhere - abruptly canceled what would have been the season opener. The Buckeyes should win that game too, as well as the roadie the following week at Berkeley.
And right around mid-September is when the raindrops that are already falling - in June - should build into a full deluge of preemptive outrage: The Buckeyes' schedule sucks, and they don't deserve to play in the BCS title game even if they continue to win all of their games.
This is because official BCS rankings in September will not only have merit, they also won't actually exist yet - which just makes them scarier, especially to people outside of the Ohio State loyalty program.
If the Buckeyes make it to 3-0, that's when their detractors will begin to cluck in earnest. It's already happening now, months before the season even starts.
This means that Ohio State has moved into a gated community normally reserved for the Boise States of the world, but without the media welcome wagon, general goodwill or Pat Forde blithely offering up his chastity.
That case against 0-0 Ohio State, albeit both overly-enthusiastic and several months premature, isn't exactly without merit. You've used these same excuses before: But Washington was good when we scheduled them. But MAC teams are always underrated. But Youngstown State gave us Tressel so playing them is like a finder's fee.
Yeah, Cal was in the midst of its brief, glorious renaissance when it signed up for the two-year series that began last season...on Jeff Tedford's way out of town. Never mind that the Bears have played in exactly one January bowl game in Urban Meyer's lifetime; the real problem is that Cal is the marquee non-con on the schedule.  
San Diego State returns a very nice nine-win team whose nucleus was built largely by Brady Hoke (heretofore, the Aztecs should be condescendingly referred to as San Diego). Buffalo and Florida A&M are classic please, no one get hurt Saturdays scheduled explicitly to generate revenue.
Michigan is Ohio State's most highly-regarded opponent, positioned at 20th in Jeff Sagarin's 2012 rankings. Northwestern, Nebraska, Wisconsin and Penn State landed in the top 30. Vanderbilt would have given the Buckeyes six opponents in that formidable range.
But beyond the Nittany Lions, it's a festival of regional, noon-kickoff programs hell-bent on crashing through the titanium ceiling that is bowl-eligibility.
You have to scroll down way too far to find those opponents in the Sagarin algorithm, and that's a mathematically unimpressive slate for any BCS conference team. (Ohio State could have improved its schedule by scheduling itself, but alas).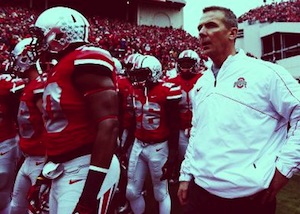 Granted, defending champ Alabama's schedule was also wholly uninspiring last season - even its annual November home underdog mulligan where the Tide gets to lose in Tuscaloosa and all is forgiven was weaker that usual. However, Alabama doesn't play in a conference suffering a football credibility problem either. 
Ohio State's schedule wasn't built to inspire, and it fails appropriately in a season where it should have one of the very best offensive lines and backfields in the country. But the slate is already being ridiculed months ahead of its activation, which preemptively discredits what the Buckeyes, um, haven't done yet.
Going 12-0 again is being viewed as a strong possibility, despite the rarity of perfect seasons - let alone achieving them two years in a row. Ohio State running the table again is a threat to the (valid) SEC supremacy narrative that's supported by (valid) recent memories of Ohio State losing bowl games to SEC programs.
But the gravest threat to Ohio State isn't SEC supremacy or narratives . It's the Buckeyes allowing a grossly inferior team or teams to once again go full-Purdue on them. Like, say, Purdue.
If that happens, the narrative will shift course to one you want to hear even less than the one about how empty Ohio State's gaudy winning streak will have become.
What probably isn't healthy is getting worked up over what is sure to be a rich stream of hot, deliberately-provocative takes designed to attract the most reliably-offended and defensive fans this side of the Mason-Dixon line. That would be you. That would be us.
We're a large, ravenous and coveted demographic - mostly because we're fun to piss off and we bring all our friends to fight. There's gold in that troll: Upsetting Ohio State fans is great for business. That's why a seldom-used tight end peeing near a golf course becomes breaking national news. Because of you. Because of us.
We're a large, ravenous and coveted demographic - mostly because we're fun to piss off and we bring all our friends to fight.Ohio State ripping through its largely pedestrian schedule is still going to be nice, as will be the viable Braxton Miller-for-Heisman campaign that the university will quickly buttress should he accumulate the gaudy statistics required to elevate him above the level of competition he'll be facing.
That too will be dismissed on account of the schedule. It already is. Miller hasn't thrown a pass yet or juked a single linebacker out of his pads.
But outside of our celebratory echo chamber, prepare yourself for a whole lot of so what. If you're the type to consume the wisdom of the vapid national punditry at face value, 2013 has strong potential to be one of your least enjoyable college football seasons on record.
You'll consistently hear about how little each Ohio State victory means. Every Saturday will ring as hollow as you were told that entire, perfect 2012 season-without-a-postseason did. No victories are going to be good enough for a lot of people who are already predisposed to root against your team.
This is a predetermined take. It was to be kept warm on the back-burner to be served during the season, but last month it couldn't be contained any longer and was moved to the front of the stove - and yet we're still 75 days away from Ohio State beating the living shit out of Buffalo.
Which is why it might be healthy to prepare yourself to be unaffected. Ignoring the Buckeyes' detractors might be bad for business, but it just might be good for you.