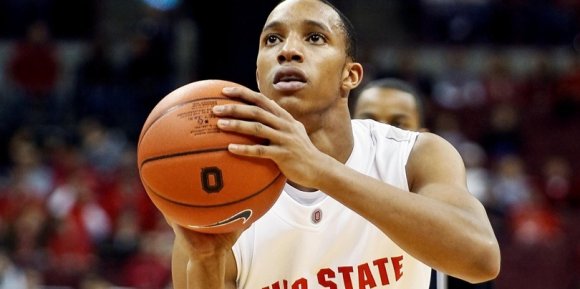 Wanting to switch gears from football a bit as the offseason drags on, I dug into Ohio State hoops history with the intention of running the same Mount Buckmore series I created for football last summer. In case you missed it, I took a stab at building an OSU football Mount Rushmore, by decade, starting with the 60's, and on through the 70's, 80's, 90's and 00's. 
The debates were fun so I initially thought taking the same approach with hoops was a no-brainer but with the yearly basketball rosters so small in comparison to football, the competition for one of four spots, by decade, simply didn't look to present enough arguments to make the endeavor worthwhile. 
As an alternate vehicle to look back on past Buckeye basketball greats - comparing and contrasting along the way - I decided to create two teams. 
Because Ohio State basketball wasn't much to sneeze at before 1960 (apologies to a handful of squads during the late-30's to mid-40's plus Robin Freeman and Frank Howard), I elected to start there, giving each team 26 years worth of players to choose from. Team Scarlet's roster would be built from guys playing anywhere from 1960-1986 while Team Gray's squad would be comprised of ballers spanning the 1987 to 2013 seasons. 
Last week, I came at you with my 10 selections comprising Team Scarlet's esteemed roster. As a reminder, here's how that roster shook out:
TEAM SCARLET: 1960 - 1986 BUCKEYE ALL-STARS
PLAYER
YEARS
HT
WT
PPG
RPG
FG%
FT%
J. CLEAMONS
1969-71
6'3"
182
18.5
7.3
54%
76%
J. HAVLICEK
1960-62
6'5"
205
14.6
8.6
51%
73%
B. HOSKET
1966-68
6'7"
228
19.5
12.3
52%
69%
G. BRADDS
1962-64
6'8"
200
20.7
9.5
54%
78%
J. LUCAS
1960-62
6'8"
225
24.3
17.2
62%
78%
K. RANSEY
1977-80
6'1"
188
17.3
3.7
49%
78%
L. SIEGFRIED
1959-61
6'3"
196
15.7
4.8
45%
82%
D. SORENSON
1968-70
6'8"
226
21.1
9.9
56%
78%
C. KELLOGG
1980-82
6'7"
228
14.9
10.1
49%
77%
H. WILLIAMS
1978-81
6'10"
242
17.6
9.7
50%
67%

 
This week, I move on to Team Gray and this roster is, at the very least, equally loaded. How'd you like to run these five out there for a full season?
TEAM GRAY: 1987 - 2013 STARTING FIVE

| PLAYER | YEARS | HT | WT | PPG | RPG | FG% | FT% |
| --- | --- | --- | --- | --- | --- | --- | --- |
| M. CONLEY JR. | 2007 | 6'1" | 180 | 11.3 | 3.4 | 52% | 69% |
| J. JACKSON | 1990-92 | 6'6" | 200 | 19.2 | 5.9 | 51% | 78% |
| E. TURNER | 2008-10 | 6'7" | 210 | 15.0 | 6.8 | 50% | 76% |
| J. SULLINGER | 2011-12 | 6'9" | 280 | 17.3 | 9.7 | 53% | 73% |
| G. ODEN | 2007 | 7'0" | 270 | 15.7 | 9.6 | 62% | 63% |
STARTING BACKCOURT
So this is a pretty nasty pair of starting guards. 
Running the show is lefty Mike Conley Jr. in what was maybe the easiest roster decision of the bunch.  The 6'1" high school teammate of Greg Oden wasn't the gem of that ridiculous 2007 class on paper but it can never be overstated how impressive it was that the true freshman was able to step right in and direct the offense, from day one, all the way to a berth in the 2007 national championship game.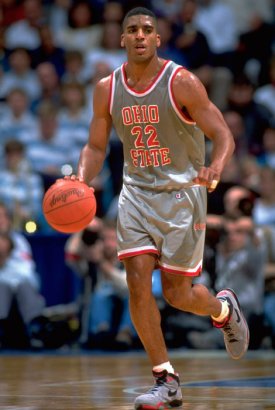 Conley's jumper was a bit busted at the time – something other OSU point guards can relate to – but his combined abilities to handle the ball, drive the lane and find open shooters or else unleash a feathery runner in the lane are skills not matched before or since his time in Columbus. And that doesn't even mention an on-ball defensive game that is easily top-three in school history when talking point guards. 
In his in lone season with the Buckeyes, Conley set the school record for assists with 238 and his 87 swipes are still good for second all-time. An First-Team All-B1G performer, Conley usually stepped in big games, none bigger than when he scored 11 points in overtime against Xavier allowing OSU to advance in the Dance in the game most fans remember as the time they most wanted to make sweet love to Ron Lewis and his splashy three-point shot.  
Teaming with Conley is one of the school's truly all-time great players in Jim Jackson. 
If you were fortunate enough to watch Jackson combine great physical gifts with an elite basketball-IQ, you know that deadly combo is increasingly seldom-seen across the current college hoops landscape. 
Jackson's ability to turn the course of a game in so many different ways was fun to watch and his versatility shows through in his numbers. Jackson's career 19.2 points per game is good for ninth all-time and the two-time All-American and B1G Player of the Year also stands eighth in school-history in both steals and assists. 
STARTING FRONTCOURT
Since this is make believe, I get to pretend that my starting frontcourt will be 100% healthy which should frankly give Team Scarlet a case of the heebie-jeebies.  
At the three, Evan Turner fits in nicely with the Conley/Jackson backcourt. He gives the squad another multi-dimensional player that can score from anywhere on the floor and has a knack for finding the open man. 
The 2010 National Player of the Year as named by the Associated Press, Wooden, Naismith and Robertson, among others, uncorked one of the most dominating seasons in Buckeye lore averaging 20.4 points, 9.4 rebounds and 6.0 assists per game. The two-time conference scoring champ totaled 26% of Ohio State's points in league play, shooting 52% from the floor.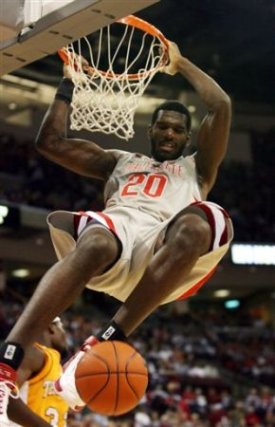 Moving to the paint, I'm going with Jared Sullinger at power forward.  
Sully played just two seasons in Columbus but that was enough to know he belongs in the starting five. 
As a freshman, Sullinger made his presence known early recording double-doubles in his first two games, something not accomplished in school-history since Herb Williams back in 1977. A couple weeks later, he turned in a 40-point effort against IUPUI in what was actually a hotly-tested game where the Buckeyes needed everyone of those points to avoid an embarrassing upset. 
The Northland product was equally impressive in rugged conference play, picking up Freshman of the Year honors after averaging 17.1 points and 9.4 rebounds per league game. 
Sully posted 21 points and 16 rebounds in that season's loss to Kentucky in the NCAA East Regional Final. Seeking a national championship, Sullinger would come back to Ohio State for his sophomore season and while the Bucks fell short of cutting down the nets, Jared did lead the team to the Final Four on the strength of 17.5 points and 9.2 rebounds per game. 
Owner of 35 career double-doubles in 74 games, Sullinger was a two-time AP First-Team All-American selection and his 9.7 career rebounds per game are good for eighth in school history. 
Rounding out the starting five and anchoring the defense is a nimble and healthy Greg Oden. Though he played in 32 of Ohio State's 39 games in 2007, he was rarely at 100% but still managed to average 15.7 points, 9.6 boards and 3.3 blocks per game. At 7'0", 270 lbs, Oden was a matchup nightmare at both ends of the floor as the one-and-done from Indianapolis racked up B1G Defensive Player of the Year and AP First-Team All-American honors.
TEMA GRAY: 1987 - 2013 RESERVES

| PLAYER | YEARS | HT | WT | PPG | RPG | FG% | FT% |
| --- | --- | --- | --- | --- | --- | --- | --- |
| A. CRAFT | 2011-13 | 6'2" | 195 | 8.6 | 3.2 | 46% | 74% |
| M. REDD | 1998-00 | 6'6" | 215 | 19.6 | 6.2 | 45% | 65% |
| D. HOPSON | 1984-87 | 6'5" | 195 | 16.8 | 5.7 | 52% | 79% |
| T. DIALS | 2002-06 | 6'9" | 250 | 11.9 | 6.6 | 56% | 65% |
| L. FUNDERBURKE | 1992-94 | 6'9" | 230 | 14.7 | 6.6 | 54% | 62% |
The Gray bench definitely has some scoring pop but Team Scarlet, with Herb Williams and Clark Kellogg looks to have the edge along the baseline. 
Aaron Craft was a pretty easy choice as Conley's backup though I did give marginal consideration to Scoonie Penn and Jay Burson. In the end, Craft's lack of a dependable jump shot at least to this point in his career is easy to hide on team loaded with scorers and Craft's defensive presence alone is impossible to overlook. Only Oden rivals' Craft's ability to impact the game at the defensive end of the floor. Even then, I give the nod to Craft. 
The 2012 B1G Defensive Player of the Year did increase his scoring to 10.0 points per game last season while sporting a career-to-date 2.2 steals per game.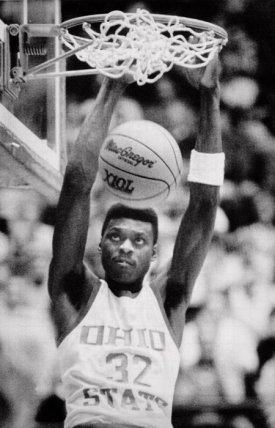 At one of the wing spots, Michael Redd and his ability to score both off the bounce and via the midrange game make him an attractive option off the bench. Redd's 19.6 career points per game sits seventh in school history and he's sixth all-time in total points with 1,879. 
Redd led the Buckeyes to the Final Four as a sophomore and averaged 21.9 points and 6.5 boards per game as a junior. 
Dennis Hopson is a guy that has a strong case as the most under appreciated Buckeye basketballer of all-time. 
The Toledo product is still Ohio State's all-time leading scorer (2,096 points) and his 958 points as a junior in 1987 also sit atop the record books. 
Hopson averaged 29.0 points per game during that sensational season which ranked him second nationally and remains the third-best points per game average in a single-season in the annals of OSU basketball. His exploits earned him First-Team All-American accolades and he was UPI's B1G Player of the Year. 
Along the baseline, I like Terence Dials as a reserve power forward. I considered Perry Carter, who lead his team in rebounds for four straight years and was a key cog on the 1991 squad that went 27-4 including a loss to Malik Sealy and St. John's in the NCAA Midwest Regional Semifinal. 
Bottom line, I prefer Terence's smooth footwork on the block and soft hands. He was powerful but didn't rely on brute force to get open looks. For his career, Dials is still holding down the fifth spot for career rebounds with 876 and his 15.3 points and 8.0 rebounds per contest earned him the B1G Player of the Year award in 2006. Dude had some sweet feet. 
Filling out the Gray squad roster is none other than Wehrle product Lawrence Funderburke. The transfer from Indiana led the Buckeyes in scoring, rebounding and blocks during his final two years in Columbus. Though he had a few off court issues over his career, he was an smart player on it. Funderburke brings a 6'9" frame, a little bit of attitude, and a career 14.7 points and 6.6 boards off the pine. 
I debated Ken Johnson in this spot because of his shot blocking ability. I also gave David Lighty serious consideration as a glue-guy all great teams need. Jon Diebler and Brent Darby ended up being outliers. 
So that's the lineup for Team Gray. How do they stack up against Team Scarlet? Who would win head-to-head and why? I'll take the young(er) Bucks. The athleticism of guys like Conley, Jackson, Turner, Redd and Hopson, specificallly, looks tough to beat though Team Scarlet is loaded with legends and features the greatest basketball Buckeye of them all in Jerry Lucas.