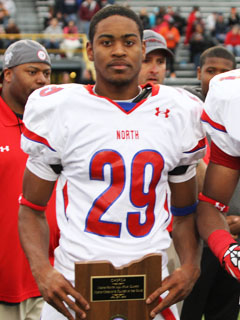 Eleven Warriors' coverage of the upcoming 2013 football season for Ohio State continues this week with another profile of a freshman hoping to have an immediate effect on the football fortunes of the program. In the sixteenth installment of the fifth edition of this now 24-part series, we consider Gareon Conley. Conley, a cornerback prospect from Massillon, is another recruit that Urban Meyer figuratively "flipped" to the Buckeyes. Better yet, he flipped from Michigan in December of last year, having committed to the Wolverines in March 2012. This brief story is retold below.
After retelling Gareon Conley's recruitment and commitment to both Big Ten rivals, I include a breakdown of Gareon Conley's strengths and areas for improvement. Whereas size is becoming the norm at wide receiver at the professional level (something Brady Hoke's staff is trying to duplicate for its program in Ann Arbor), size at cornerback is becoming a must. After discussing his potential to Ohio State football, I include a highlight film for you to watch and conjecture about a possible redshirt year. I mention some miscellaneous things about Gareon Conley you may find interesting before concluding that he is better known. I put him on the board accordingly.
Height: 6-1
Weight: 180lbs
Fake 40: 4.5
High School: Washington High School; Massillon, Ohio
His Recruitment
Gareon Conley already had Big Ten offers by March of his junior year. It was the Michigan offer, in particular, that wowed Conley. In mid-February, Conley was pulled from class by his head coach in order to field a phone call from Brady Hoke. His program in Ann Arbor was going to extend him a scholarship offer, which was only his second scholarship offer to that point (Northwestern was the first). Conley said hearing he was offered by Michigan was more than he could've expected, and was hoping to schedule an unofficial visit shortly.
Even as more offers from the likes of Cincinnati, Indiana, Virginia, Wisconsin, and West Virginia came, it was still the Michigan offer that shaped Conley's recruitment. Conley, as kids are wont to do in Northeast Ohio, followed the Wolverines' program in his youth. He identified the program one for which he envisioned himself playing when he would see the team play on television. That hearing Brady Hoke, Michigan's head coach, offer him a scholarship over the phone almost induced him to tears only added to the mystique of the program. It was Michigan against the field at this point and Conley had an unofficial visit scheduled for March 10.
His Commitment
On March 10, 2012, Gareon Conley became the then-fifteenth member of Michigan's recruiting class when he committed to the Wolverines.
Conley was, by this point, another success of Brady Hoke's recruiting efforts in Ohio. It was a philosophy of "offer early, offer often". This is a (somewhat perilous) recruiting approach that maximizes Michigan's name brand recognition (certainly in Ohio) and took advantage of the transition of Urban Meyer from former Florida head coach-turn-ESPN analyst to Ohio State head coach. It allowed Michigan to swoop in and secure guys like Jake Butt and Taco Charlton who were waiting for, and likely worthy of, offers from Ohio State. From there, Michigan can afford to be more selective nationally, which pays dividends when it signs guys like Derrick Green on National Letter of Intent Day.
A month after Conley committed to the Wolverines on his unofficial visit, he reaffirmed that he was bound for Michigan. No other schools were contacting him by this point. He was in constant contact with assistant coach Curt Mallory and was getting to know his fellow Michigan commits, including guys like Michael McCray, David Dawson, Shane Morris and Dymonte Thomas. He was preparing for a senior football camp in Ann Arbor in June and was talking about his excitement for the next chapter in his life.
Through the summer, that's all there was to say about Gareon Conley for the Ohio State fan.
His Recruitment, Part Deux​
As fall approached, Gareon Conley started to have second thoughts. Interestingly enough, it wasn't Ohio State that elicited this change of heart from Gareon Conley. It was Oregon.
By the first week of October, Oregon had yet to offer a scholarship to Conley. However, Chip Kelly's program wanted him to visit, thinking it could lure him from the Wolverines much like it successfully "flipped" Pharaoh Brown from Michigan in the 2012 recruiting class. The problem for Conley was the familiar idiom of a bird in the hand and two in the bush. The offer from Oregon was appealing for a variety of reasons. Conley cited Oregon's "speed" as attractive. Further, Chip Kelly was offering the opportunity to play wide receiver as well, a position in which Conley could very well thrive.
However, without "two in the bush", Conley did not want to let go of the bird in the hand. Brady Hoke has a very controversial stance on Michigan commits taking official or unofficial visits to other programs. He threatens to pull scholarship offers from recruits who take visits to other programs. It's one thing to recruit as if a recruit is no longer committed if the recruit takes a visit to another program. It's another, more draconian, policy to rescind scholarship offers to commits who want to look elsewhere. Hoke may have softened this stance with respect to David Dawson (or maybe not), but it applied to Conley.
Aware of this situation developing, and aware that the program had let an Under Armour All American elude its grasp in March, Ohio State extended a scholarship offer in late October. It had done what it probably would have done in March if Conley was able to attend a junior day event in Columbus. After a phone call conversation with Urban Meyer, Conley decided to visit Ohio State.
Conley believed Michigan would eventually rescind his scholarship offer for this decision, or unaware if they already have. Nonetheless, he declared that he was back on the market and decommitted from Michigan at the end of November. It followed his unofficial visit to Ohio State for the game against Michigan and preceded an announcement that Conley would take another visit to Ohio State in December.
With Oregon out, and only Cincinnati as a school that Conley was considering, it was now Ohio State against the field for Gareon Conley.
His Commitment, Part Deux​
On December 7, 2012, Gareon Conley committed to Ohio State, becoming the sixteenth member of its 2013 recruiting class. He had formally flipped from one Big Ten rival to another.
Much like his commitment to Michigan in March, his commitment to Ohio State in December came on the spot during a visit. As he recounted later in an interview with Eleven Warriors:
Today after everything was over. My parents, Coach Meyer, and myself were in his office and he said, "Now that you got a feel for everything, let's get rolling to that national title." I said, "Let's go! I'm on board!"
When asked why Ohio State over other offers, Conley mentioned the allure of the home state program, playing with his family, and playing for Urban Meyer.
I just really like the coaching staff and Coach Urban Meyer is a wonderful guy. I feel he will make me a better player and man in general. I want to stay home, I'm an Ohio boy and I feel their program will help me a lot. I just like all of the players and my cousin, Devin Smith, told me everything and he will help me out.
Where He Excels
Gareon Conley is an interesting addition to Ohio State's recruiting class beyond the Michigan element. At 6-1 and 180lbs, he has legit size at a position that is becoming increasingly necessary as pro teams, and college programs, look to find size at wide receiver.
Beyond just size, Conley brings a lot of athletic potential to the position. In a class statewide that has players like Cam Burrows, Caleb Day, Ross Douglas, and Darian Hicks, some clued-in analysts characterized Conley as the best pure corner in the Buckeye State. His height allows him to "high point" balls while defending them against wide receivers. His length allows him to harass wide receivers on quick outs and curls. His height is almost an "NBA height", a way of characterizing athletes with wingspans much longer than what is expected for their height.
The interesting question about Conley is a popular, broader topic for debate: do good wide receivers make better cornerbacks? This was a common lamentation for a guy like Ted Ginn Jr, who became a good wide receiver at Ohio State (complemented importantly by Anthony Gonzalez) and a decent wide receiver in the NFL. He arguably could've been a great defensive back if that was what he spent his time in college doing. It's what he was initially recruited to Ohio State to do before Darrell Hazell intervened (and, for Ohio State, probably for the best).
Likewise, Conley just doesn't pass time at wide receiver. He is actually very good at it. He played wide receiver in the 2013 Ohio North-South Classic and dominated the competition. As fate would have it, he matched up with Reon Dawson, who was playing cornerback for the South squad. Dawson was a one-time Illinois commitment who flipped to Michigan as Brady Hoke's replacement for Gareon Conley. In the 2013 Ohio North-South Classic, Conley just skunked Dawson in a manner that was painfully obvious to everyone watching. Conley finished this game with seven catches for 109 yards and three touchdowns en route to offensive MVP honors in the North's 33-27 win over the South.
It's a performance like this, in addition to his 50 catches for 1,096 yards and 16 touchdowns as a senior at Washington High School, that leads to some confidence that he could be an overwhelming cornerback for the Buckeyes.
Must Work On​
All corners have to tackle well in college football. Great corners have to love it. While Conley has demonstrated some willingness to figuratively "mix it up" in run support, and has shown some flashes of brilliance on corner blitzes, this part of his game is basically unknown.
One such reason is it's unknown is because of Conley's frame. He's tall and rangy, but not necessarily big and strong. He doesn't seem to drive much power through his legs when tackling. Often, it can look like he's holding on for dear life and waiting for help. This is not optimal at the college level.
Highlights​
Senior year.
Redshirt?​
Like a few other players in this class, a redshirt would probably be advisable if it meant conserving years of eligibility amid a loaded position. With Bradley Roby having one position at cornerback secured and plenty of quality players elsewhere, it's unknown whether Conley could immediately factor into the two-deep at boundary or field corner. Truth is he's too athletic to keep off the field for too long. Knowing Meyer's recruiting pitch about redshirts well, it seems likely Conley finds something to do on the field of play in 2013.
Miscellany
As a senior, Conley had 25 tackles, a 78-yard interception return for a touchdown, and a blocked kick while playing defense.
He is a cousin of Devin Smith, who also graduated from Washington High School in Massillon. Smith would talk up Ohio State on the recruiting trail, but did not meddle much in Conley's recruitment.
Conley's father is a big Michigan fan, but he, like Devin Smith, did not meddle in Conley's recruitment to push him one way or the other.
Conley's senior season ended with a 49-16 loss to Toledo Whitmer in the state quarterfinals. It did include a playoff win over rival McKinley High School in addition to the regular season win.
Conley played in the Under Armour All-American Game, along with Marcus Baugh, Vonn Bell, Joey Bosa, Cam Burrows, Trey Johnson, Jalin Marshall, and Dontre Wilson. Conley started the game for "Team Nitro" and had two tackles.
He played in the 2013 Ohio North-South Classic along with Jalin Marshall, Darron Lee, and Chris Worley. Highlights, including skunkings of Michigan-bound Reon Dawson, are below.
I think Gareon Conley is better known.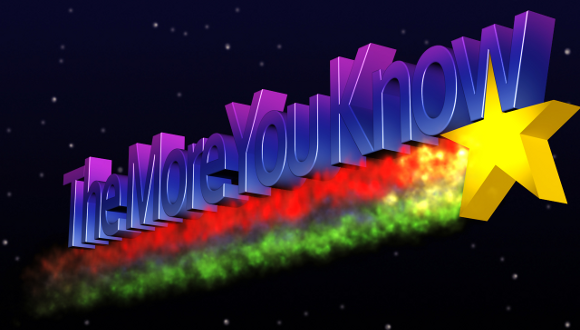 ---
Let's put him on the board.
| Name | POS | Ht | Wt | Hometown | Committed | Better Known |
| --- | --- | --- | --- | --- | --- | --- |
| Cameron Burrows | DB | 5'11 | 200 | Trotwood, OH | 01.19.12 | 02.19.13 |
| Jalin Marshall | WR | 5'11 | 196 | Middletown, OH | 01.30.12 | 02.26.13 |
| Billy Price | DT | 6'4 | 300 | Austintown, OH | 02.13.12 | 03.05.13 |
| Eli Apple | DB | 6-1 | 188 | Voorhees, NJ | 02.16.12 | 03.12.13 |
| Evan Lisle | OL | 6-5 | 280 | Centerville, OH | 02.28.12 | 03.19.13 |
| Jayme Thompson | S | 6-2 | 184 | Toledo, OH | 04.01.12 | 03.26.13 |
| Ezekiel Elliott | RB | 6-0 | 195 | St. Louis, MO | 04.01.12 | 04.02.13 |
| Marcus Baugh | TE | 6-4 | 233 | Riverside, CA | 04.10.12 | 04.09.13 |
| Tracy Sprinkle | DE | 6-3 | 255 | Elyria, OH | 04.17.12 | 04.17.13 |
| J.T. Barrett | QB | 6-1 | 230 | Wichita Falls, TX | 04.18.12 | 04.24.13 |
| Joey Bosa | DE | 6-5 | 270 | Ft. Lauderdale, FL | 04.23.12 | 05.01.13 |
| Darron Lee | ATH | 6-3 | 205 | New Albany, OH | 06.26.12 | 05.08.13 |
| Michael Hill | DT | 6-3 | 315 | Pendleton, SC | 06.27.12 | 05.15.13 |
| Timothy Gardner | OL | 6-5 | 310 | Indianapolis, IN | 07.28.12 | 05.22.13 |
| Tyquan Lewis | DE | 6-3 | 237 | Tarboro, NC | 09.20.12 | 05.29.13 |
| Gareon Conley | CB | 6-1 | 180 | Massillon, OH | 12.07.12 | 06.05.13 |