You know it wasn't the best day when a young, athletic linebacker nicknamed "Boom" decides to leave the program. 
Quality defensive nicknames are at a premium and it's unclear who will fill the void left by David "Boom" Perkins' departure.
Meyer confirmed the news after three weeks of speculation that he was on his way out, allegedly because the nickname was already too good of a fit with former Buckeye and current Bengal Dan Herron. 
Ok, Perkins' departure likely had nothing to do with Boom Herron, but at least the break up was mutual according to Meyer: 
"I think anytime you lose someone it's disappointing. But that's business. If he sees himself behind another player that's going to be here for a couple years and someone's guiding him (that's his decision). It's not like it was a nasty break up. We wish him well."
The news was fairly surprising when it first broke three weeks ago, considering that 1. Boom received some first team snaps during spring practice, 2. he was one of the most athletically gifted players on the roster, and 3. he would likely be one injury or NFL departure away from starting.
The Buckeyes are now in a similar position to when they started spring practice: a truckload of athletic and talented linebackers with little game experience between them. Josh Perry, Cam Williams, Luke Roberts, Curtis Grant, Trey Johnson, and Mike Mitchell will all fight for the one to two remaining linebacker spots this summer.
Perkins considered a transfer to Bowling Green, Urban Meyer's old stomping grounds, but an arrest for criminal mischief while visiting the school over Memorial Day weekend put the kibosh on those plans.
In any case, good luck to Mr. Perkins finding both a new school and football program. 
 BOW TIES AND CONTROVERSY. You are forgiven for assuming that Boom's departure was the worst thing to happen to Ohio State, but unfortunately the Gordon Gee Comedy Tour made big news again yesterday.  
This follows previous standup routines on the Tressel-Gee hierarchy, his own strength of schedule analysis and bias against the Little Sisters of the Poor, and the Polish army. Gee started it off by taking a few jabs at the Catholics that run Notre Dame before then saying that, "The top goal of Big Ten presidents is to "make certain that we have institutions of like-minded academic integrity. So you won't see us adding Louisville." BURN. 
He then segued the roast towards the SEC by adding the University of Kentucky to his list of schools deemed academically inferior to the Big Ten. His real punch line was about SEC literacy following a question about Big Ten's 14 teams: "You tell the SEC when they can learn to read and write, then they can figure out what we're doing."
Gee obviously furthered his reputation for making off-color remarks that unfortunately bring Ohio State into the offseason news. Frankly, we'd love to struggle to find things to write about during the offseason, and no news would certainly be better than failed-joke news. Dennis Dodd – I know, right? – might have said it best:
Gordon Gee is that weird uncle who makes off color comments at family gatherings, except HE'S PRESIDENT OF OHIO STATE!

— Dennis Dodd (@dennisdoddcbs) May 30, 2013
Well, this uncle actually got in trouble, since "Ohio State trustees learned of 'certain offensive statements' by Gee in January, met with the president at length and created the remediation plan for Gee to address his behavior," board president Robert Schottenstein said via statement. 
At least OSU didn't receive all bad news yesterday, as the football team refurbished a playground and planted a garden at a local middle school. This was a really cool move by Meyer and the team, as it benefited both the community and the players who volunteered their time. 
 THE LAW SUITS BEGIN TO FLY. The Paterno family filed its suit against the NCAA, adding to the growing list of legal battles that the organization is now facing. Similar in nature to the one filed by the state of Pennsylvania, John Infante sees this case as based on similar antitrust and "not following your own rules" arguments.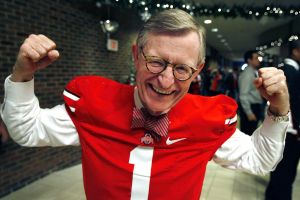 He argues that the NCAA can't set a precedent for getting bullied by a school that receives sanctions, even it would prefer to settle the case:
So the NCAA could come in and say "Penn State has done such a good job with the athletics integrity agreement that we're going to reduce the sanctions," but I think they would do that and then continue to vigorously defend against the lawsuits because they get to the core of the legal underpinnings of the NCAA and how they're able to do what they do.
This will be an interesting one to watch, not because of the Paterno legacy stuff or for the state of Penn State football, but for the precedent-setting potential that this case has.
The NCAA faces mounting dissatisfaction and it's never fun to spend your resources fighting in court. Here's the actual lawsuit if you'd like to take a look. 
 VARYING CONFERENCE DRUG POLICIES. Following the one-game suspension of University of Georgia safety Josh Harvey-Clemons for admitting to smoking weed and the resulting criticism of UGA's relatively harsh drug penalties, the SEC is considering a league-wide drug policy. 
Testing and punishments vary widely on a school by school basis, with some kicking players out after three failed tests and some after four. While I'm not confident the SEC schools will be able to agree on a league-wide policy, it got me wondering whether the Big Ten has a league-wide policy. 
After giving it a quick search, multiple sources seem to indicate that Big Ten drug policies similarly vary by school. Coordination is hard. 
 CHOO-CHOO GOES THE HYPE TRAIN. All aboard the hype train – it's summer time and that means we need to talk about breakout stars for 2013. Sports on Earth has a diverse group of players that should garner national attention next season. 
Ohio State got two for the price of one in that article, with both Noah Spence and Adolphus Washington tabbed as breakout stars on a reloading defensive line. After recording seven sacks in the spring game between the two of them, expectations are justifiably high for the former five star linemen. 
If you're looking for a preview of non-OSU players that have a chance to post big numbers, check out whether Manziel can repeat his redshirt freshman performance and new FSU starting quarterback Jameis Winston. 
 DROPPIN LINKS LEFT AND RIGHT. Doing the math on Alabama's 85 man roster... I can't believe I'm linking to pictures of McCarron's new tats like I'm TMZ, but here I am... Almost better to present without context, but Les Miles did some rappelling for a cause... A little strategery on the short passing game... Some people apparently have chimp feet!