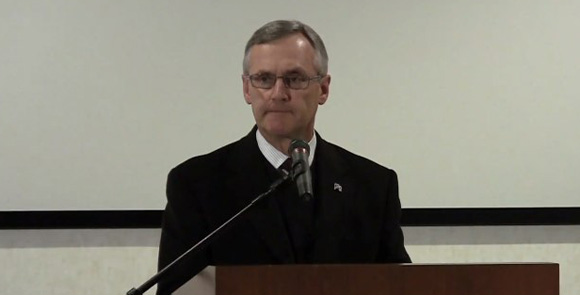 On Memorial Day 2011 one of the country's leading sports programs had reached its lowest point. Mired in a scandal that drew national headlines, Ohio State's legendary head coach, Jim Tressel, resigned under intense scrutiny and pressure.
Two years later that day seems like nothing more than a distant memory. When Urban Meyer was hired six months later, a 6-6 regular season that ended days prior immediately became a forgotten period.
There were more than 100 wins – nine over Michigan – a national championship, countless Big Ten titles and a decade of memories during Tressel's tenure. But the Buckeyes' outlook 24 months after his ouster has rarely been brighter. Meyer is yet to lose a game at Ohio State and he has reinvigorated a fan base that is intoxicated on positive energy.
To look back and see where the program sat on May 30, 2011, is almost unfathomable. Tattoo-Gate didn't just damage Buckeye football, it fractured the entire athletic department and the university. Athletic Director Gene Smith and President E. Gordon Gee were swept up in the controversy not only because of their job titles but also because of missteps along the way.
Both men kept their jobs – something Tressel can't say – and have come out the other side of the scandal upright and in command of their respective parties. Tressel received a five-year show-cause penalty, putting his coaching career on hold.
Now at the University of Akron in an administrative role within the university, Tressel is doing what has always been his passion: helping young people. It's part of the reason why he's no longer the head coach at Ohio State. Instead of alerting his superiors to the improper benefits a handful of prominent players received, Tressel chose to stay mum.
In a win-at-all-costs society, though, it's hard to believe that Tressel kept quiet simply because he was "protecting the kids" as he put it. The Buckeyes were entering a season with high expectations – aren't they all like that in Columbus? – and the absence of quarterback wunderkind Terrelle Pryor would have put those title chances on life support. The sporadic play of Joe Bauserman was put on display one season later and the results were less than desirable.
Time heals all wounds, though, and it appeared last November that fans were forgetful of Tressel's violations when he received a hero's welcome at the Michigan game. Later that afternoon, Meyer's Buckeyes finished a 12-0 season but were denied an opportunity at playing for the national championship due to Tressel's inaction with the NCAA.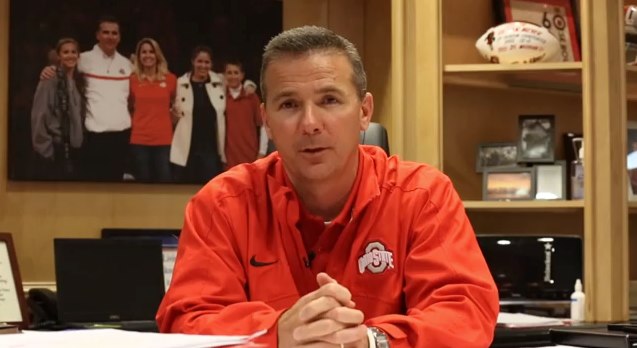 Even a bowl ban was nothing more than a minor speed bump for Ohio State. With three months remaining until the season opener, anticipation is nearing an all-time high. The Buckeyes have been good before and they'll be good in the future, but the present state of recruiting, the vibe within the program and the intensity in which it's all occurring seems like nothing that's ever taken place in Columbus.
The 18-month recovery period has been akin to finding a cure for the incurable. Buckeye Nation was writhing in pain, awakening everyday with a doom and gloom attitude. Meyer's presence has changed everything, though. The winning returned and a run of unprecedented success seems to be on the horizon.
It all began with a selfless group of seniors that stayed even when the odds were stacked heavily against them. Unlike what occurred at Penn State, there was no mass exodus from Columbus. John Simon, Zach Boren and others helped re-lay the foundation with a season that will be talked about for years to come.
The senior leadership is a void on the 2013 roster, but when one of the most exciting players in the country touches the ball on every offensive play, some lapses can be forgiven. Few quarterbacks can match the skills of Braxton Miller and even fewer players are able to duplicate the amount of game-breaking plays Miller has each Saturday.
Quarterback and head coach were made for each other. Both are elite in their positions with qualities that mesh. Meyer has Miller at his disposal for two more seasons, which is scary for the rest of the Big Ten – and perhaps the country. The true measure of Ohio State's resurgence will come during the postseason.
Since his arrival, Meyer has stockpiled talented recruits, signing blue-chippers across the board. He's brought the same philosophy with him that won two national championships at Florida. Shifty playmakers at the skill positions have been the top priority. The Buckeyes welcome three speedsters to campus in little more than a week that could make an impact this season.
Tempering expectations – if it's possible at Ohio State – would be wise, even after an undefeated season. The difficulty involved in winning every game becomes apparent when the inevitable upset strikes. Despite a roster filled with contributors, Meyer is always on the lookout for bigger, faster and stronger.
He turned a middling class into a top-five group in less than three months in 2012 and signed what some consider the nation's top class this season. The staff has already turned its attention to 2014 and beyond, securing the commitments of some of the top recruits in the country. It's been a major change of pace from the Tressel regime's recruiting efforts.
The on-field product features similar changes. A conservative approach that brought victories by the bushel but in a boring fashion that drove fans crazy has disappeared. Instead, Ohio State resembles the SEC North. Linemen are lean and fast, linebackers can chase down running backs and quarterbacks can run and throw equally well.
Tresselball had run its course. Now an Urban renewal has sparked change for the better.