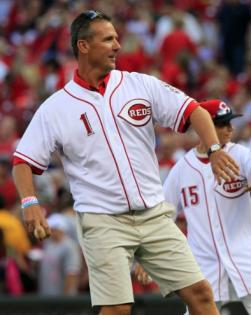 Cincinnati is an interesting place. Because of its proximity to Kentucky, Toledo-esque lack of loyalty to Ohio State, and the fact that for some reason people in Columbus seem to lean toward being Cleveland pro sports fans (despite Cleveland sports teams being somehow worse on average than their counterparts from the Nati), many Buckeye fans have a hard time getting over the idea of the city as an unholy Benedict Arnold/Vidkun Quisling joint enterprise.
Well, let me drop some knowledge on you Doubting Thomases. I was born and raised near Cincy. I have friends and family who went to UC. I grew up rooting for Bob Huggins and the Bearcat basketball team.
And dammit, today I am here to inform you plebes that you are absolutely, one thousand percent correct about your suspicions concerning the Queen City.
But this isn't something to be smug about, guys! Yes, the "bUCkeye state" shirts were endearing and hilarious in a "three-legged puppy with a big leaf on its head" way, and it's always fun to knock a front-running fanbase down a peg (like, say, in the NCAA Tournament, or on our way to a national championship in football), but truth be told, it actually sucks pretty hard for Ohio State in the long run.
Because as hard as it might be to admit, the Buckeyes need Cincinnati firmly in their corner, and last Saturday's game in Paul Brown Stadium was the first in a series of moves that started almost as soon as Urban Meyer was hired. A battle plan, if you will, to ensure that the assorted forces of Eastasia (in this case, Notre Dame and assorted SEC schools slumming it up above the Mason-Dixon Line) are never able to keep a foothold in our precious Midwestern stronghold. 
Kyle wrote about why Cincinnati is an important target for Urban Meyer and Ohio State a few days ago, and though that is interesting — especially given the abundance of football talent coming out of Catholic high schools in southwestern Ohio — I'm more interested in the how, because that involves a lot of subtle and cleverly subversive PR moves to get a bunch of fickle Cincinnatians back to rooting for the side of light.
Meyer himself has done a decent amount of this. I wrote last year about the Pigskin Roundball event that he spoke at with Thad Matta near Mason, and throwing out the first pitch at a Reds game, as awesome as that would be for anyone with a beating heart in their chest, also nicely doubled as a way to say "HEY WHAT'S UP BROS" to a bunch of flabby pale dudes drinking Moerlein in cut-off Affliction tees.
That, and taking his team to the usual Cincy hotspots like Graeter's and Montgomery Inn and the Reds Hall of Fame is all excellent Soft Diplomacy that will hopefully endear the people who live near the river to a team they've never really claimed as their own, at least on the whole. Keep in mind, also, that Urban Meyer was asked by the University of Cincinnati to help pitch them to the ACC when it at one time looked like a smart thing to do.
But that's not enough. Championships are won through recruiting, and that's why Meyer made the excellent move of hiring Kerry "I would fight a dude over the Buckeyes" Coombs to be his defensive backs coach from local Colerain HS. If I know one thing about Cincinnati, it's that they almost always prefer to stick with the devil they know rather than the one they don't. Keep in mind that this was a city that actually seemed to like Jerry Springer the politician more after he was found to have paid for a prostitute.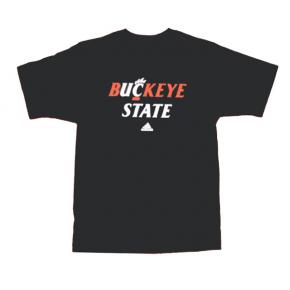 Not that I'm comparing Kerry Coombs to a hooker, but it can't be underscored enough how much familiarity means to people. So even though I think Ohioans have a tendency to think of this as a "small" state, there are real and important cultural differences between the northeast and southwest corridors of a state with nearly 12 million people living in it, and it's important to bridge that gap with a hyperactive ride-or-die OSU lifer who also happens to be from the west side of Cincinnati.
With that said, coaches and platitudes and winking acknowledgements of Skyline Chili's clear superiority to all other chili sauces can only get you so far.
What you really need is results on the field, and players that you can point to and say, "Oh hey, that kid is from Taft. I know his stepbrother's aunt, she works with my mom." Which is why the maturation of guys like Adolphus Washington will be so important for future recruiting. Admit it: I'm sure you love all OSU players equally because you are a kind and caring superfan, but don't lie to me and tell me you don't get a special thrill when a kid from your hometown makes good.
I mean hell, being from Middletown, I got a thrill when I saw Andre freaking Amos play on the punt coverage team, and I can't imagine how it'll feel watching a genuine quality kid like Jalin Marshall strut his stuff out on the field as a featured part of the offense. And I didn't even go to Middletown High School, which just goes to show how far (and weird) this kind of "ownership" can go, as long as the fan has some sort of connection to what's going on in the game, no matter how tenuous.
So I hope that you, non-Cincinnati area Ohio State fan, gives the area a chance and supports Urban's re-annexation of the lower Miami Valley. Sure, it's infested with Johnny-come-latelys and people with a greater loyalty to their high school than their country and has a lot of latent racism and has those weird lizards everywhere and a lot of crime and an insane labyrinth of side streets and back alleys leading to nowhere.
But dammit, the food is good, the zoo is awesome, and the football is very, very good. Ohio uber alles. And that includes the most German city of all, which as Urban says (honestly or not) is "...partly my hometown."