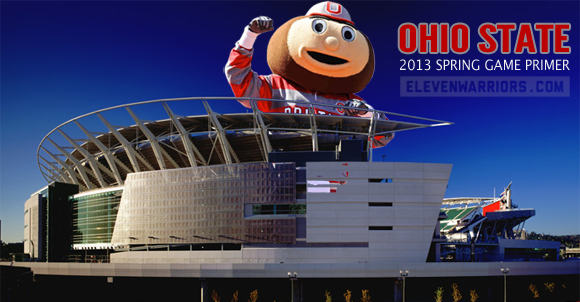 Today is a special day for Ohio State football as it kicks off what ostensibly is the start of the upcoming football season by playing its annual spring game scrimmage in front of thousands of Ohio State students and Ohio State fans.
In lieu of the traditional Saturday Skull Session, this Saturday morning post will serve as a primer for everything you will need to know about Saturday's practice, including what you can expect to happen and how you can watch it.
What is the spring game? The spring game is one of 15 practices allocated to college football teams during the spring. When put this way, it is not much of a "game" at all, though colleges are given autonomy in how they go about structuring the practice. To that end, college football programs take one of their 15 spring practices, use it to approximate an actual football contest, and promote it as such to its fan base. It transforms a normal practice into something that can generate revenue for the program.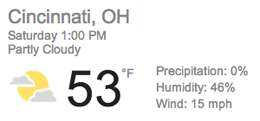 When is the spring game? The spring game will kick off at 1 p.m. today.
Where is it? Well, it's not in Columbus this time around. Ohio Stadium is undergoing some minor renovations, derivative of the last stadium expansion completed in 2001. Don't get too excited about these renovations, though. They're more structural than cosmetic.
As a result, Ohio State's spring game is relocating to Cincinnati this year. It will be played in Paul Brown Stadium, current home of the Cincinnati Bengals and so-named after, among other things, Ohio State's first national championship-winning coach.
How can I watch it? Well, you can't. At least, you will not have many options to watch the spring game live unless you are in Paul Brown Stadium.
The Big Ten Network instead opted to show Illinois' spring game on tape delay at that time. It will then lead to a lacrosse game between Penn State and Towson. BTN will show Ohio State's spring game on tape delay tonight at 7 p.m.
BTN2Go is offering the option of watching the game online, assuming your cable provider is among the network's partners. The list does not include the nation's largest carrier, Comcast, but does include Time Warner, which serves much of Central Ohio. Here's the full list of providers that support BTN2Go.
You may also have luck at any of the hundreds of Ohio State game watch locations across the country.
Failing that, you will have to wait until 7 p.m. when the network airs the spring game.
You can follow events as they happen by following our own Kyle Rowland on Twitter (@KyleRowland). Kyle will be on hand to bring you updates as the spring game unfolds. Walt (@mwaltonkeys) will also be on hand to shoot the game, and he may provide a bit of color, as well.
What will be the format of this "game"? The spring game will not perfectly mirror the spirit of an actual football game. There will four 10-minute quarters instead of four 15-minute quarters. There will not be much of a role for special teams. There will be no kickoffs and all punts must be fair caught. As such, Kerry Coombs' piranha tank will not be on display in Cincinnati.
Braxton Miller and Kenny Guiton will be wearing black no-contact jerseys. Thus, they are above tackling during this game, unless Noah Spence didn't get that memo. Referees will whistle a sack or down by contact if it looks imminent from their vantage point.
Cardale Jones will not wear a black no-contact jersey, though. So, he's fair game for Noah Spence.
Who is on what team? The teams were divided into Scarlet and Gray. The coaching staff was even divided as well. Ed Warinner will be head coach of the Gray team while Everett Withers will be head coach of the Scarlet team.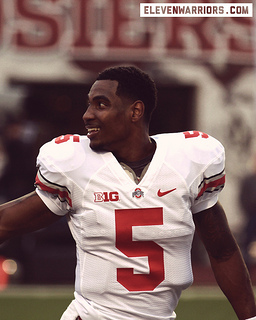 Your rosters are here: Scarlet Team and Gray Team. The Scarlet has the advantage in most facets. Their tailbacks are Jordan Hall, Brionte Dunn, and Warren Ball. Gray has Carlos Hyde and will apparently compensate for not having Rod Smith (injury) by adding Warren Ball in stretches. Corey Linsley is the only first-team OL that is on the Gray roster. Scarlet's has three higher profile WRs (Philly Brown, Evan Spencer, and Devin Smith) to Gray's two WRs of note (Chris Fields, Michael Thomas).
This mostly holds at every position, except for DL and CB. Gray has both Adolphus Washington and Noah Spence. Gray also has Bradley Roby, Doran Grant, and Armani Reeves.
What should I make of the spring game, after I eventually see it? Not much, honestly. Spring games are very noisy signals of what the football team will actually resemble in the upcoming season.
The reasons for this are straightforward. Ohio State's team will be divided into two teams equally composed of offensive players and defensive players. The coaches themselves will be divided as well. Don't be surprised if this means that an offensive guard might have to play offensive tackle, for example. Further, Ohio State's early enrollees will not be enough to compensate the recent departures to the NFL.
As a result, it is precarious to say that the "offense looked good", or the "defensive struggled". Much of your observations should be more microlevel (e.g. "Adolphus Washington looked fantastic in that practice"), while also mindful of the fact that some of the one-on-one matchups may not entirely be fair.
Is there anything about the scrimmage in particular that deserves my attention? Though not many conclusions can be reached, there are still a lot of questions to ask and a lot of things that merit scrutiny for the Ohio State fan in attendance in Paul Brown Stadium, or eventually watching on BTN.
The big question might be the defensive line. As you know, Ohio State is having to replace four starters on the defensive line for the first time since the mid-1980s. I think we will feel comfortable about our defensive ends after observing Noah Spence and Adolphus Washington practice (on a bigger stage, at least). What of our defensive tackles, though? Tommy Schutt is injured right now and is missing some valuable spring reps. How solid will Michael Bennett look in action? Does Joel Hale look like a starter? What of the Chris Carter project as well?
Ohio State's linebacker corps has question marks as well. No one doubts Ryan Shazier is an all-conference performer at weakside linebacker, though we won't get to see him during this game. It's now or never for Curtis Grant to demonstrate command at the middle linebacker position. Camren Williams' name has appeared in print over the last few practices. What can he show us in Paul Brown Stadium?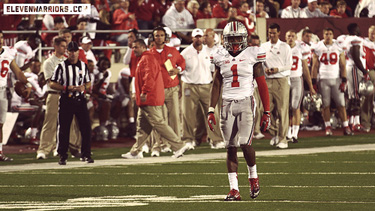 Who is our right tackle for 2013? It's the only position on offense that needs to be replaced from the 2012 season. It would seem like it's Taylor Decker's position to lose, but Chase Farris has taken like a duck to water in moving from defensive line to offensive line.
Bradley Roby has a lock on one of the corner spots for this team, but the other position is open to anyone who earns it. Doran Grant seems like he is ahead of everyone else for the position, though he has to hold off Adam Griffin from last year's two-deep. Further, two of the freshmen currently enrolled are competing for that same position. This will be your first exposure to Eli Apple and Cameron Burrows, who both have very promising futures for Ohio State football.
Finally, will we have any pleasant surprises at wide receiver? Wide receiver, more than any other position at Ohio State, seems to coincide with spring game excellence to be followed by a vanishing act in the fall. Bam Childress and Taurian Washington come to mind. If we see Michael Thomas perform well enough to justify some of the hype he has enjoyed in the past few weeks, will we see enough to have confidence this will carry into the upcoming season?
Who wins? Scarlet or Gray? This one is easy. I'm on Team Gray, ride or die. Gray will overwhelm Scarlet because Scarlet is morally deficient. Gray will not only prevail, by a wide margin, but Gray will also set a wonderful precedent of winning with character and scruples. Children everywhere have much to emulate from the lion-hearted Gray team.