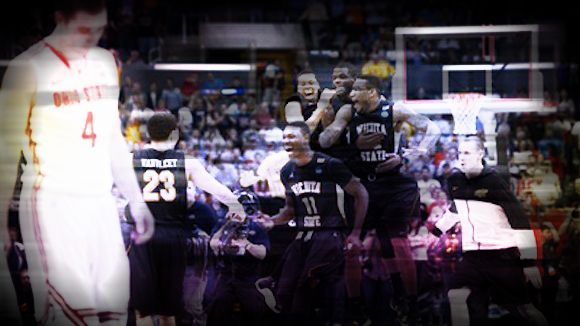 The Big Ten Tournament's fifth seed has reached the pinnacle of college basketball. Michigan had seven losses this season, with six being delivered by the four teams seeded higher than it was in both tournaments.
Yet none of those squads from America's Toughest Conference™ are joining the Wolverines at the Final Four. Three of them fell to significantly lower seeds. Remember how the B1G's bowl season was stacked against it from the outset because the Buckeyes and Nittany Lions weren't eligible, forcing everyone else to move up at least one or two spots in the pecking order?
These tournament matchups were pretty much the opposite of that, and it still ended poorly. How could this happen? Why can't the B1G have billions of television dollars nice things? Let's point fingers and engage in some name-calling.
WISCONSIN'S GOAT: BIG GINGER
For all the havoc Mike Bruesewitz brought to the conference over the past four seasons, he picked a hell of a time to notch a career high for turnovers. The Badgers went from the B1G title game to a first-round exit amidst the calumnious echo of S-E-C chants.
Wisconsin's power forward was never much of a stat sheet guy. He was always more of a not-so-silent enabler, sort of like the Badgers' savvy offensive line, but with terrifying hair and fewer bovine hormones. He helped create those annoying wide-open shots and second chances Wisconsin always seems to have.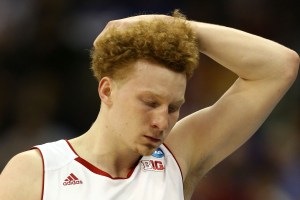 Bruesewitz actually hit his career mark for fumbles before the first half even ended with Mississippi. This created some terrific irony: Wisconsin's red goblin – who spooked opponents with a versatile inside-outside game along with his ability to loot oxygen and souls over the past four years – spooked himself. 
The big ginger totally disappeared in the second half, occupying a body on the court and little else as his teammates desperately launched scud after scud in the direction of the basket with an appalling 75% of them missing the target.
Not a single one of Bruesewitz's teammates was able to shoot 30% from the floor, and there was no Trohl Center ju-ju for the Badgers on the road despite their comfortable white jerseys. 
While Wisconsin's style of play generally only pleases people who hate basketball, this performance was far more distasteful than the usual. It was a macabre showing, like a Barry Alvarez football team operating without a clinically obese running back who can run a 4.7 forty. /gasp
You could blame a holistically bad performance by the Badgers, or you could chide their cherry heartbeat. The latter is far more pleasing, unless you hate the idea of killing bloodthirsty vampires.
INDIANA'S GOAT: BUTTCUT MCNOSTRILS
Jim Boeheim has been at Syracuse since 1962. He became head coach in 1976 when current Indiana coach Tom Crean was ten years old. The Orange have played their 2-3 zone pretty much that entire time. If you're preparing for Syracuse, you're preparing for that zone.
Indiana didn't prepare for that zone. This means it didn't prepare for Syracuse. This means it didn't prepare at all.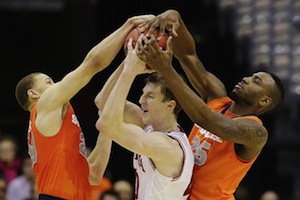 That scheme is basically a five-man choreographed dance amoeba. When someone with the ball tries to penetrate it, the amoeba swallows him. When the ball is transferred elsewhere, the amoeba shifts accordingly.
Indiana brought its own dance to Syracuse's zone, and after failing to keep up for the better part of the first half the Hoosiers began to panic. It was evident on all of their faces that the game wasn't going according to their script...which apparently didn't include defeating a 2-3 zone.
Oh sure, Indiana might have prepared for it, but it didn't prepare for it. The Hoosiers didn't prepare for any of the adversity that accompanies dancing with a blob that presents every dribbler with a five-way mirror. They never adjusted to it. They actually played right into it.
Indiana definitely didn't prepare for Syracuse the way Syracuse prepared for Indiana. Oh, Cody Zeller likes to drop his shoulder and drive to the basket? Here fella, have the worst game of your life. Victor Oladipo likes to jump over dudes? Here, try to jump over five of them.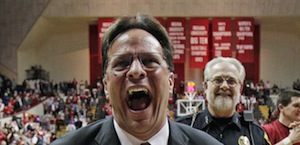 The Hoosiers' pint-sized guards made this a roster mismatch as well, with Yogi Ferrell and Jordan Hulls unable to go over the top of that annoying zone with anything approaching the success that bigger shooters Will Buford and Lenzelle Smith had in last year's Elite Eight.
Consider that Buford-Smith combined for 31 points in Ohio State's Final Four-clinching win over Syracuse last year. Hulls-Ferrell combined for 31 points fewer than that.
Indiana struggled, panicked, flailed and got its ass handed to it as Crean's Hoosiers fizzled spectacularly down the stretch in similar fashion to the Hoosiers of Bob Knight's Indiana twilight years. They went 5-4 to end a season that began 24-3.
That said, just preparing for Syracuse's zone doesn't guarantee victory: There's a reason Boeheim has 920 career wins. There's also a reason piling on Crean is so invigorating: He's a hideous loser and an even less gracious winner.
SPARTY'S GOAT: JIM BOLLMAN
Michigan State failed to break the 60-point barrier just three times in 29 games prior to Mark Dantonio's walrus-poaching expedition in West Lafayette.
Then the weakest offensive mind in college football got on the payroll and his scoring leprosy immediately infected Tom Izzo's program: The Spartans failed to break 60 four times in those final seven games.
That previously prolific scoring offense suddenly sputtered. If there were 3rd-and-longs in college basketball, Izzo might have taken to running slow-motion draw plays.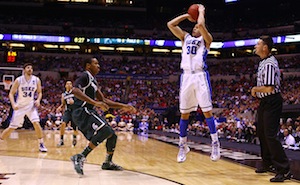 In all seriousness, it feels dirty to criticize Michigan State for losing to a higher seed – let alone Duke – in the tournament. Sparty has carried the postseason water for the B1G the past 16 years, finishing no worse than the Sweet Sixteen 11 times in that span.
Still, it was puzzling to see Seth Curry calmly score a career-high 29 points against a program built on suffocating defense (he actually scored 31 against Santa Clara in December, but Steve Nash wasn't on the team so it doesn't count). 
The strategy appeared to be let Curry beat us and worry about everyone else and that's exactly what happened. Florida deployed a similar failing scheme on Nik Stauskas – Michigan's guard who was completely shut out in Ferrell-Hulls fashion several times during the B1G conference season – all the way to his own career scoring high. 
Here's a tip: Guard jump-shooters. If you don't, they'll kill you. Here's another tip: Don't let Bollman anywhere near your offense. If you do...yeah.
OHIO STATE'S GOAT: THE GHOST OF WILLIE BUFORD
All that stood between the civilized world and journalists seizing on the world's most predictable headline was the Big Ten's hottest team.
Only Amedeo Della Valle didn't attend the Final Four last year, yet somehow an Ohio State team that had been there spent most of the game playing in a panic as if it hadn't ever explored the tournament's shaft at this depth and seemed...ugh...Shocked to be there.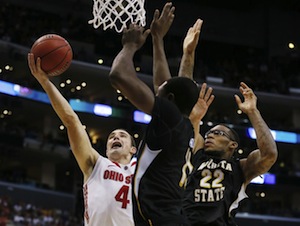 Not a single Buckeye shot 50% for the game. Most of them were far worse, and just like in too many past tournament exits, Ohio State's coldest shooters just kept desperately pressing the issue. They shot 20% from behind the arc. Better shot selection – just twice – might have tied the game.
However truthful the stats are, blaming our own is no fun. It's too reasoned and well-mannered. Let's point the finger at a convenient villain instead: Conference officiating.
It haunted the B1G throughout the tournament, as they struggled to redefine what a foul was. Aaron Craft literally went hundreds of minutes without picking up a single foul in conference play yet last week accumulated eight in barely 50 minutes. He played most of those two final games in foul trouble, i.e. in suboptimal conditions for Maximum Crafting.
Regardless of whom you would like to blame, you're now faced with watching a seven-loss Michigan team in the Final Four that got beat up by its higher-seeded conference brethren.
And that usually works out well for Michigan. Maybe the B1G can have nice things.