Fan attention in the Buckeye State is set squarely on the shooty hoops squad. How wonderful is it, too? Ohio State added its fifth commitment for the 2014 recruiting class for football in Dylan Thompson and it did not seem to resonate much with Buckeye fans otherwise paying attention to their brackets and Ohio State's play in the opening round games in Dayton.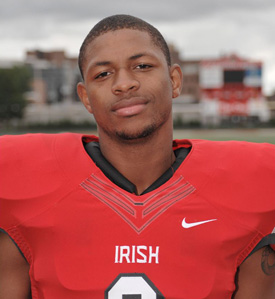 It is with that partially in mind that I offer the sixth installment of the fifth edition of this now 24-part series titled Better Know A Buckeye.  In this installment, I profile Jayme Thompson, a safety prospect from Toledo, Ohio. Once Thompson acquired a reasonable amount of offers from regional schools midway through his junior year, he issued a verbal pledge to play at West Virginia just after the National Letter of Intent Day for the senior class before him.
Once Ohio State offered around two months later, Thompson had a change of heart and committed to the Buckeyes within a week of the scholarship offer from Urban Meyer. Fortunately for us, he stuck with his pledge this time and is en route to Columbus this summer.
After retelling this story in the next section, I follow with the usual material. I include a discussion of strengths and weaknesses before allowing you a glimpse at a highlight video of Thompson to see for yourself. I conclude with a projection of redshirt possibilities and miscellaneous things about Jayme Thompson you may find interesting before concluding that he is better known.
Height: 6'2
Weight: 184 lbs
Fake 40: 4.45
High School: Central Catholic High School; Toledo, Ohio
His Recruitment
Jayme Thompson began his recruitment process much like everyone else does in the Buckeye State: in camp. The period between the sophomore season and the junior season is critical in multiple respects. For one, it's when a high school football player can (or cannot) make the transition from high school football player to college football prospect. Player development is key during this period, and it usually happens in a summer camp hosted either by a college football program or an outfit like NIKE.
Second, it's when a college football hopeful at least gets his name out there. Drills get put on film or ultimately get monitored by college football coaches at all levels, leading to, hopefully, offers.
This is precisely the route that Thompson took. It was "have car; will travel". In the summer of 2011, Thompson camped or performed in combines at places like Bowling Green, Cleveland, Michigan State, Ohio State, West Virginia, and Wisconsin, among others. The goal was to get better at this critical juncture in his development and hopefully secure a scholarship offer along the way. None immediately materialized, but Thompson had already attracted the attention of many programs in the region, including the aforementioned Michigan State Spartans, West Virginia Mountaineers, and Wisconsin Badgers.
The next step is to take unofficial visits to programs in the region, and possibly around the country, early in the junior year. Thompson did exactly this, taking visits to Michigan, Michigan State, and West Virginia. At this time, Thompson picked up his first few offers from Bowling Green and Buffalo. This is the usual course of events for Ohio prospects, whose first offers are usually MAC offers.
The big development in the autumn of 2011 was the offer from West Virginia, which was Thompson's first BCS offer. Not only was it his first BCS offer, but West Virginia was one of a few programs (Wisconsin basically the other) that Thompson was strongly considering. One of Thompson's favorite camp experiences to that point was in Morgantown. An offer from the Mountaineers was one that Thompson coveted. When it came, Thompson said he was "super duper excited", and had not had this level of excitement for anything related to football.
This seemed to be sufficient. On the eve of 2012, Thompson announced he was nearing a decision in the next few weeks and that his decision was likely going to be in favor of the Mountaineers. This is despite the fact that Notre Dame had also extended an offer. That West Virginia acquitted itself rather nicely in the 2012 Orange Bowl, at the expense of the Clemson Tigers, solidified Thompson's interest in West Virginia.
Only new interest from Ohio State early in January 2012 caused a delay in what was otherwise inevitable. Ohio State was not forthcoming with an offer just yet. Further, Thompson wanted to make a decision before his senior season so that he could focus on a state championship run. That decision ultimately came on February 2, 2012.
His Commitment
On February 2, 2012, Jayme Thompson became the first commitment of West Virginia's 2013 recruiting class.
When asked why West Virginia over other offers like Notre Dame, Thompson gushed about West Virginia's atmosphere. It was one of his first experiences and it resonated strongly with him. The term Thompson kept using was "atmosphere". Judging from the atmosphere of the 2011 game between Louisiana State and West Virginia (which Thompson attended), that seems appropriate. Further, Thompson raved about his recruiter, Jake Spavital, who since left West Virginia this January to replace Kliff Kingsbury as quarterback coach and offensive coordinator at Texas A&M. Thompson said Spavital did a terrific job of making him feel wanted.
Thompson seemed sold, and even pledged to get some local Ohio kids to join him.
"I'm going to try to get people to join me. I have a couple good friends that are around the Ohio area and I'm going to talk up West Virginia," he said.

And that should be something Thompson has little trouble doing.

"It feels extremely good to be a Mountaineer. They're going to be playing in arguably the second best conference in the nation, which is extremely exciting …" he said. "Morgantown when I went down there I fell in love with the place and I think they have a shot of something special in a couple years."
...and that seemed like that. Go Mounties, right?
His Recruitment Part Deux
Alas, it does not end here and Eleven Warriors is not a West Virginia Mountaineers blog.
No program seemed to think much of his commitment to West Virginia. In fact, Thompson may have been genuine in his commitment to Dana Holgorsen's West Virginia program, but his commitment may have had the unintended consequence of raising more interest in him. Missouri, Nebraska, and Ohio State all intensified their interest in Thompson by mid-March.
Ohio State went one step further, notifying Deon Thompson (Jayme Thompson's father) that Jayme had a full scholarship offer on the table as of March 27, 2012.
His Commitment Part Deux​
Four days later, Ohio State flipped Jayme Thompson, making him the sixth commitment in its 2013 recruiting class.
When asked why the switch, Thompson said that there's just too much going at Ohio State to turn down the offer. Reiterating his love of West Virginia, Thompson mentioned that playing at Ohio State would give Thompson's dad the option of seeing more of his games. Thompson always wanted to stay closer to his residence in Toledo, which is why he looked strongly at the schools in the Mitten State.
The actual commitment itself came from a sit-down meeting on an unofficial visit to Columbus, wherein Urban Meyer, Everett Withers, and both Jayme and Deon Thompson talked about football and everything else. The actual exchange that appeared to clinch his verbal commitment went as follows, according to Jayme Thompson:
"My favorite memory is Urban Meyer telling me, "I don't recruit against West Virginia, I really want you to be part of this program/tradition," and I said, "I wanna play for The Ohio State University."
Where He Excels
You know that "juice" buzzword that Ohio State football fans now have in their lexicon as a result of Urban Meyer's hire? It captures the spirit of competitive excellence that Urban Meyer believes is an important foundation to succeeding in college football. If an incoming football player wants to play on Saturdays, he better convince the coaching staff of it on Tuesday.
Jayme Thompson has that competitive fire and has demonstrated it to both his high school coaches and various observers through the camp and combine circuit. What shortcomings that Thompson may have right now are not attributable to a lack of effort.
Further, Thompson has a lot of measurables that project well to the college level. He's a bigger defensive back at 6'2 and could add some more weight to get even a bit bigger. Hip movement is fluid. While not "speedy", he nevertheless has serviceable closing speed. There was some, however preliminary, talk that he could even be a college cornerback. Importantly, he looks more than competent in run support, which is becoming a requirement of even cornerbacks in college football (let alone safeties).
Must Wo​rk On
It's fair to say Thompson is raw. His competitive team sport of choice was basketball until recently switching emphasis to football when he moved to Ohio. Really, he's been playing football for about four years now. There are lot of little things — and important little things — that Thompson needs to address. Namely, his pad level and technique in tackling need work.
One comment I've read from those that have watched him more closely at Toledo Central Catholic is that his relative inexperience and "rawness" manifest in problems of awareness. On some plays, Thompson would lose sight of the defense's coverage, not see a wide receiver streaking behind him on a nine route, or otherwise commit some error that underscores that he is still growing into being a football player. If Thompson is to have an instant presence on defense, the incidence of these types of error should be driven to zero.
Highlights
Junior year will have to do.
Redshirt​?
This one is tough. Whereas Ohio State has some immediate need at cornerback that could allow a guy like Eli Apple to maybe get meaningful snaps as part of the two-deep, Ohio State's safety picture looks fairly set with the return of Christian Bryant and CJ Barnett. Corey Brown (the one from Monroeville, PA) also returns for his redshirt senior season. I don't envision Thompson having that type of immediate effect at safety, though I'm not against being wrong. With that in mind, his position is usually fodder for kickoff duties and I don't doubt he'll get a look from Kerry Coombs for possible inclusion in the piranha tank. He could be an interesting discussion in the summer of whether it might be best to save a year of eligibility on him.
Miscellany
Transferred from Toledo Desales.
First Team All-Ohio in Division II.
Originally from Washington, DC. He moved to Toledo after the eighth grade to live with his father.
He may not admit this now, but he was a Michigan fan in his youth. That's Toledo for you.
Recruitniks and recruiters couldn't get to Jayme Thompson without going through his father, Deon, first. This is far from being a helicopter parent; it's really just being a good parent. From the very beginning, it seemed like Deon Thompson knew just how crazy the interest and activity surrounding college football recruiting has become. Thus, he sought to minimize the collateral damage that can have on Jayme otherwise being an adolescent. Remember the Charles Waugh snafu from last spring? Deon Thompson feared something like that happening (though probably not exactly that). This led to his added vigilance in protecting his son from the more corrosive elements of college football fandom.
Continuing on the theme of Jayme Thompson's father being interesting: he's an expert in Brazilian jiu-jitsu. My understanding is he's a social worker by day and a Brazilian jiu-jitsu instructor by night. In fact, Jayme Thompson trains in it too.
Toledo Central Catholic High School is where Dane Sanzenbacher also graduated. Understandably, Thompson does not feel that is necessarily a burden with which he must deal.
Jayme Thompson's intent on ending his recruitment early so he can focus on a state championship run paid dividends. The Fighting Irish (its nickname of the team decked in scarlet and gray) won its third state championship in 2012, the first since Dane Sanzenbacher's junior season in 2005. Thompson's team beat defending state champion Trotwood-Madison in the final. Trotwood-Madison is the high school of Cameron Burrows.
Was selected to the 2013 Offense-Defense All-America Bowl, but did not play due to an injury.
Close friends with Eli Apple, Cameron Burrows, and Ezekiel Elliot. All four got to know each other well at The Opening 2012.
Jayme Thompson is now interested in a career in law enforcement, owing to this recent incident.
The senior safety and his father were outside a grocery store close to their Toledo home when a man, allegedly under the influence, started causing some problems for a police officer in the parking lot.

"A car came speeding up," Thompson said. "It was going unusually fast, and we kept looking at the guy. The guy gets out of the car and just didn't look right. I just told my Dad, 'Hey, we have to stay here and watch this,' and the cop tried to go over and talk to him. I saw the cop try and grab the guy, and he like tried to swing out of his jacket so we just ran up and helped the sheriff put the cuffs on the guy and waited for the other cops to come."

...

"As it was happening, you could just see it was escalating," he said. "He looked like he was about to really give the officer a fight, because it was just one-on-one. He kept like tensing up like he was thinking about fighting. We just held onto him until the officer was able to put the handcuffs on him. The police officer was super excited that we came over and helped him out."

For Thompson, the incident was a crash course in law enforcement, a field he is strongly considering once his days on the football field are over.

"I really want to be a cop," he said. "I thought that was just a prime opportunity. That's as close to the action as you can get. If I didn't want to be a cop before that, I really want to be one now. I don't know why, but I was hyped (about helping the police officer)."
Well, I think Jayme Thompson is better known.