Over the weekend we confirmed that former Buckeye defensive coordinator Jim Heacock is in ongoing talks with Ohio State to return to the staff in some capacity.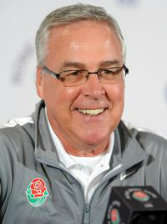 This deal has yet to be finalized by either party, but the question remains as to what role Heacock would fill if he does indeed return to Ohio State. 
There are two potential reasons why Meyer would court Heacock for a new position at Ohio State.
First, Heacock would bring veteran, tested defensive knowledge to a much-maligned 2012 unit. He could serve not only as a consultant to Fickell and Withers, but insurance in case one of these two names decides to move on to a head coaching position.
Second, the new recruiting deregulations incentivize the addition of non-coaching recruiting positions, an area that Nick Saban has pioneered. 
As we pointed out when first confirming the rumors, Heacock would likely serve in some quality control capacity, a far cry from co-defensive coordinator under Tressel.
While puzzling at first, this move would not only make sense for both parties, but would reflect a growing trend in college football to bring in top, veteran coaching talent to fill positions that were perceived as being low entry-level, graduate assistant-type positions. 
Coachingsearch.com believes that Nick Saban is already ahead of the game after convincing coaches Joe Palcic, Brendan Farrell, Ronnie Letson, and Jake Peetz to accept quality control positions after being former coordinators and position coaches:
Thus, some of these veteran coaches will earn significantly less money than they are accustomed to earning in recent years.

Saban clearly is not approaching these positions as "entry level" or "low level" jobs.  He isn't bending any rules, either.  The NCAA does not currently have a limit on quality control type of staffers, although Mack Brown thinks it's coming.
While none of these four new staffers declined coordinator positions in the NFL or anything to become video coordinators at Alabama, they all brought higher-level coaching experience and demonstrated recruiting prowess to their new jobs. 
Because the new recruiting deregulations allow staffers to contact recruits (though this may change), more wealthy schools have incentives to hire proven recruiters with preexisting relationships with recruits and high schools.
If Saban is currently leading the charge in this regard, you know Meyer is at least evaluating this strategy as well.
In effect, this means that even quality control positions may no longer be "entry-level" positions, but reserved for experienced hires with multi-page recruiting résumés. 
If Saban is currently leading the charge in this regard, you know Meyer is at least evaluating this strategy as well. This is where Heacock could come in – he would perfectly fill the role of veteran coordinator who is willing to serve in a consultant or quality control position.
Further, this is somewhat of an inside hire, which would bring program continuity and familiarity with Ohio State's recruiting area. 
Imagine being a recruit on a campus visit who, before even meeting with assistant and position coaches, is introduced to Jim Heacock.
He could pitch something to the effect of "I was named the 2007 Frank Broyles National Assistant Coach of the Year here at Ohio State, leading the nation in total defense, scoring defense, and pass defense. One of the few men to ever really exploit one of my defenses happens to be the head coach at this fine university."
As Tim May wrote back in July, Heacock was relieved to take a sabbatical from coaching, but wasn't ready to move on from Ohio State altogether. About Urban, Heacock said that "Urban's got great passion for the game. He's driven; he's totally committed to everything he does. He's an early-morning/stay-late guy, too, who'll do whatever it takes to find success." 
He even might have hinted to his return last summer: "Now I'm starting to get that enthusiasm, that passion back," Heacock said. "I'm excited for the fall, excited to watch the Buckeyes and, really, to watch a lot of different teams."
Coach, we'd be excited to see you bring that passion back to Ohio State.