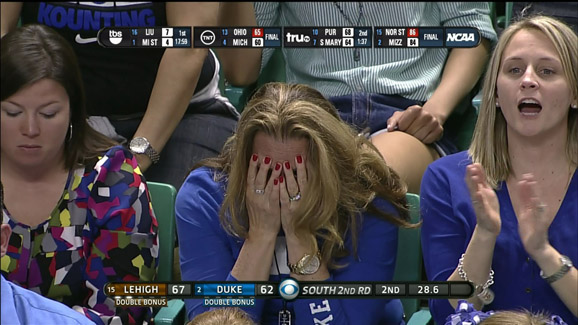 It's the eve of the Tournament. Well, it's the eve of the REAL tournament. No one counts those play-in games…do they?
Either way, the fate of your office reputation rests in the balance, and today is the last day you'll have control over your bracket's destiny. Your time to enter contests – like the prestigious 11W Bracket Challenge – is winding down and you have selections to make.
Admittedly, you're stressed. It seems the new normal for March Madness is extreme parity, and Nate Silver agrees:
With elite players quickly fleeing to the N.B.A. and midmajor teams posing a threat to big-name programs throughout the tournament, the days when a dominant team like U.C.L.A. or U.N.L.V. might enter the tournament with a 50-50 chance of winning it are probably long gone.
This new normal is what has allowed Brenda from accounting to win the office bracket challenge two years in a row. 
In order to deal with this reality, you've decided there might be a better way to make your selections this year. Throw KenPom and RPI to the wind. Here are some alternative pick procedures.
Flip A Coin
We'll start out slow. This one's a classic. Let money that jingles decide the fate of your money that folds.
Flip a silver George in the air – heads is one team, tails is the other. Is this method strategic at all? Absolutely not, but it takes the overthinking out of it, a process known to kill the potential of many a bracket.
Look at it this way: Washington decided the trajectory of the country. What makes you think he couldn't also handle your Pitt v. Wichita State pick?
Threads
Another avenue is to select game winners based on uniforms. This method is becoming increasingly difficult as certain teams are trotting out alternate jerseys throughout the season and into the tournament.
DISCLAIMER: According to this formula, if Big East teams choose to wear these bad boys, none of them will make it out of the first round.
If you decide to go this route, it's probably best to stick to a team's base uni. Some selections will obviously be easier than others, like New Mexico State vs. St. Louis.
Why is New Mexico State's number gigantic and the school name so small? Your guess is as good as mine. I'll go with St. Louis.
Other choices will be more difficult. Like North Carolina vs. Villanova
Both rocking that silky powder blue. Both pretty classic. Tough pick there.
Still, others will be equally disgusting and you'll be forced to choose between the lesser of two evils. Just look at Michigan vs. South Dakota State. So much yellow, so much woof.
Mascots
Mascots are another interesting way to go. Personally, I prefer choosing which team's representative would win in a fight. But that's not the only way to go. Inherent cuteness is an option, as is which animal/fictional/real thing you would rather be. Let's look at an example for each.
Win in a fight: No. 6 UCLA Bruins vs. No. 11 Minnesota Gophers:

No. Brainer.
Inherent Cuteness: No. 12 Oregon Ducks vs. No. 5 Oklahoma State Cowboys:

Duck every day of the week over giant head with creepy expression and stuble.
Which Would You Rather Be? No. 5 VCU Rams vs. No. 12 Akron Zips: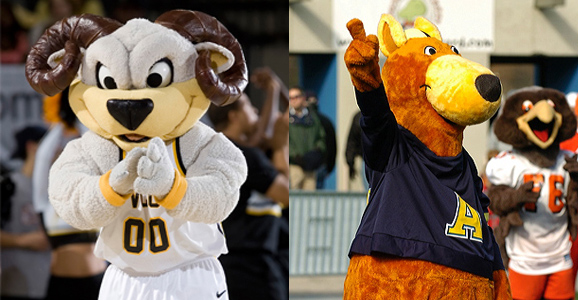 A legit ram or an out-of-shape kangaroo? This is bracket Darwinism, folks.
Famous alumni
You could also choose based on famous former students. Just see below:
No. 7 Notre Dame vs. No. 10 Iowa State
The Cyclones will be taking on the Fighting Irish, but in actuality the real matchup is George Washington Carver vs. Mike Golic.
The man who discovered over 300 uses for the peanut, or a guy who endorses Nutrisystem.
Carver and the Cyclones advance.
Weather
If all else fails, you can select winners based on the weather of each campus. 
No. 7 San Diego State vs. No. 10 Oklahoma

76 and sunny or cloudy with a chance of terrifying. It's that easy.
So there you have it, a number of alternative selection processes to help you navigate the perilous waters of parity. Of course, you could always just go with your gut.
Merry Tournament Eve.