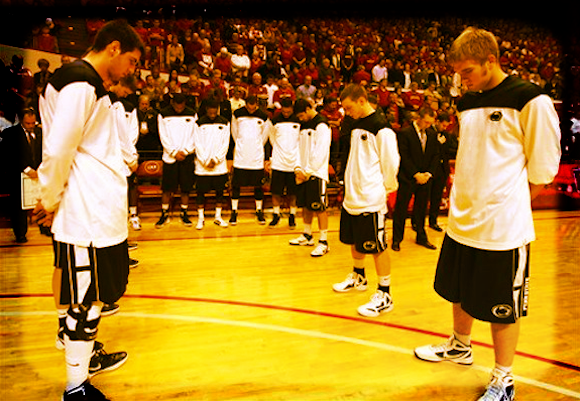 A moment of silence for Penn State basketball, which appears to be dead again.
The Nittany Lions have not won a game since December, which means – if you haven't already heard – that they are still winless in Big Ten play. Penn State has lost all 14 of its conference games by a total of 163 points, managing to consistently lose in uninteresting fashion.
Blue and white cuticles: You are safe this season.
Penn State welcomes #4 Michigan tomorrow night before heading to Minnesota and Northwestern (the Lions are winless all season on the road) and then closing the regular season at home with #17 Wisconsin. In related news, the last team to go winless in the Big Ten was Northwestern 13 seasons ago.
It will always be a football powerhouse (yes haters, always) but somehow Penn State is still a basketball afterthought two full decades after joining the Big Ten. An autopsy of this never-proud program demonstrates how this giant state school rich with resources and potential has been willfully allowed to suck for so long.
Formidable football programs are exponentially harder and more expensive to construct than decent basketball programs. Ohio State and Michigan are obvious examples of B1G schools having both. Penn State was originally supposed to assimilate to that same model, but it hasn't come close to happening.
A quick recap for you youngsters: After then-athletic director Joe Paterno's vision of an Eastern all-sports conference fell apart in the mid-1980s – and following the Big East's thanks-but-no-thanks on account of the very same weak hoops program we're discussing – Penn State joined the Atlantic-10 for every sport except the one with the white helmets.
Football was paying every single other Penn State sport's bills. Then 1988 happened, and Paterno had his first losing season – the first in State College since prior to World War II. Understandably, there was some panic around campus.
University officials recognized that the athletic department's golden goose was heading toward a looming coaching transition (Paterno turned 62 after that painful season, and just like Mick Jagger had no designs on working past normal retirement age).
The shunning from the East was still fresh, so president Bryce Jordan called Jim Delany for some Midwest security. And that's how the Big Eleven happened.
There were two beliefs at the time: Penn State was going to challenge annually for conference football titles while raising its basketball prestige as a function of participating in the Big Ten.
Twenty basketball seasons after joining what's now the B1G, Penn State has finished over .500 in conference play twice. They've gone to the NIT more often than they've gone dancing, but they've been invited nowhere for the postseason the most often.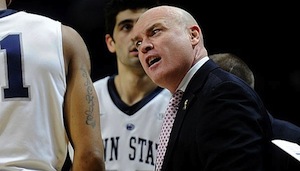 So back to the original question: How can a Big Ten school with a main campus enrollment of 45,000 students and a relatively new basketball arena built specifically to nurture a winning culture – to help football in paying those bills – still be so bad?
Famous nepotism beneficiary Jay Paterno has his reasons for optimism, but he's willfully ignorant to why Nittany Lion basketball got dead and stayed dead.
The short answer is that Penn State just doesn't care that its men's basketball program isn't competitive. If the Lions happen to put together a few wins or even a good season, hurray, but sustained competence isn't high on their radar.
It took Ed DeChellis eight seasons to finally get the Nittany Lions into the NCAA Tournament, in 2011. He celebrated by promptly resigning and taking over at Navy. 
As if a Big Ten coach voluntarily leaving for a military academy at any point in time after the 1930s wasn't weird enough, consider that DeChellis is a Penn State grad, was a Penn State assistant twice in the 80s and 90s for 14 years in total and had finally gotten his alma mater Madness-eligible before deciding to leave.
"The culture is just hard to change. It is a challenge," DeChellis recently told the Patriot News. said. "Even my last couple years when we were a pretty good basketball team there were empty seats everywhere."
DeChellis went 41-95 in Big Ten play, with the high watermark coming in that 2010-11 season: The Nittany Lions went 9-9 in his final and best year.
The low point of that season is emblematic of what Penn State thinks of Penn State basketball: The team was kicked out of the Bryce Jordan Center as well as its south gym practice facility to allow Bon Jovi to practice for a concert. They practiced on a volleyball court instead on rims that looked like this.
They were kicked out again to make room for a job fair. Then they played Minnesota in a crucial home game scheduled against Penn State's gargantuan and wildly successful dance marathon. As expected, the students were all at THON. The arena was barely half full. It was as if the kids were out on break. They were across campus.
DeChellis was in the thick of an NCAA tournament bid when Bon Jovi came to town and disrupted everything, but he still made it to the Dance. And then he left.
Fixing Penn State's attitude toward its basketball team is bigger than spending money. PSU has plenty of money. In the chicken-or-egg argument of winning first to create a winning culture vs. first creating a culture conducive to winning, head coach Pat Chambers can render that all moot during the offseason.
Recruit better players. Recruit interesting players. Get the studs from Philly and Pittsburgh who currently don't even consider State College. By one measure, Penn State is only the 11th strongest program in Pennsylvania. Oh, it's a football school? Ann Arbor and Columbus send their regards.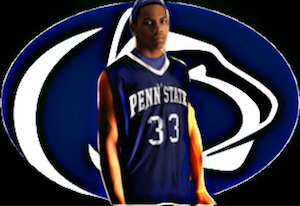 Recruit players that fans want to care about and look forward to seeing and fans will show up even before they start putting together winning streaks. Can you name the most interesting Penn State basketball player? Joe Crispin? Geary Claxton? John Amaechi (whose intrigue has barely anything to do with PSU hoops)?
Chambers needs more than the nice, serviceable four and five-year players who can give him six points, two assists and 21 minutes before graduating. Penn State graduates plenty of kids already.
They could stand to absorb a couple of two and three-year players who depart prematurely to fulfill their true career aspirations. State College can always welcome them back later to finish up. They could even sit courtside for a home game featuring a ranked alma mater in a full arena that loves them – or, gasp, actually recognizes them.
Chambers needs to land a couple of these big fish who are openly willing and excited about becoming ticket-sellers. A kid whose likeness ends up on a giant promotional banner outside of arena, imploring passers-by that it's time to see the best non-football show in town.
Ed. If time permits, go ahead and re-read the previous section with "Nebraska" in place of "Penn State." It all basically applies about the same.
In closing, I asked Peter Berkes, Penn State alumnus and SB Nation sportswriter if he wanted to contribute his insights for this story.
"I'm going to be honest," he said, "I don't think I could name Penn State's starting five."
In Pete's defense, I don't think anyone can. And that's a big part of the reason that Penn State basketball is dead again.