Urban done did it again. 
Last year, after two months on the job, Urban pulled a 4th ranked recruiting class out of his hat in one of his most masterful acts in a career full of shining moments. 
Yesterday, Meyer and staff were back at it, hauling in an even better class, ranked anywhere from #1 to #3 nationally, including a ridiculous three for three mark with national blue chips announcing their intentions on Monday night or National Signing Day. 
The Dontre Wilson commitment on Monday night, as tasty as it was, turned out to be an appetizer ahead of James Clark and Vonn Bell pledging allegiance to Fort Meyer yesterday morning. 
The Bell signing was especially sweet as it gave the Buckeyes a five-star commit while showcasing just how hard Meyer and his assistants, in this instance Everett Withers, worked to deliver the goods. From Lesmerises:  
Vonn Bell's HS coach says in 28 years, OSU assistant Everett Withers was most proficient and professional recruiter he has ever met

— Doug Lesmerises (@PDBuckeyes) February 7, 2013
While it was pure mastery for Urban and company to go three for three with three grand slams, the unexpected fallout of such spoils was the unforeseen issue of running out of schollies when one was targeted for stud punter Johnny Townsend. 
The full story on Townsend has yet to be written but according to Alex, who straight killed it all day long, it's highly possible Urban didn't foresee such dominance in the final hours. Thus, Townsend's offer evaporated – especially when you consider Meyer did not want to subject Ohio State to public ridicule by oversigning – though it's still very possible a scholarship could come available in the near-term. Bottom line, the door isn't officially closed on Townsend so we'll just have to wait and see how things play out. 
Either way, you have to be ecstatic with the class especially when taking into account Meyer was hamstrung by the NCAA's scholarship restrictions levied as a result of Tatgate. As Meyer noted, those sanctions loomed large as he lost the ability to take three more swings at bringing elite talent to Columbus, swings that could've produced "three more Braxton Millers or John Simons." 
What a great day it was to be a Buckeye. Again, mad props to Alex, Miles and Derek for their efforts to keep the residents of 11W in the know. 
THE B1G CHILL. As expected, it was truly the B1G Two and Little Ten as Ohio State and Michigan dominated the conference's recruiting efforts. 
In Scout's rankings, Ohio State held down the #1 slot and Michigan placed second, but the next B1G squad didn't check in until Nebraska at #11 with no other conference school making their top 20. 
Rivals had Ohio State in the two-hole and Michigan 5th but Nebraska fell to 17th and the next B1G school didn't show up until Michigan State at 38th, behind the likes of Baylor and Virginia. 
BTN's Tom Dienhart took a stab at summarizing the league's day and as you'd expect, he had Ohio State in the top spot, noting no conference school signed as many defensive players (15) as the Buckeyes. 
Dienhart obviously had Michigan ranked 2nd, noting the Wolverines signed the most players with 27, led by RB Derrick Green and QB Shane Morris. Penn State made some hay, hauling in six linemen on each side of the ball along with #2 ranked QB Christian Hackenberg. 
Ranking the top players by position, Jalin Marshall landed the top WR nod while Joey Bosa (top DE) and Mike Mitchell (top LB) also gained acclaim. Townsend would be the top punter if things eventually shake out. 
Ranking schools by positional grouping, Urban earned Dienhart's top receivers/tight ends on offense while sweeping the defensive line, linebackers and secondary position groups. 
Random: I also learned Bosa is the nephew of former Ohio State linebacker/rush end Erik Kumerow. 
WELCOME TO THE MACHINE. To the surprise of no one, the SEC once again dominated the national recruiting rankings. Looking just at the Rivals team rankings, SEC programs held down six of the top 10 spots with Alabama taking the top spot followed by Florida (4th), LSU (6th), Ole Miss (7th), Auburn (8th) and Texas A&M (10th). 
With Georgia (12th), South Carolina (16th), Vanderbilt (19th) and Tennessee (20th) all making the cut, the SEC placed 10 programs total in the top 20. 
Hell, Kentucky ranked 27th after hiring a coach two months ago that had never even stepped a foot on campus before taking the job. 
New head coach Bret Bielema led Arkansas to the 13th highest rated SEC class, good enough for 31st nationally. 
Conversely, the B1G's 12th-rated class, Jerry Kill's third at Minnesota, held down the 60th spot and five B1G schools ranked anywhere from Illinois at #46 to the Wisconsin Badgers in the 56-hole.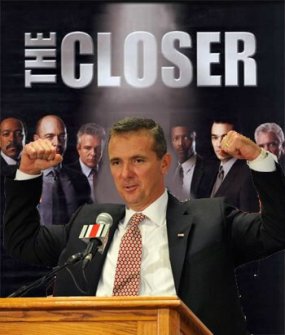 AN INEXACT SCIENCE. For all the hype that comes with NSD, invariably, there will be a ton of kids that either over or underperform compared to the ranking bestowed upon them coming out of high school. 
With that, Chris Huston outlined five players that either evolved to be significantly overrated or underrated by the scouting services since 2002. 
Interestingly, no Buckeyes made either list. The overrated list is obviously littered with busts while the underrated kids are names you are inherently more familiar with. At the top of the underrated list is Johnny Manziel, a three-star product Rivals listed as the 14th best dual-threat quarterback in 2011. Even crazier, Justin Blackmon was tabbed as the country's 91st-best receiver in the 2008 crop while QB Collin Klein was a three-star sporting just one college offer back in 2008. 
Naturally, the list had me thinking about Buckeye commits that were worthy of mention and thankfully, more candidates for the underrated list came to mind with only Mike D'Andrea (5-star, '02) and Curtis Grant (5-star, '11) jumping off the page as no-doubters for the overrated group. 
Looking at the sleepers, the Buckeyes boast a slew of three-star guys such as AJ Hawk ('02), Santonio Holmes ('02), James Laurinaitis ('05), Malcolm Jenkins ('05), John Simon ('09) and Bradley Roby ('10). Which of those would be your ultimate Buckeye sleeper-recruit since 2002, or would you go off the grid? 
GROWING PAINS. With NSD in the rear view, the conference athletic directors (Sunday) and head coaches (Monday) will meet at B1G headquarters in the coming days to discuss a myriad of topics including the subject of how many league games should be played once Maryland and Rutgers join the fray, and as a result, when those games should start. 
Northwestern athletic director Jim Phillips took a shot at breaking down the pros and cons of eight, nine and ten-game schedules:
Pluses of 8: Allows teams to play up to eight home games — generating more revenue — and pad their records against weak nonconference foes. That maximizes the number of Big Ten teams that qualify for a bowl game. Every coach, it seems, prefers this.

Minuses of 8: Minnesota is so desperate to rack up wins that it canceled a home-and-home series with North Carolina. Over the next three years, the Gophers plan to play UNLV, Western Illinois, San Jose State (twice), Eastern Illinois, Middle Tennessee and South Dakota State. That's bad for fans, TV partners and the conference's image.

Pluses of 9: The 14-team schedule would yield 63 conference games, up from the current 48. That extra inventory would help Delany pull more cash from potential TV partners such as ESPN/ABC and Fox and enhance the Big Ten Network's schedule. The Big 12 and Pac-12 currently play nine conference games.


 

Minuses of 9: Half of the teams would host five games; the other half, four. Said Fitzgerald: "The stats show that around 70 percent of Big Ten games are won at home. I'd be against 4/5. To me as a coach, that doesn't make sense."

Pluses of 10: More compelling games and a truer champion. A better chance for a player from, say, Rutgers, to experience a game at Nebraska. Fewer seven-figure payouts to cupcake opponents.


 

Minuses of 10: Fewer teams reach bowls. More injuries would be inevitable. Fewer interesting nonconference matchups because Big Ten teams would resist home-and-home series.
Where do you stand?
JUST THE FAX, MA'AM. Ten thoughts on Craft, Burke and Michigan's win over Ohio State... Moms has some quicks... F5... Do you even lift Bama-bro?... Ranking the SEC's five best recruiting classes of the last 10 years... State by state tobacco tax per pack of cigarettes... The Rich St. Bridge... Randy Edsall's most death-defying recruiting story ever.