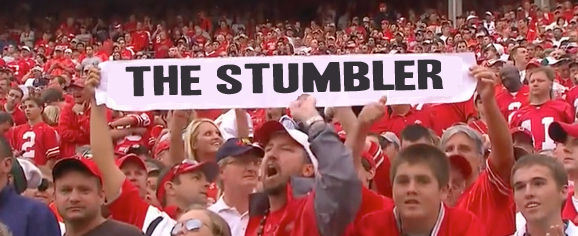 Oh, hi there! I hope you're fully recovered from your final 2012 jollies because we're plowing ahead with another edition of the Stumbler. If you missed the first two, you can find them here and here.
Enough about that, let's talk about:
The Items: All you need to look soooo '96
Do you ever look back at old pictures and wonder: what was I thinking before I left the house in that?
It's happened to the best of us. I know it's hard to believe classics like this weren't able to withstand the harsh erosion of the sands of time but reality is a cruel mistress.
In order to guard against looking like the latest trend hound, it's important to stick with a classic. 
That's exactly what you can do with these little beauties: a vintage 1996 Chalkline mens OSU jacket and a B1G championship snapback by Lee Sport! 
Note the time honored '90s tradition of fitting as many geometric patterns as possible on that vintage jacket. The gray fades so perfectly into a peninsula of black followed by a sea of scarlet, giving the wearer the ability to match it with nearly any other item of clothing in their wardrobe. It's true what they say: three tones really are better than one.
If that isn't enough to set your heart aflutter, the seller has thrown in a challenge to potential buyers.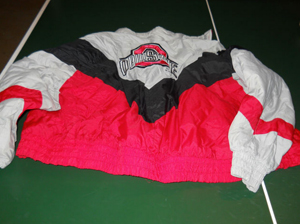 "VINTAGE 1996 CHALK LINE JACKET FOR MEN SIZE LARGE IN GOOD SHAPE WITH NO HOLES STAINS OR TEARS BUT THE ZIPPER DOESNT SEEM TO WORK MAYBE YOU CAN FIX IT?"
Indeed, maybe you can fix it, but why mess with something that isn't fundamentally broken. That's the kind of added value you can't find at retail locations in 2013.
Complementing the jacket perfectly is the second item. This wool snapback head topper pairs a chic look with a no-nonsense approach. The days of confusing your friends with complex hat messaging are over. The "who", "what" and "where" are conveyed simply and flawlessly. Thanks Lee Sport, wherever you are!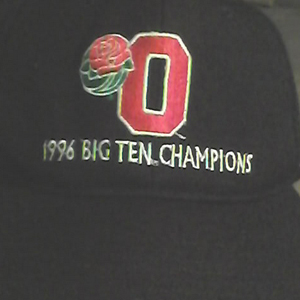 Much like the '96 Buckeye team, these two items are fashionable (David Boston) and functional (Joe Germaine).
Which brings us to…
The Clips: Roses are Red…And So Is Joe Germaine's Chin
The '96 Buckeyes got off to a blistering start, scorching Rice and Pitt for a combined score of 142-7.
Back-to-back wins against #5 Notre Dame and #4 Penn State got the nation's attention and in just four games OSU had climbed from #10 to #2 in the country.
The team was stacked with Buckeye household names like Orlando Pace, (who would go on to win the Outland and Rotary Lombardi awards as well as the B1G Most Valuable Player of the Year) Pepe Pearson, Dimitrious Stanley, David Boston, Shawn Springs, Mike Vrabel, Luke Fickell and B1G Freshman of the Year Andy Katzenmoyer.
Splitting duty under center were QBs Stanley Jackson and Joe Germaine. The two complemented each other well as Jackson's elusive scrambling ability kept defenses on their toes while Germaine's ability to deliver strikes from the pocket kept CBs honest.
The duo combined for 2,491 yards, 27 TDs and an undefeated slate before facing #21 Michigan in the regular season finale.
As most John Cooper coached teams tended to do, the Buckeyes choked, losing 13-9 in Columbus.
However, at 7-1 in the conference and 10-1 overall the Buckeyes were still the B1G's best team and received the Rose Bowl invitation to play the #2 Arizona State Sun Devils in Pasadena. Fans didn't know it at the time, but the matchup would prove to be one of the greatest games in Buckeye history — and we've got the footage to prove it.
The Scarlet and Gray opened up the scoring after Jackson scrambled to his right and fired a strike to Boston in the corner of the end zone for six.
Jake Plummer and the Sun Devils answered in the second quarter on this 25-yard TD throw to Ricky Boyer.
Early in the third quarter ASU added a FG to make it 10-7. Two plays later Joe Germaine faked the handoff and hit Stanley streaking down the middle for a 72-yard TD. According to Musburger the quarterback controversy was over, but the game certainly wasn't.
At 14-10 in the fourth, the Buckeyes were looking to add to their lead with a Josh Jackson FG. Then this happened:
The TD was called back due to an illegal forward pass, but the damage was done as momentum had clearly shifted. Plummer led a drive down the field and punched it in with roughly a minute remaining to put the Sun Devils up 17-14.
Rather than lose two straight to end an otherwise unblemished season, Joe Germaine decided to become a legend. Pro tip: note Plummer's cocky posturing from the sidelines slowly turn to angst-riddled sour apples.
Game. Set. Match. The Buckeyes went on to win the sixth Rose Bowl in school history and the first since 1974. Joe Germaine, we salute you.
Thanks for stumbling in. Let's do this again sometime.