Ladies and gentlemen, it's Friday and that means a few things: one day until the weekend and most importantly, your 11W Roundtable.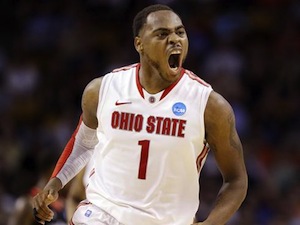 This week, we got insight from Ramzy, Sarah and myself. I'd like to thank the two of them for their participation, as always.
The Buckeyes tip off at 4 p.m. tomorrow for what should be an epic rematch with Kansas. For all those who forgot, the Buckeyes lost to Kansas in the Final Four last year (also lost at Kansas without Sullinger last December, but who cares).
Let's get it started.
The #7 Buckeyes welcomes #8/9 Kansas to the Schott on Saturday for a rematch of last year's Final Four matchup. What are your keys to the game?
Ramzy: Three things: 1) Kansas is a weak rebounding team, even with Jeff Withey. Make them even worse than they already are. 2) Johnson and Releford make that offense tick, so getting in their heads and faces is paramount. 3) Unlike the last time: FINISH THE DAMN GAME.
Sarah: Well first of all, I hope someone removed the lids that were on the baskets in the Schott Tuesday night because I'm pretty sure my 4th grade girls basketball team was able to finish better than Ohio State against Winthrop, and our games probably ended with scores of 12-10.
Anyway, I think it's important for Ohio State to start fast. Kansas hasn't played a real road game yet this year, and if the Buckeyes and the crowd can fluster them early, they might not be able to recover.
But, most likely, Kansas will go on some sort of run and/or Ohio State will go cold for a stretch, and they have to be able to withstand that. The Jayhawks can also be prone to turning the ball over and the Buckeyes are pretty good at forcing turnovers, so they have to capitalize on those mistakes. When it comes down to it, Ohio State has to say, "suck it, Eddie Biedenbach" and play hard the entire game and give their most complete effort so far this season.
Just as long as they don't do whatever they did in the second half of last year's Final Four matchup.
Dave: The Buckeyes need to shutdown Withey. They cannot afford another Plumlee-esque outing. In addition, they need to stop Ben McLemore, who has been lighting it up for KU (17 points per game). My biggest key to the game: the home crowd. It has to be rowdy at the Schott.
Kansas boasts a seven-footer in Jeff Withey, who has a similar game to Miles Plumlee from Duke. With all the problems OSU had down low against Duke, how do the Buckeyes stop Withey?
Ramzy: Run right at him. He hasn't gotten a third personal foul yet this year. Get him off the court with ten minutes left in the first half, and then keep running right at him in the second half.
Sarah: Withey's worst game this year was against Michigan State, and while Payne and Nix didn't do much offensively, they each outrebounded him. Ohio State doesn't have the size to match him, but neither did the Spartans. They just limited him and hit the glass. Despite what you may have seen against Winthrop, Ohio State is capable of doing the same.
Withey — which is very easy to misspell as "Whitey" — will block some shots, but the Buckeyes just have to make sure that when that happens, it doesn't give them PTSD from the game in March.
Dave: Going along with what Ramzy said, just box him out, and don't let him get any second chances. The Buckeyes are an extremely efficient rebounding team and they have to be against a top 10 opponent. 
On top of Deshaun Thomas scoring his usual 20, ___________ must score at least 15 in this game for the Buckeyes to win.
Ramzy: No one. If the rest of the starters can just flirt with double digits and Scott/Ravenel/Amir can combine for 20 they should be good to go
Sarah: Sam Thompson on seven dunks (one being an and-1). Okay, maybe that's just my dream scenario. I'll say Lenzelle Smith, if only because every time he has put up at least that many points, Ohio State has won. 
Dave: Lenzelle Smith. He is always a wildcard and when he plays well, the Buckeyes seem to be a different team.
Shannon Scott has been more and more impressive each game. How does using him as the team's main distributor change the makeup of the team?
Ramzy: It's another guy to prepare for, which just frees everyone else up that much more. Just keep leaving anonymous notes in his locker telling him the Buckeyes should have taken Trey Burke instead. That seems to be working.
Sarah: Scott is currently fifth in the nation in assists-to-turnovers, which means Ohio State has to lead the country in backcourt peskiness. It would certainly be optimal if he and Craft could emerge as bigger threats offensively, but at least in the Big Ten, where defense reigns supreme, the two of them will delightfully infuriate opponents. 
Also delightful is Scott's alley-oop ability, which helps satisfy my aforementioned dunk cravings.
Dave: It's always awkward when he's in at the same time as Craft because Scott has become a better distributor than Craft, but Craft can't really play off the ball. If AC starts hitting mid-range jumpers consistently: DANGER to the rest of the conference.
True or False: You like playing big out-of-conference games against top-10 opponents right before the tough Big Ten slate ahead. Why or why not?
Ramzy: True. Ohio State won the four games it played in the first half of December by 119 points. You don't get better playing rec league teams like that. There's no value. That doesn't mean play Kansas and Duke-caliber teams constantly; just upgrade the rest of the non-conference diet.
Sarah: True. You know how this time of year you're not supposed to starve yourself all day so you can gorge on holiday feasts later? Games like Kansas help keep the Buckeyes from screwing up their metabolism and getting indigestion. 
But it's still the holiday season and it wouldn't be in the spirit not to sample some desserts. Cupcake opponents are at least good for giving a younger team like Ohio State time to mesh and establish roles. It's all about finding the right balance. 
Dave: True. It's always great to play the best teams and have the Buckeyes as a primetime game on the weekends or a big week night game. A win over a top team could be the difference between a one and two seed come the NCAA Tournament. This year is a bit different because every conference team will get to play six other ranked teams at least once.
Fact or fiction: The way the Buckeyes are improving every week on the court, they'll be the conference's best team by March.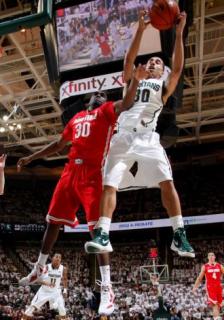 Ramzy: Fiction. They will end the non-conference with an 0-1 record in road games. They open at Assembly Hall (Illinois) and close at Assembly Hall (Indiana). If the Buckeyes can win five or more roadies in-conference, that will be impressive, but we really don't know much about this team yet.
Sarah: Fiction. However, I think they could be the conference's most dangerous team by March. I think Ohio State might struggle with consistency issues all season, but that doesn't mean they won't pose serious problems for opponents. 
Most of the current team was around for last year's Final Four run, and almost every player stepped up at some point or another last March. It'll help having that experience because they know what it takes to win games when everything is on the line. 
Dave: I say fact. There is no other team in the conference with so much unused talent on the bench. With guys like Shannon Scott, Sam Thompson and Amir Williams finally gaining confidence, it brings a whole new dimension to this team. When you have so many players that can do different things for your team, you can be dangerous. Everyone always says that Indiana is so deep and can play 10-12 guys in any game. The difference with Ohio State is that they can play 10 guys who, with confidence, could start for any team in this conference.
Kansas at Ohio State final score prediction.
Ramzy: 83-71 Buckeyes. I think they marginalize Withey early and impose their will on the game.
Sarah: I could see this game going either way, but remember how Ohio State beat Florida after losing to them twice the season before? Even though it was just a regular season game, it was cathartic as hell. I'll be optimistic and predict a similar outcome. 70-64, Ohio State.
Dave: 67-60 Buckeyes. Too much Deshaun Thomas in this one. No one can stop him.