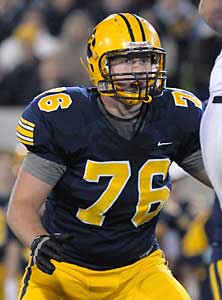 "The Game" between Ohio State and Michigan welcomed many high-profile visitors in both the 2013 and 2014 classes to Columbus this past weekend.
The coaches had official visitors on campus for the 2013 class, as well as unofficial visitors, attempting to close out the current recruiting class on a positive note.  
At the same time, many highly-touted athletes in class of 2014 took in the rivalry as well, as the Buckeye coaching staff aims to build relationships with the best players around for the next recruiting cycle.
One of the major targets on hand for the class of 2014 was Cleveland (OH) St. Ignatius OL Jimmy Byrne. It did not appear that Byrne would be in attendance for The Game as St. Ignatius continued to move on in the Ohio high school football playoffs and was a favorite to contend for a state championship, but an early exit in the postseason allowed the four-star prospect to check out what the Buckeyes had to offer.
Byrne had visited OSU before, but this was his first trip to see Ohio State in action at the 'Shoe. I'm not sure there's a better game to check out than Ohio State against Michigan, and you know part of Urban Meyer's mission was to leave a great impression on recruits in attendance.
The Buckeyes were Byrne's first offer early on in the process, but Notre Dame seems to have done a great job at getting their foot in the door on his recruitment. Byrne visited South Bend for the Notre Dame-Michigan game and was impressed enough to propel the Fighting Irish to the top of his list of schools, making this trip to Columbus all the more important for the home state team.
Ohio State entered the weekend with a pretty good amount of ground to make up for the elite in-state offensive lineman. Did the electric atmosphere at the 'Shoe and positive outcome inch the Scarlet and Gray closer to Notre Dame for his services? Keep reading to find out, as well as when Byrne's college choice will likely be made.
How was the overall experience for your first Ohio State game?
I had a lot of fun and it was a great game to attend. Ohio State played a great game and I was focused on watching how they use their offensive line. It was cool to see the scene afterwards, and hearing the emotional speeches from some of the players in the locker room.
Did you get any time with the Ohio State coaches?
I got to meet all of the coaches which is something I did not expect because I was sent a message earlier in the week saying how individual attention would be tough to come by. All the recruits there were going to make it tough for them to manage their time and the coaches were focused on this game. I was able to get time to speak with Coach Warinner and Meyer. Coach Warinner let me know that he would be at my school in a couple weeks.
Were you able to spend any time with other Ohio State recruits at the game?
My teammate Kyle Berger was there and he had just gotten an Ohio State offer. My decision will be an individual one so we aren't a package deal or anything like that. I also hung out with Marcelys Jones.
Would you say that Ohio State was able to make up any ground on Notre Dame after this visit?
It is tough to say. I enjoyed the visit but I've grown up around the Ohio State and Michigan game, being from Ohio. For that reason I feel like I am unlike some recruits because the atmosphere and rivalry won't affect me like it would others as I knew what to expect. 
Is Notre Dame going to be tough to beat for your commitment?
Notre Dame has made quite an impression on me so it is tough to live up to that. I'm still considering both Ohio State and Notre Dame though. Both places would be great for me.
What will your college choice ultimately come down to?
It's going to come down to my relationships and comfort with my position coach. Coach Heistand of Notre Dame and I have really developed quite a relationship so that is why Notre Dame is high up on my list. It was great to see and talk to Coach Warinner at Ohio State this past weekend though.
Do you have any other visits that you intend on making?
I intend on making it to Notre Dame for a bowl practice at some point. I also plan on possibly visiting Ohio State sometime in January.
When do you hope to make your college decision final?
I hope to have a decision made sometime in February. 
Other recruiting coverage from the weekend: