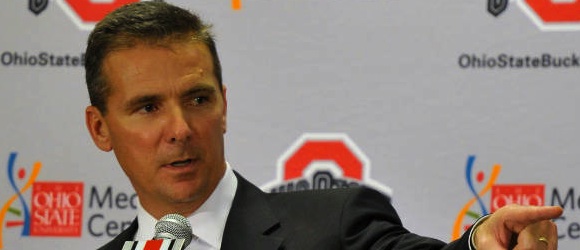 With every new season comes new expectations. Ohio State's debut season under Urban Meyer was certainly no different. Back in August, I reached out to media members outside of Columbus, and around the country, to get their thoughts and predictions on the newest chapter in Ohio State football. You can go back and see what they thought 2012 had in store for the Buckeyes here.
As Ohio State is ten weeks into the season, and finally taking a much needed bye week, I checked in with some of the same experts who shared their predictions back in August to see how Meyer and the Buckeyes were stacking up against their preseason expectations and what to expect moving forward.
Big thanks to the following guests for providing their insights:
Bruce Feldman, CBS Sports
Robert Flores, ESPN/ABC College Football
Lisa Horne, formerly of FOX Sports
Chris Huston, Heisman Pundit and CBS Sports
Andy Staples, Sports Illustrated
Already at 10-0, Ohio State has surpassed the bar many set for them as the caliber of success this season. With two games left in the season, has that bar jumped? Would a loss to Wisconsin or Michigan now paint this season as disappointing for the Buckeyes?
Lisa Horne: Ohio State has already exceeded my expectations because whenever the winds of change bring a new coaching staff, there is bound to be a period of adjustment. The Buckeyes, as a team, have really adjusted quite well to the offensive changes and the team's new exciting look has fired up a fan base used to a former coach talking up the punt as the most important play in football. It would be a major disappointment if Ohio State lost to Michigan because Alabama, another undefeated team, already spanked the Wolverines. An undefeated Big Ten team losing to a team that the No. 1 team—from the SEC, no less—beat handily would seriously diminish not only the Buckeyes' 10-win season but their credibility as well since the Big Ten conference, as a whole, has performed poorly this season.
Some teams don't react well to impending doom or gloom as it pertains to the NCAA's heavy hand. For example, despite the sick amount of talent on the Hurricanes' roster, Miami has had no sense of consistency, urgency nor fight in its play. While I think Al Golden is a fine coach, he has not rallied the troops to play up to their abilities and Sun Life Stadium looks emptier than usual—that translates to a less-interested fan base as well. Urban Meyer has done just the opposite and it's amazing how he has not only kept the team together and focused, but kept them motivated without a bowl to play for.
Andy Staples: The bar shouldn't have jumped. That would be unfair. Given the circumstances surrounding the coaching change and the lack of defensive depth, 10 wins is quite an achievement. While Ohio State probably should win these last two games, anything beyond this is gravy.
With Wisconsin and Michigan left, what do you view as Ohio State's biggest remaining obstacle to an undefeated season?
Robert Flores: I think injuries are this team's biggest concern. Their losses at linebacker are especially troubling. However, that final game against Michigan is always a threat. Just like all rivalry games.
Bruce Feldman: Neither is a powerhouse at this point, but I'll say Wisconsin will be tougher. Montee Ball and the Badger running game started to get cranked back up the past month ... till getting derailed against MSU. Then again, the Badgers have really only played three decent teams so far and they lost to all of 'em. I think their best win was beating Utah State by two points. So count me as surprised if OSU stumbles this month.
Though 10-0, the Buckeyes haven't had the same caliber defense they've had in the past. Do you view this as just a temporary issue, given injuries and a new staff, or a sign that OSU expectations may need to shift in this regard?
Bruce Feldman: I think this is likely a temporary issue. Meyer's recruiting, starting with last year's bunch will deepen the talent pool and increase the speed there.
What is the biggest difference you've noticed between Florida-Urban and Ohio State-Urban?
Andy Staples: He seems like exactly the same guy. The biggest differences are the circumstances. At Florida, he took over a team with great players and great depth on defense and few playmakers and little depth on offense. At Ohio State, he took over a team with some good defensive players but little depth and an offense that has a quarterback who seems born to run Meyer's offense. The other big difference is the level of competition. Other than maybe Brady Hoke and Mark Dantonio, he's not dealing with guys who can acquire the kind of talent that must be acquired to win at a very high level. In the SEC, he had to deal with Les Miles, Mark Richt and Steve Spurrier. (Later, Nick Saban showed up.) As we've seen, success in the Big Ten won't be anywhere near as difficult as success in the SEC was. Meyer won the SEC and the national title in his second year at Florida, so feel free to do that math.
Ohio State has become more exciting to watch, offensively. Should it be a concern how much of that rests on Braxton Miller?
Lisa Horne: I don't think the onus of Urban Meyer's offense rests on Braxton Miller's arms and legs. Remember, Meyer has made his system work with both Chris Leak and Tim Tebow. Leak was a classic pocket passer and when Leak struggled with specific plays of the spread option, Meyer fine-tuned his system to better adjust to Leak's abilities. Obviously, if Braxton Miller wasn't able to play due to injury, a reserve quarterback would have to be inserted in the offense. But I believe Meyer would make sure to tailor the offense around that quarterback's specific strengths, not force him to play out of his own comfort zone. Meyer's has proven that in his previous coaching jobs and thus, I don't think there should be too much concern over Braxton Miller being the current workhorse at the Shoe.
Chris Huston: Ohio State is definitely more exciting to watch offensively, but it's due in part to the new scheme and not just Braxton Miller. It just so happens that Miller is a perfect fit for this offense and that's why there has been such success on that side of the ball this year. I wouldn't worry about the offense depending too much on Miller, as young players like Bri'onte Dunn and Warren Ball will emerge in the coming years to take some of the load off, not to mention exciting incoming recruits like Jalin Marshall.
Though he probably won't win, Braxton has gotten some Heisman talk this year. Where does he rank in the Heisman race, and do you at least see him getting a seat in NYC?
Chris Huston: If the vote was held today, Miller would probably place fifth or sixth in the Heisman race. He's currently on the bubble for an invite to New York and he'll have to finish strong to get there, while hoping that support for Manti Te'o bottoms out (which would put Miller on more ballots in the MidWest region). Leading his team to a 12-0 season and putting up a 2,000/1,500 season should make him an attractive candidate to a lot of voters and he'll enter 2013 as the likely Heisman front runner.
Robert Flores: Back in the summer, I thought it was a little premature to discuss Braxton Miller as a viable Heisman contender. Obviously I was wrong. Our analyst Todd McShay said on Sportscenter this week that Miller was one of the five most valuable players in college football. He's been fantastic, and I'm not certain that if OSU wasn't on probation, that he wouldn't be the front runner. Miller definitely has earned an invite to the Big Apple.
---
Thanks again to all our guests for joining the discussion. Be sure to follow them on Twitter:
Bruce Feldman: @bfeldmanCBS, Lisa Horne: @LisaHorne, Robert Flores: @RoFloESPN, Chris Huston: @HeismanPundit; Andy Staples: @Andy_Staples