The burgeoning disaster that Urban Meyer created at Florida will defend its perch atop the SEC East in the World's Largest Outdoor Cocktail Party on Saturday afternoon.
If the Gators can get past Georgia in Jacksonville they should cruise into their final regular season still undefeated for their showdown with Florida State.
But regardless of what happens against the Seminoles, Florida would already be locked into the SEC championship game, despite the fragile condition Meyer left the program.
If you're wondering, there are only upperclassmen starting for Florida's ferocious defense, which holds opponents under 12 points per game - or about half of what Ohio State's currently allows.
It's the same story on the offensive side of the ball, which is now somewhat competent following the departure of Charlie Weis. (who knew?) (everybody did) (except Kansas) (Mark Mangino laughing)
Will Muschamp has done a masterful job of cobbling together a championship contender out of the five dozen blue chip players that Meyer left behind when he escaped Gainesville to let someone else clean up his mess.
Wipe the sarcasm off your screen! It's time to get Situational!
THE DEAD PRESIDENT
The historical consensus is uncontroversial: Abraham Lincoln was America's greatest president. Historians are equally unified in ranking Lincoln's predecessor and successor as two of the absolute worst leaders in our country's history.
Andrew Johnson abruptly took over for Lincoln following that unfortunate evening at Ford's theater. His presidency is one of the more popular catastrophes in DC politics, which included the only non-Lewinsky impeachment in history.
Less renown in disaster lore is the service of James Buchanan, our only POTUS hailing from the state of Pennsylvania.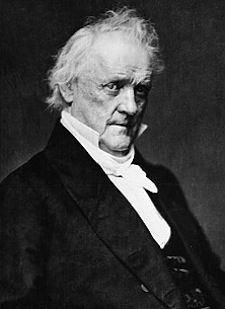 Were it not for Presidential caboose Warren Gamaliel Harding, Johnson and Buchanan would be sidled together at the very bottom of history instead of on infamy's doorstep. Consider Buch's highlights:
- He supported the Dred Scott SCOTUS decision which ruled that Africans brought into America as slaves had no protections under the Constitution. It is now remembered as the worst ruling in Supreme Court history.
- His response to southern threats of secession was to shrug long enough for the next President to have to deal with it.
- He wanted America to annex Cuba from Spain for the purpose of creating a slave state.
- He was hated so much by his own party that he didn't seek re-election and barely appeared at the convention.
Were it not for Buchanan's presidentially-unique bachelorhood (he would take his neice to state functions that required a date) there would be no element of his presidency to debate. While everyone agrees he was terrible, not everyone is convinced that he was a homosexual. That's the only controversy that remains in his legacy.
A smooth sea never made a skilled mariner, and as the political landscape got choppy Buchanan completely abandoned ship. He and our republic were mercifully bailed out by Lincoln's stewardship, but only after over 600,000 citizens died in the most tragic event in American history.
So the Keystone State's sole contribution to the President was an completely fumbled disaster. Here's hoping the flagship university of Buchanan's home state achieves his level of competence on the football field this Saturday.
THE SITUATIONAL WAGERS: THE OYSTER BOWL, STEER, FEATHERED PHALLUS, FEATHERED FICTION, GAS N' SIP MURDER SUSPECTS

THE OYSTER BOWL: DELAWARE BLUE HENS  (even) against Old Dominion, and now you know that the Oyster Bowl exists.

THE STEER: TEXAS LONGHORNS (-23) over Kansas, because betting against Chaz Füpa never gets old.

THE FEATHERED PHALLUS: SOUTH CAROLINA GAMECOCKS (-14) over Tennessee because a soda machine that's already been tipped can't un-tip itself.

THE FEATHERED FICTION: MIAMI REDHAWKS (+9) against Ohio since the MAC isn't allowed to have anything nice, which is sad.

THE  GAS N' SIP MURDER SUSPECTS: UTAH UTES (-1.5) against California, because Ohio State's strength of schedule can't have anything nice either, not that it matters.

LAST WEEK: 4-1  | SEASON: 18-22
THE NOWLEDGE
My days as a permanent citizen of Columbus ended in the early 1990s, so I don't really know who "Common Man and the Torg" are. I'm more familiar with their 11W contemporaries.
As you've probably heard, early last week "the Torg" tweeted that he wished former Michigan star Desmond Howard would be fired or die so that he could watch Gameday again. Predictably, it went over about as well as a bomb joke in the airport security line. 
It only took a few hours for the original Honey Boo Boo Kirk Herbstreit to valiantly come to Howard's rescue. What started as a little unplanned vacation from the radio has since turned permanent: Mr. Torg has been dropped by his employer.
Openly pining for the death of a public figure is generally unadvisable, but in doing so Torg unwillingly provided convenient cover for Howard, whose contribution to football analysis resembles the empty Ohio State punt coverage that produced his famous Heisman moment.
As the valuable Gameday franchise continues to expand - the show is now twice as long as it originally was - more heads are required to take on the workload. Howard presents a unique addition to the panel: He had a wildly successful college career. That said, he should be more capable of executing on his job description.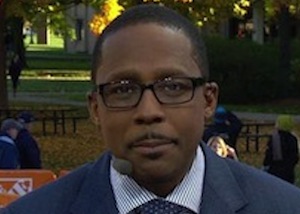 Howard consistently offers analysis from a different, fictional universe. That's not worth openly wishing for his demise, but his contributions to Gameday are almost exclusively of the unintended comedic variety.
You probably remember a couple of weeks ago while offering insight into the upcoming Iowa/Michigan State game Howard matter-of-factly stated that the Spartans "had run all over Ohio State." He used that event to shape his game prediction.
Now, if you can get past the fact that Sparty ran the ball 22 times against the Buckeyes for a prodigous 34 yards, you'll arrive at the realization that his prediction was based on something that categorically did not occur. He seems to be easily confused by...details. This isn't an isolated example. Just watch the show (you probably do; it's Gameday).
The best part of that particular Howard fact-check is that he actually attended the OSU/MSU game along with his show mates, who just sort of let it pass. They're used to it by now.
But the angst coming from the Torg's termination is more directed at Herbstreit, who injected himself into the controversy and is believed to have contributed to the decision to make his suspension permanent. It was unnecessary on Herbie's part, who has made a handsome living saying and making empty gestures.
Regardless, wishing for Howard's demise was dense, and the Torg can ultimately blame himself for being out of work. If one could tolerate watching the 2011 Buckeyes despite how bad they were every Saturday, one can easily tolerate watching Gameday with Howard saying stupid things with the same frequency.
Besides, there's no guarantee that Howard's replacement would be any better, though Gameday does have a history with upgrades. Herbstreit wasn't always Gameday's golden boy. He actually replaced Craig James.
THE BOURBON
There is a bourbon for every situation. Sometimes the spirits and the events overlap, which means that where bourbon is concerned there is typically more than one worthy choice.
St. Germaine elderflower liqueur is a prominent wingman in mixology circles. It is the John Stockton of drink recipes, hogging the spotlight for its expert assist-fu. It also comes in handy during clutch time, i.e. when you're pouring beverages for two.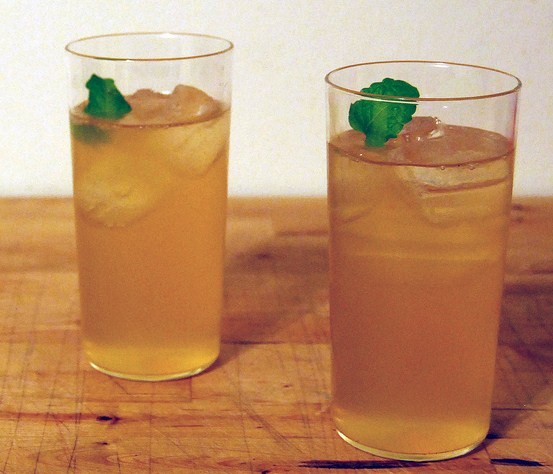 Yes, we all know that bourbon can create its own shot. It makes plays in space, looks good in any uniform and is a grown man, son. That said, St. Germaine expertly feeds the inbound pass in this week's bourbon cocktail, which shares a name with your favorite promiscuous Golden Girl.
The Devereaux takes the middle-tier working class bourbon of your choosing (Bulleit, Elijah Craig, Basil Hayden's - you know, those lunchpail guys) and transforms it and potentially you into a leading scorer. Start with a 2:1 ratio of bourbon to elderflower in a shaker or glass. 
Gloria Ferrer is the Bulleit of sparkling wines; there is no better value in its class. Pop the cork and pour two to three times the amount of bubbly to the bourbon/elderflower into the glass. Now add simple syrup, or don't - the elderflower is decently sweet already.
Squeeze a lemon and pour the entire mixture into two glasses half-filled with ice cubes. Toss in a couple of mint leaves as pictured. Enjoy your Devereaxeses.
The sparkling wine feeds the St. Germaine, which assists the bourbon that creates the Devereax. Your visitor will appreciate the role players you've introduced to her palate, and it's more than likely she'll thank you for being a friend.
THE PLAY-OFF
Somewhere on the Internet there exists a hilarious video of a bartender making a Devereaux instructing the viewer how to do so in what could best be described as a Yat dialect accented by 50 years of chain smoking.
I tried to find this video for you and embed it within this week's Situational Bourbon instructions but alas, I failed to locate it. Instead, thanks to using "Devereaux" in the keyword search, I found this:
Whether you're a GILF enthusiast or you prefer your meat a little less aged, there is nothing negative that can be said about The Golden Girls television program. It enjoyed a ratings run that rivaled that of Florida State's during peak of the Bowden years.
The show did remarkably well across all demographics, proving that funny old ladies have multi-generational appeal. The writing and character development for the show were both so good that television executives were intimidated from attempting to create a copycat during the show's run.
Hollywood finally got brave seven years after the run ended when it green-lighted Sex and the City which was basically the same show set in Manhattan, but with the outrageous gay character that was written out of the Golden Girls' pilot appearing in every SATC episode as multiple outrageous gay characters. Like its inspiration, SATC also performed quite well across all of the demos.
See you next week, when Urban is one Saturday closer to creating a copycat of the mess he left in Florida.