As scheduling luck would have it, Mississippi State got an extra week to prepare for its game with Kentucky on Saturday.
Just how does a defensive coordinator exploit an extra week to get healthy and focused enough to stifle the Wildcats' 105th-ranked rushing offense, which forces you to pick your poison with its even more daunting 67th-ranked passing attack?
Conversely, how does Kentucky (1-4) fight the urge to look ahead one week to its prime time showdown against Arkansas (1-4), which features the nation's 115th-ranked rushing offense and 116th-ranked scoring defense? 
Let's go even deeper: How does Arkansas avoid looking past its game this weekend versus Auburn (1-3) with its harrowing 118th-ranked passing attack, 76th-ranked rushing attack and 116th-ranked scoring offense?
Regardless of how their handsomely-compensated SEC coaches and assistants prepare their boys, one thing is certain: The Big Ten is just terrible this year.
Eat Too, Brutus is this Saturday! Let's get Situational.
THE DEAD PRESIDENT

Long before serving as our 38th POTUS, Gerald Ford earned three varsity letters and the 1934 MVP award (as the center for a one-win team that was shut out five times) at Michigan. Prior to that, Ford was a little kid named Leslie Lynch King Jr. And he was from Nebraska - which is why he is being featured this week.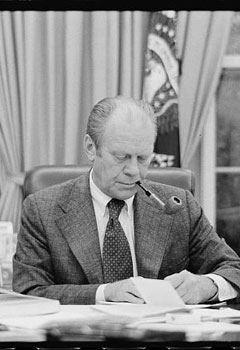 Ford's original namesake, Leslie Sr, had a recurring issue with beating his mother, so she left him and Nebraska less than three weeks after junior was born. He was rebranded as Gerald Ford for the paint salesman she eventually settled down with in Grand Rapids, which today is home to a nice airport named for Leslie 2.0.
The presidency is known to accelerate the aging process, and without having served in the nation's highest office Ford might have eventually joined the centenarian club. As it was, Ford was our longest-living POTUS, having lived for 93 years.
His longevity in life was directly inverse to his tenure as President: None of our leaders served for a shorter period than Ford did without dying in office from pneumonia (Harrison), gastroenteritis (Taylor), a gunshot to the pancreas (Garfield) or being poisoned by his wife (Harding).
That's not to say he didn't sidestep death a few times: Ford survived two assassination attempts within three weeks while visiting California during his tenure. There was also wide speculation that his demise would inevitably occur on account of a pack of wolves, but thankfully that never came to fruition.
While his maize and blue #48 was retired back in 1994, it will be returned to circulation - along with Bennie Oosterbaan's #47 and Ron Kramer's #87 – and each number will be rebranded as "Michigan Legends" as all jerseys will be options for Michigan Men going forward. And Ford, for his service to America as well as his greatness in Ann Arbor, is categorically a Michigan Legend.
Separately, he also lost his final game to Ohio State, 34-0. Ford was a great American but this is still a Buckeye blog.
---
THE SITUATIONAL WAGERS: THE BIRD, CAT, DOG, TREE, MAN


THE BIRD: Air Force Falcons  (-8.5) over Navy. This conclusion was drawn from having seen Navy lose to Notre Dame, Air Force lose to Michigan and Michigan lose to the Irish and then applying a transitive theory which absolutely doesn't exist in college football. Junk science!

THE CAT: Kansas State Wildcats (-23.5) 0ver Kansas, because old/great at coaching flambés fat/terrible at coaching nearly every single time.

THE DOG: Those fog-trippy Mississippi State Bulldogs (-10) 0ver Kentucky in an SEC battle with SEC players in an SEC stadium on the SEC Network. Also: SEC.

THE TREE: STANFORD CARDINAL (-12) 0ver Situational favorite RichRod's Arizona Wildcats, who will feel the hideous wrath of a frustrated team that shouldn't have lost that week.

THE  STORM: MIAMI HURRICANES (+11.5) against Notre Dame in Chicag-what are those things where the seats are supposed to be? People? At a football game?

LAST WEEK: 2-3  | SEASON: 9-16
THE NOWLEDGE

This week's lesson in smartification comes from the Michigan State University School of Acute Trauma Transference.
Diaphragm spasms, more commonly known as "getting the wind knocked out of you" are no laughing matter. Literally. You can't laugh at all when this happens, because the simple act of laughing requires your diaphragm.
This reaction occurs when sudden force strikes the celiac plexus, which is comprised of the radiating nerve fibers all along the abdomen, temporarily paralyzing the diaphragm. The victim fights what feels like a temporary suffocation before the shock wears off, which is when the diaphragm begins functioning normally again.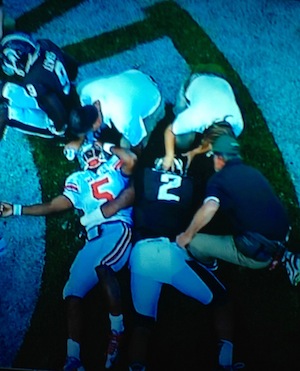 Last Saturday sophomore MSU DE Will Gholston suffered blunt trauma directly to his face and neck from one of his own teammates. Fortunately for exceptional athletes like Gholston, who is the best player on the Spartan defense, he is equipped with super-human countermeasures for this exact circumstance:
His body is capable of redirecting blunt force trauma away from his face. In this case, all the way to his diaphragm.
In order to perform this radical procedure, Gholston had to power himself down. Remember when the Avatar controls were turned off remotely in Pandora? It's kind of like that.
Surely you can believe this is what happened, because there's no way Michigan State would allow a player that was knocked out to re-enter a game. No one wants to win that badly.
Once he completed the trauma transfer from his head to his diaphragm (which on Gholston's long, Na'vi-type frame is a distance of at least two feet) he slowly powered back up, capable of passing a concussion test. Because that was necessary to determine if Gholston was in fact knocked out: A concussion test.
Most importantly, Gholston's gift allowed him to get back in the game quickly. Because that's what really mattered most on Saturday: Getting the star player who had laid completely motionless and unresponsive on top of another player for a significant period of time back into the big game.
Everyone wins. At least in the short term. Well, except Michigan State. And Gholston.
THE BOURBON

There is a bourbon for every situation. Sometimes the spirits and the events overlap, which means that where bourbon is concerned there is typically more than one worthy choice.
Eat Too, Brutus is going to be wonderful. So will Drink Too, Brutus tomorrow night. But let's get down to brass tacks: When all the ambient noise of the weekend subsides, you just might find yourself somewhere quiet with a strange lady.
Similarly: Ladies, you may find yourself somewhere loud with a man that smells of department store brand cologne and...potential.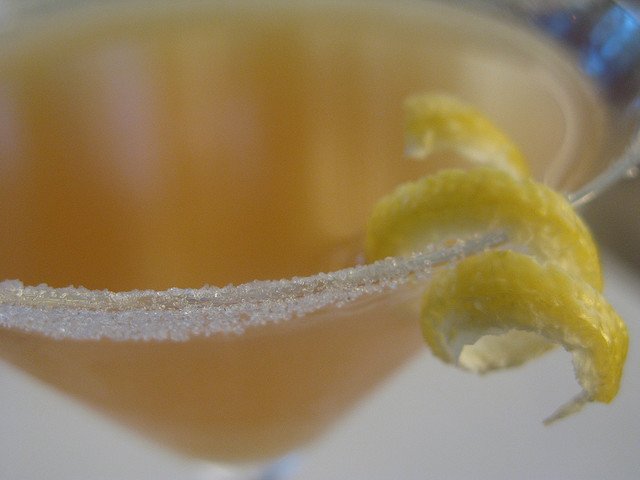 In either case, Situational Bourbon is required. Your romantic future - whether long or short-term - swings in the balance. If you prefer that it swings in your favor, the Bulleit Sidecar is your order.
But Sidecars are made with brandy! you say. Hush, I say back, putting my freshly-lotioned finger on your chapped lips. Bourbon is situational. Ending the evening with a new friend doesn't call for brandy. It calls for bourbon. Ending the evening with brandy is for men who wear monocles who will eventually die from dysentery on the Oregon Trail.
Virtually everything can be improved by simply adding or substituting bourbon. And there is no greater value in bourbon today than Bulleit, which is universally underpriced.
The people who make Bulleit obviously don't care about money. They just want you to be happy. They want to be your wingman.
A Bulleit Sidecar requires a martini glass, which should be chilled with ice and water. Bulleit and Cointreau go into a shaker of ice along with half of a lemon (just throw the whole thing in there). Then you dance for your new acquaintance while rattling the shaker.
Delicately pour out the chilling water and roll the lip of the glass in sugar; confectioner's/powdered if available. Fill it with your Bulleit/Cointreau/lemon elixir and add a garnish as pictured.
Now say something charming and toast to the memories you're making. And if you're single and attending Eat Too or Drink Too, you should probably memorize this recipe. It will come in handy.
THE PLAY-OFF

Last week in comments of The Situational, Hodge - a handsome member of the 11W Commentariat - referenced one of the great gems of the mashup world:
I've been listening to a Beatles/Wu Tang mashup for like the last year or so, Enter the Magical Mystery Chambers, and it's exceptional.
Tom Caruana's Enter the Magical Mystery Chambers was downloaded 50,000 times before the fun police had it erased from the Internet (if you sleuth hard enough, it will turn up - and it's worth it).
But years before Caruana was inspired by John Lennon and Big Baby Jesus, a guy named dj BC did something very similar - but instead of going Wu, he went Beastie. A sampling:
The skill required to correctly pair, combine and produce dozens of songs born out of a single Beastie Boys tune with a corresponding Beatles melody is unworldly, yet dj BC made it look easy and obvious. 
It wouldn't be shocking if he was capable of pissing bottles of fine Meritage after consuming several bags of Capri-Sun. You hear a melody; he hears its DNA. Lennon died several years before License to Ill was released and you would think he wrote Come Together specifically to be paired with Hold it Now, Hit it.
Unlike the Wu/Beatles contraband, this mashup library is openly available and free to download. Hodge, thanks for the reminder, however indirect. 
See you all at Eat Too/Drink Too but try not to trip over the fog machine when you enter: We'll be forced to conduct a group S-E-C chant at your expense.