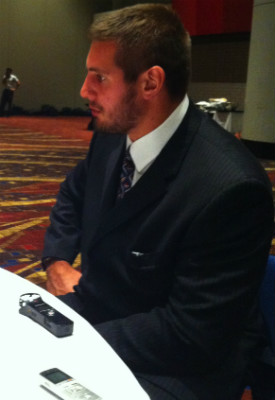 We're back for the second day of the Big Ten Media Event and today we got a chance to speak more directly with the players and Coach Meyer.
The more informal nature of the second day - the players and coaches each sat at different tables while we walked around - allowed us to ask more personal questions and for the players to feel more relaxed.
This turned out to be very valuable, as the players felt free to speak openly about their peers' development. Coach Meyer was, as usual, very honest and open in his assessments of where the team is at. 
Braxton Miller
One of the more noteworthy quotes of the day was when Coach Meyer called Braxton "the most dynamic athlete I've ever coached."
He did later add "at quarterback" in later questioning, but it is nonetheless a testament to Braxton's ability. 
Coach Meyer wasn't dismissive of Tebow's ability in the slightest, instead saying that Braxton simply had a different skill set. Notably, Braxton's "acceleration is just off the charts" and his ability to go east-west separates him from Tebow's more straight-ahead running style. 
Further, when pressed about how injury-prone Braxton is, Urban declined that he'd every be held back, though they will certainly be cognizant of his limits. Urban feels "free to be aggressive" with running Braxton because he "has trust in two quarterbacks," also talking up the strides Kenny Guiton has made both as a quarterback and student. 
Both Zach Boren and John Simon spoke to how much Braxton has improved as a leader, particularly in terms of giving commands to players, scheduling extra practices with wide receivers on Sundays, and not being as timid. 
The search for a feature back 
There's a lot of concern amongst fans that we might never see another 1,000-yard rusher while Urban is at Ohio State. Many point to his runningback-by-committee approach at Florida and his lack of a true feature back or even powerback besides Tebow. 
It's safe to say that Urban hasn't had a 1,000 yard rusher for lack of trying. I asked Urban today whether he thought he had a 15-carry per game rusher on the roster:
It's been a while since I've had that guy (a 15-carry per game rusher or feature back). And the guy is Carlos Hyde. He's the guy with the talent, he's the guy with the body type to get those carries...He's been too long in that gray area. It's his..what's the word... defining moment. It's his defining moment. 
A few weeks ago I wrote that it was Rod Smith's defining moment at Ohio State. Apparently Urban thinks it's more Carlos's time. 
This should excite fans who are critical of his past history with running backs.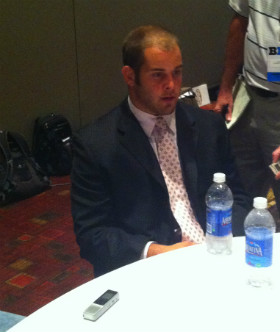 Zach Boren: a new man 
Zach Boren's transformation was readily apparent at the B1G Media Days. He's lost 25 pounds since Marotti took over this year, down from about 265 last year to 240 now. As Simon said, 
Zach was a little bit chubby last year, but he's lean and mean this year.
Players typically lose weight over the course of the season as well, so Zach has visibly slimmed down. This slimming isn't just because John Simon called him "chubby" last year either - Boren figures to play a bit of a different role this year in the offense. 
Boren expressed his excitement over "not having to run ISO 50 times per game" anymore - #walrusball - and is more attuned to playing in space instead of getting his head hit running the middle. It's clear that Zach at least is happy to have the new offense: 
We're not running the I-offense anymore. I don't need to be cracking my helmet in the middle of the line anymore. We're out of that era.
That's not to say he's lost any strength either, as he also mentioned that his lift maxes have all increased. John Simon also mentioned that Boren still has the same personality as a football player and still wants to hit people, he just has more jobs that require speed in the new offense. 
Instead, Zach mentioned that he needed to work on his acceleration and his stamina in order to carry the ball more often, as he hasn't been a tailback since high school (up from two carries ever). Notably, he spent the summer with the tailbacks doing drills and workouts. 
I tried to get a comment out of him about how much he expects to run the ball or be involved as a pass-catcher, but he wouldn't bite. He did however say that he prides himself in his pass protection ability and compared himself to Hall in terms of his versatility (not playing style, obviously). 
Concussions: A truly scary problem 
Several players also spoke about the problem of concussions for today's college football player. 
Zach Boren told a story about how he was watching Sportscenter with his girlfriend when the Junior Seau news came up. He said that concussions are truly scary stuff and that he simply wants to grow old and watch his grand kids grow up one day. He seemed excited that the Big Ten and Ivy League would be pursuing joint-concussion research together as well. 
But don't think that'll change his playing style: 
I'm not going to lose my personality. I still love contact. I'm not going to be juking guys like Jordan hall. I've just been working on acceleration and open field speed.
Best Defensive Line in the Country 
Ohio State's defensive line was already going to be one of the top in the country even before the 2012 recruiting class got on campus, but the future line will be scary-good. 
I asked John Simon whether he was taking any guys under his wing personally, and he said that he's been working with Steve Miller a lot at LEO. Simon said that Steve Miller, a former four-star recruit, has had "the best off-season of any of the guys on the team, in my opinion." 
Miller isn't necessarily one of the most talked-about guys when so much attention is going to Simon and Hankins as well as incoming recruits like Washington and Spence, but Miller looks to have a great season as a LEO pass rusher. 
Simon also said that LEO feels like the most natural position to him, as he's been moved all over the defensive line in his career at Ohio State. 
Further, Urban and Simon both reiterated that Nate Williams is coming along well, "slightly ahead of schedule" in his recovery. They've got to move slowly with his return, but they look for him to get some snaps, even if it won't be every down. 
The defensive line looks to be especially dominant with the great improvements by the second and third string guys in the rotation.