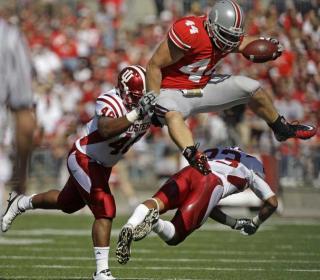 Two years ago I was standing on the sidelines of an Ohio State football practice, watching the second and third team square off in a series of simulated game drills that seemed to mostly serve as a means to make coaches really angry and accomplished little else.
Don't get me wrong, it was one of the few OSU practices I've gotten to see in person and up close, and that alone was a thrill. But on the other hand, it was hot, I was getting sunburned, and with about 15 minutes left the highlight of my day up had been getting nearly run over by Terrelle Pryor and I was just kind of hoping to make it back to my car with nobody sustaining any injuries in the process. Especially me, but I guess the players as well.
In any event, soon after that a 6 foot, 250 pound blur came roaring past me after catching a pass in the flat and after being pushed out of bounds, said blur wedged itself in between some metal bleachers and flailed its arms and legs like so many turtles being held upside-down by socially impaired children.
That blur was then-sophomore fullback Zach Boren, and at the time his greatest claim to fame that he seemed to be part of the package deal that brought his older brother Justin to the Buckeyes after the Borens had a falling out with new coach Rich Rodriguez at Michigan. It was Justin, not Zach, who was viewed to be the real prize of one of the weirder OSU/UM contests in history, but now years later, we're starting to appreciate how lucky we were to bring not just one, but two additional Boren brothers into the fold at Ohio State.
I like to tell that story about Zach to illustrate a couple of things: one, the guy is an athlete. He moves exceptionally quickly for a 250 pound guy, and though his overall top end speed isn't what anyone would call impressive or runaway beer truck-esque, he's certainly quick enough to give linebackers and some safeties headaches. Zach gets a lot of deserved credit for being very good at eating up tacklers and being a blocking machine, but physically he's more than a simple Unstoppable Force.
Secondly, and this is most important (especially for Urban Meyer), he has terrific hands. It's not a huge number, but considering his role in the Bollman/Tressel offense, Zach has still managed to grab 20 total receptions for his career, half of which came in Terrelle Pryor's final season as a Buckeye. Last year he only had 6, but actually accounted for more yards (68 versus 60). In a season where the leading receiver for OSU only had 14 receptions, 6 for a fullback is pretty good.
And now, in 2012, many are predicting that this will be a breakout year for Zach, mainly because a more open and opportunistic should naturally mean more chances for Zach to get the ball. I agree with this line of logic in the sense that I think Zach will get the ball more often, but not because of any special inclination that Urban Meyer has for involving fullbacks in his offense. It's his sheer athletic ability and proven hands that will get him touches (probably mostly in the passing game, in three years Zach has all of one carry for two yards).
It's also things like this that will get him an opportunity to shine (start watching at 0:50). After the dismissal of Storm Klein and the suspensions of Stoneburner and Mewhort, it's no secret that the offense of Ohio State is in need of upper classman leadership, and Meyer is right in guessing that Zach can help provide that. None of the selections of which players to bring to the Big Ten media days have ever been left up to chance, and it doesn't seem that this year is any exception.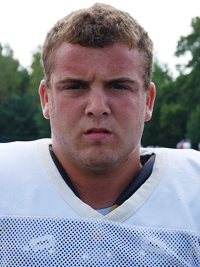 With all of that said, Zach Boren is still very much an unknown quantity, but what makes him especially convenient is that his success or failure as a focal point of the offense is really a no lose situation. If Zach turns out to be a total stud on the offensive end, then that's terrific and a huge boost to a unit in need of talent. If he doesn't work out, you still have an All American caliber fullback to bulldoze his way through defenders on a consistent basis. Not a ton of pressure on the dude to produce.
The same isn't true for Zach and Justin's younger brother Jacoby, who so impressed Ohio State coaches with his prowess on the offensive line that he was asked to undergo surgery in order to allow himself to be prepared for the start of the season. Jacoby, as many of you know, is being groomed for the center position, but honestly any kind of depth on a thin offensive line is greatly appreciated. Jacoby is considered by some to be the most talented of the Boren brothers, but like Zach, he remains an unknown quantity.  2012 is the season where that should change.
It's funny to think that when Justin Boren came over from the dark side to shore up a flagging OSU offensive line and was hailed as an offensive savior, he'd be on the edge of being something of an afterthought just a few years later. But that's exactly what I expect to happen this fall, because this is the year of the Unknown Brothers, as they look to make a huge impact on the field.