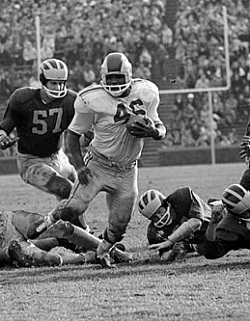 He is one of Ohio State's greatest running backs ever, a consensus two-time All-American, winner of the Maxwell Award, and runner-up for the Heisman Trophy in one of the closest ballots in the history of the award. He is a member of the College Football Hall of Fame and a member of the Ohio State football All-Century team for the 20th century. Not to mention that he made 11W's "Mount Buckmore" for the 1960's. But most OSU football fans under the age of 50 probably don't even know his name.
No one has ever personified the Woody Hayes offensive philosophy of "Three yards and a cloud of dust" better than Bob Ferguson. Ferguson was 6'0", 230 pounds, and built like a tank. He had short, thick legs and a powerful forward lean that knocked potential tacklers backwards even when they seemingly had the angle on him. As a result of his style of running, Ferguson lost yardage on only 4 carries out of over 400 in his Buckeye career. When combined in the same backfield with the speedy Paul Warfield, he was the heavier part of what some reporters dubbed "thunder and lightning". 
During his 3-year career at Ohio State, Ferguson carried 423 times for 2162 yards and 26 TD's. His rushing yardage total left him 2nd only to Howard "Hopalong" Cassady in school history. In his senior season, he led his team to an undefeated season and a national championship. So why is it that Ferguson is mostly forgotten in this day and age? I suspect that it's mostly how his last season ended, but more about that later.
Bob Ferguson was born in Troy, Ohio, part of the Dayton Metro area and one of the towns most affected by Ohio's worst natural disaster of all time. By the time he arrived at Ohio State in 1958 he was already big enough and strong enough to be a force on the football field. But freshmen were not eligible to play at that time, and so he would have to wait until the next season to get his chance.
The 1958 OSU squad had finished 6-1-2 and in 3rd place in the Big Ten. The wins included a 20-14 triumph over Michigan, and Hayes was cautiously optimistic entering 1959. However, the already-inexperienced team lost several key players to injury during a road loss to USC in the 2nd game of the season. From there it was all downhill and the team ultimately finished 3-5-1, including a loss in the season finale to a 3-5 Michigan team. It was one of only two losing seasons in Hayes' 28-year tenure as head coach.
Ferguson had not been a starter at the beginning of the season, but he quickly made his presence felt and ended up leading the team in rushing, albeit with only 371 yards. Still, he averaged 6.1 yards per carry and was already starting to display a penchant for breaking tackles and taking opposing players for a ride.  Going into the 1960 season, things were sure to be more positive for Ferguson and the Buckeyes.
The previous season, Hayes had tried to open up the offense a bit in order to stave off the criticisms of his "primitive" approach. But after the turbulent results he went back to his bread and butter: smash-mouth football. This played right to the strength of Ferguson, since he was a straight-ahead runner and he rarely lost yardage. The player and the offensive philosophy were perfectly matched.
Ferguson had played halfback in 1959, but now he moved to fullback and became the feature back for OSU's running attack. Former halfback Tom Matte took over at QB and the Buckeye offense rolled. The team had scored only 83 points the previous season but in 1960 they racked up 209 and finished 7-2 overall, good enough for 3rd place in the conference. Matte was named team MVP but Ferguson was named All-American by virtue of his 853 yards on 160 carries (5.3 average).
The team had improved dramatically from the depths of '59, but it would be merely a prelude to greater things the following season. With Matte gone and a new QB in place, Hayes would turn even more to the running game. And if he was reluctant to throw already, he would become even more reluctant after a 7-7 tie in the opening game against TCU. OSU was driving for the winning score when Hayes inexplicably called for a pass on 2nd down from the TCU 10-yard line. The Horned Frogs intercepted to preserve the tie, and Hayes took the blame for it afterward. From that point on, it would be a steady dose of Ferguson and the running game, and other teams were going to have to figure out how to stop it.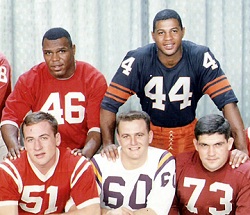 The Buckeyes rebounded from the tie with consecutive shutout victories over Illinois and Northwestern. Next, they emerged victorious after a shootout with the Wisconsin Badgers in Madison, and this set up a showdown in Columbus with 9th ranked Iowa. Ohio State had slipped to #8 nationally after the opening game tie, but the 3 straight victories had boosted them up to #5.
A record Ohio Stadium crowd of 83,795 showed up to watch the Buckeyes pummel the Hawkeyes with strong defense and the relentless ground game. Ferguson carried 27 times for 144 yards as the offensive line steadily wore down the Hawkeyes throughout the game. OSU led only 12-0 at halftime, but they scored 17 points in the 4th quarter to take a 29-7 lead on their way to a 29-13 triumph. 
From there, the team pulled out wins against Indiana and Oregon, setting up the season finale at 6-2 Michigan. Fans expecting the usual button-down, conservative contest were in for a surprise. The game featured an 80-yard pass play, a 90-yard kickoff return, and a 69-yard TD run by Paul Warfield. But the real star was Ferguson. In his final regular-season game, the burly fullback gashed the Wolverines for 152 yards and 4 touchdowns as the Buckeyes overwhelmed Michigan 50-20. OSU was undefeated and champions of the Big Ten, but events off the field in Columbus were about to conspire against them.
Over the past few years, the university's faculty council had become concerned over the focus on football and the lack of emphasis on academics. The university was getting tired of being called a "football school", and so when the Rose Bowl extended an invitation to Ohio State to play in their annual Jan. 1st contest, the council voted 28-25 to decline the invitation. The 2nd place Minnesota Golden Gophers went instead, and OSU still collected their share of the Rose Bowl payout. The decision caused protests on campus and a sardonic comment from coach Hayes ("I respect their integrity, if not their intelligence"), but in the end they all had to live with it.
Ferguson was named All-American again after finishing with 938 yards on 202 carries. He also was chosen as the recipient of the Maxwell Award, annually given to the best player in college football. But college football's highest prize, the Heisman Trophy, went to Syracuse running back Ernie Davis, in a vote that was as close as it had ever been (Davis won by only 53 points). Ferguson was chosen in the first round of the NFL draft by the Pittsburgh Steelers, but a concussion his rookie season hampered his development and ultimatlely led him to give up football. 
He came back to Ohio State after that and earned a Masters degree in sociology, which led to a career as a youth counselor in Columbus. In 2004, Ferguson passed away at the age of 64 due to complications from Diabetes and strokes. His legacy at Ohio State has been carried on by other bruising fullbacks such as Pete Johnson, Vaughn Broadnax, Nicky Sualua, and Zach Boren. But no one ever carried the ball with the kind of power and force that typified Bob Ferguson's runs. You could say he was one of a kind; the perfect player at the perfect time in Ohio State history.