How do, friends of the Dub and welcome to your Thursday dose of percussion.

If I could, I'd like to set the mood by asking you to hum the baseline of your favorite Barry White tune and slip into something more comfortable like, I dunno, something from the fishnet family or anything you have laying around from a costume store.

Now that you're feeling frisky, how jealous are you that the LA Coliseum was the site of a hardcore adult film elegantly titled, "The Gangbang Girl #32" while your very own Ohio Stadium is nothing more than a national landmark of wonderment that has served as a classic shrine to football legends from around the country for 90 years?

Some of the more awesome tidbits about the chicka-boom-boom going down in the tax-payer owned venue include the fact some scenes even 'went down' in the locker room, the stadium lights were actually 'turned on' to complete the flick, the production company is titled Anabolic Video and the star of the show, Mr. Marcus, is an inductee of the "X-Rated Critics Organization's Adult Movie Hall of Fame" but even with his 'firm credentials', he was wowed by the experience noting:
I was just in awe that we were at the Coliseum. I've made movies for about 20 years and I've done a lot of things, but that one really stands out.… I mean, who gets to have sex on the Coliseum floor?"
Stay classy, So Cal. Stay classy.
SPEAKING OF CLASSY. I generally avoid getting overly involved in the recruiting since (1) it's not my thing and (2) we have Alex and others that absolutely kill it meaning I don't have to fool with it but what in the hell is going on with Michigan's recruits? I'm all for a good photobomb and therefore had no issue with Shane Morris throwing an "M" behind Jalin Marshall and Cam Burrows earlier this month. That stuff is fine. Stoke the flames in a harmless way. It's all good. 
Things went to a different level this past weekend when Michigan commit took to twitter to share a photo of himself burning a recruiting letter from Ohio State. Naturally, his idiotic behavior was reciprocated in the form of (alleged) death threats from Buckeye fans. Go figure. You 'inflame' a fan base, patronizing them with your childish antics and expect an intelligent response? And you're able to achieve entrance into the Harvard of the Midwest with such decision making skills? 
Not quite yet finished embarassing the program, fellow Michigan commit Kyle Bosch felt the need to defend his pyro-teammate on twitter offering:
"OSU fans giving (Tuley-Tillman) threats on your way to his house make a stop by mine and I'll show you what a real death threat is #bringagun."
Seriously? #bringagun? I'm over the argument that these kids are 16-18 years old. They are old enough to know this type of stuff is ridiculously unacceptable and an embarassment to themselves and Michigan.
What's more embarassing is that there doesn't seem to be much being done to put a stop to it. You'd think the parents, high school coaches and/or Michigan coaches would take both a private and public stance. Didn't anyone learn from the Charles Eric Waugh fiasco? Fans are capable of anything. Baiting them under the assumption you're an anonymous tough guy is foolish. Beyond that, I can only imagine what Bo would think of this crap being done by one of his recruits. Think he'd put a stop to it? I do. And it wouldn't be pretty. Bo (and Woody) knew how to hate with a certain amount of respect. At this point, I'm wondering if Hoke is even half the man (character-wise, of course) Bo was. 
FOOL, WHERE CRAIG AT? Making a bid for US Senate, everybody's favorite father, Craig James, picked up just 3.6% of the vote in Tuesday's Republican Primary in his home state of Texas. Though my familiarity with Texans is limited to just a couple visits, I would've assumed voter-error might get him at least 5%. 
Interestingly, I'm pretty sure I read somewhere that he averaged 4.2 yards per carry so props to Craig for failing to eclipse his average. 
Proving he's just as delusional as he was when he thought he could get away with #killing5hookers, James conceded defeat in fine fashion offering:
Last night was not a defeat; victory was merely delayed to another day! As Vince Lombardi said, "We didn't lose the game; we just ran out of time." I am still just as committed to advancing our values in Texas and Washington, DC.
Yeah. Another couple weeks on the campaign trail and he would've probably been a unanimous choice.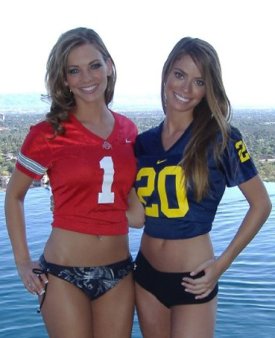 DOLLA DOLLA BILLS YA'LL. Matt Hayes of the Sporting News reported recently that the BCS committee decided that the actual championship game will be up for bid separately from the semifinals in every year of the TV contract. 
Essentially, this would end the existing setup of rotating the championship game between the BCS bowls. Instead, the title game would evolve into a "super-bowl like event" in which it could secure its own revenue streams through independent marketing, sponsorship deals and the like. 
This seemed like a foregone conclusion all along so no real surprise here. I just hope the bidding process isn't limited strictly to warm weather cities. While I would ultimately prefer the dream scenario of having an outdoor championship game in a cold weather city, I'd at least like to see the fans of warm weather teams at least be forced to travel up north from time to time. 
Why should only the cities with favorable weather get to reap the economic benefits of the college football national championship? If the NFL can warm up to the idea, certainly the BCS can too. 
I HATE WHEN SABAN MAKES SENSE. I despise the SEC every bit as much as you but at the same time, I do respect the fact that the conference, regardless of built in advantages, is clearly the most dominant on the current college football landscape. 
As such, I can understand why a guy like Nick Saban would be opposed to Jim Delaney's plan that would call for the four power conference champions to square off in the playoffs provided each team was ranked in the top six in the BCS standings. Discussing the topic recently, Saban had sharp words for JD:
"It's self-absorbed people who are worried about how it affects their circumstance or their league rather than what's best for college football who would want to do that. It's not what's best for the fans because they've made it very clear what they want it to be."
Basically, Saban supports a four team playoff as long as it's comprised of the top four teams in the standings - regardless of whether or not the team won its respective conference. I don't overwhelmingly support that argument but I can certainly support it every bit as much as Delaney's idea of putting potentially four of the top six in the playoffs, eliminating those that didn't win their conference. 
It's easy to hate on Saban's thoughts at present because of the SEC's dominance but will you feel the same way if/when Ohio State and Michigan are finishing 1-2 in the conference and OSU is left out of the playoffs even though they're a clear cut top four team? 
 A TANGLED MESS OF ELECTRONICS CORDS THAT GO TO NOTHING YOU OWN. Jordan Hall named to watch list for something called the Johnny Rodgers Return Specialist Award... DeShawn is so awesome he has an ATM in his crib... The WB reportedly struggled and sold Buicks at his Orlando workout... Glad to see Amir Williams is keeping busy... The SWAC hired its first white head football coach in conference history... The latest victim of the digital age - the Times-Picayune now in print only three days a week... How Alexis Ohanian built a Front Page of the Internet... Where some vintage album covers were photographed... The 8 Worst Sports Summer Camps of All-Time.