Continuing our trip in the way back machine in which we select the four Buckeyes from each decade that are most deserving of a spot on Mount Buckmore, things are getting much tougher. 
The 60's were a slam dunk with Jack Tatum, Jim Stillwagon, Rex Kern and Bob Ferguson. The 70's were also pretty clear cut for me with Archie, John Hicks, Tom Cousineau and Randy Grandishar holding it down though the supporting cast ramped up quite a bit with guys like Tom Skladany and Pete Johnson on the outside looking in.
The 80's fearsome foursome included Cris Carter, Marcus Marek, Keith Byars and Chris Spielman though I wasn't as confident with this group in that Pepper Johnson had a strong case to supplant Marek. In the end, one of the finest perms in the history of Ohio State pushed Marek over the top. 
Now that you're up to speed, we turn our attention to the 90's where John Cooper's recruiting prowess made the selection process as difficult as dealing with his troubles against that team up north. No question, I expect more debate about this decade's chosen four than the other three decades combined. With that, let's get to it. 
Orlando pace - offensive tackle - 1993-96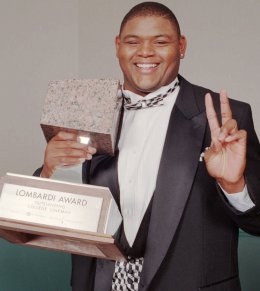 I'll start off with the inarguable selection of Orlando Pace. It's telling that even the regular fan who may not know the intracacies of great offensive line play had no trouble seeing Pace as the most dominant lineman in all of college football during his time in scarlet and gray - and arguably the most dominant in the history of the colllege game.
The two-time 1st team All-American and two-time 1st team All-B1G performer simply overwhelmed opposing defensive linemen allowing guys like Eddie George to rack up Tecmo stats. 
In recognition of his ownership of the line of scrimmage, Pace was awarded the Outland Trophy in '96 and remains the only two-time winner of the Lombardi Trophy ('95, '96). 
Only 12 players have won both an Outland and Lombardi and Pace joins Dave Rimington as the only two players in history that have won a combined three of the respective prestigious awards. 
Pace even managed to finish 4th in the '96 Heisman Trophy voting behind Danny Wuerffel, Troy Davis and the premature celebrator himself, Jake Plummer. Who did Pace finish ahead of? Just some guys named Dunn and Manning. 
Even with all those honors, the most impressive thing I take away from Pace's time at Ohio State is the fact he did not give up a single sack in his collegiate career - and this was during a time when the Buckeyes actually looked to air it out a fair amount of time. 
The 1st pick of the '97 NFL Draft, Pace went on to earn seven Pro-Bowl nods and won a ring with the Rams. 
eddie george - running back - 1992-95
Another no-brainer, Eddie rushed for 1,442 yards and 12 TDs as a junior before morphing into full beast mode during a senior campaign that saw him rush for a school record 1,927 yards (5.9 ypc) and 24 TDs. 
He went for over 200 yards three times that season including the sickest single game performance you've ever seen when he got loose for an OSU record 314 yards, averaging 8.7 a crack against the Illini. I can still hear the chants, "EDDIE, EDDIE, EDDIE." 
He holds the school record for most games over 200 yards rushing with five and he's second on OSU's all-time rushing list with 3,768. His 44 rushing touchdowns rank 3rd behind Pete Johnson and Keith Byars and he holds down the #2 spot for most 100 yard rushing games in a career with 20. 
In the magical '95 campaign that saw him capture the Heisman, he also brought home the Walter Camp, Doak Walker and Maxwell Awards.
Eddie's #27 is retired and he was inducted into the College Football Hall of Fame in 2011. 
The 14th pick in the '96 NFL Draft, George picked up four Pro-Bowl selections and rushed for over 10,000 yards, one of just 30 players to accomplish the feat. 
Antoine winfield - cornerback - 1995-98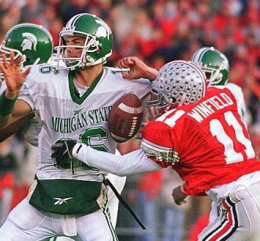 Probably one of my three most favorite Buckeyes of all time, Antoine Winfield was a difference maker on some ridiculously good defenses in the mid-late 90's. 
Beyond taking his receiver completely out of the offense, Winfield was also insane in run support. Always playing with a relentless and fearless style, Winfield patented the low missile thrust in which he would blow the slats completely out from under approaching ball carriers. Following the tackle, he would then come to his feet, shake his head repeatedly and survey the damage he caused all while wearing the slickest sh!t eating grin you've ever seen. The man had fun playing the game and he was the best cornerback Ohio State has seen before or since. 
A two-time All-B1G and All-American selection, Winfield had a spectacular junior season in which he racked up 100 stops (82 solo), 12 breakups and two picks, earning him Team MVP honors on a squad stacked with talent. His 100 tackles led the team marking the first time in school history a corner had accomplished the feat. 
As a senior, Winfield picked up another 75 tackles and became the first Buckeye to win the Thorpe Award. 
Basically, if you want to argue Winfield's place on the mountain, I advise you to seek professional help. 
Mike Vrabel - Defensive end - 1993-96
This is where things might get dicey for some of you. With just one spot left on the wall and no less than five guys worthy of consideration, I ultimately landed on Mike Vrabel and while I think he's the most deserving, there are certainly arguments that can be made.
That said, Vrabel's body of work is absolutely outstanding. The Akron native was a three-time All-B1G selection and the conference D-Lineman of the Year in both his junior and senior seasons. Vrabro also earned All-American nods in his final two years in Columbus.
The man consistently set up shop in the opposing backfield allowing him to dominate the Tackles For Loss records at Ohio State. His 66.0 career TFLs are the most in school history - a full seven better than 2nd place Matt Finkes. 
Vrabel also holds the school record for TFLs in a season with 26.0, three more than 2nd place Andy Katzenmoyer. Mike also owns the 3rd and 9th best TFL single seasons at Ohio State with 20.0 in '94 and 18.0 in '96. 
A sack machine off the edge, Vrabel also claims the school record with 36.0 career sacks. 
Vrabel has three Super Bowl rings and was named to SI's NFL All-Decade Team. 
the notables
This list could go on for days. It's really incredible just how many impact players came through Columbus during the 90's. The decade also had a fair amount of guys that blew up for just one year, hurting their chances of making it on the wall. 
Andy Katzenmoyer is probably an omission that has some of you questioning my brain power. He certainly has a solid argument as the '97 Butkus winner (as a sophomore!), a '96 All-American and was twice a finalist for the Lombardi but I personally feel the Big Kat peaked as a freshman and never again saw that same level of dominance while Vrabel stayed beastly for three straight years. 
Steve Tovar is a name that maybe wasn't jumping out at you but he was even closer to being on the mountain than Katzenmoyer. Tovar anchored Ohio State's defense at the beginning of the decade leading the team in tackles for three straight years, picking up three All-B1G and two All-American selections in the process. He still ranks 4th on the school's all-time tackle list.
David Boston is probably my first alternate because not only did he put up sick stats, he was most dominant in the biggest games. The two that immediately come to mind are the '97 Rose Bowl when he wiped the smirk off Plummer's face and the '98 Michigan game when he blew up for 10 catches, 200+ yards and two TD's to keep the Wolverines out of the Rose Bowl. 
Terry Glenn was the first Buckeye to ever win the Biletnikoff when he exploded for 64 receptions, 1,411 yards and 17 TDs in 1995 but with his body of work being essentially limited to one season, he wasn't a serious contender for the final four. 
Other names of note include Korey Stringer, Dan Wilkinson and Joe Germaine. How in the hell did Ohio State not win a national title in the 90s?! (That's rhetorical.)