Staring a long off-season in the face, it felt like a good time to reflect on dominant Buckeyes from years gone by. 
As such, last week kicked off a series in which I'll look at which four players, by decade, who would be most deserving of a spot on Mount Buckmore. 
Though the Buckeyes have been competing on the gridiron since 1890, racking up a filthy tradition including seven national titles, 34 conference crowns, 78 All-Americans, an all-time winning percentage of 72% generating 819 wins and seven Heisman Trophy winners, I decided to start our look back with the 1960s.
Selecting the 1960s edition of Mount Buckmore really wasn't all that difficult with Jack Tatum, Jim Stillwagon, Rex Kern and Bob Ferguson separating themselves from the pack. 
The 1970s, however, proved a little tougher to pin down though I feel pretty good about those carved in stone. 
archie griffin - running back - 1972-75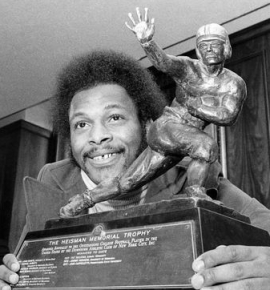 Where do you even start with this guy? I suppose reminding you he's the only two time Heisman Trophy winner is as good a place as any.
Archie's also one of just seven Buckeyes to rack up three All-American selections in addition to the obvious three All-B1G nods.
The Eastmoor product is still the NCAA record holder in most consecutive 100-yard rushing games with a ridiculous 31, accumulating 34 total career games with over 100 yards on the ground. Let that sink in for a second. 
Unsurprisingly, Archie has his own chapter in the Buckeye record books most notably as the all-time leading rusher with 5,589 yards via the best yards per carry average in team history at 6.0 a pop. Averaging 121.5 rushing yards per game over his career, he boasts three of the top 10 single season rushing efforts in Buckeye history with 1,695 on the ground in 1974 (3rd all-time), 1,577 in '73 (5th) and 1,450 in '75 (8th). 
A team guy that served as a captain in '74 and '75, Archie was much more focused on wins and championships and his Buckeyes went 40-5-1 in his four years, winning the conference each season. 
Elected to the College Football Hall of Fame in 1986, Archie is the one player from the 70's that is an absolute lock to be on Ohio State's all-time Mount Buckmore. 
John Hicks - Offensive Guard/TAckle - 1970-73

A freakishly dominant offensive lineman, John Hicks paved the way for Ohio State's vaunted rushing attack. 
The bruising blocker from Cleveland immediately seized a starting tackle spot as a sophomore and the Buckeyes racked up nine straight wins before falling to Stanford in the Rose Bowl but still managed to claim the national championship via the National Football Foundation.
With the '70 squad losing 17 starters, the '71 rebuilding effort became more daunting when Hicks injured his knee in camp forcing him to miss what became a dismal 6-4 season. With Archie arriving in '72 and Hicks back to full strength, the Buckeyes won the B1G and found themselves in the Rose Bowl once more, this time a 42-17 spanking at the hands of USC. Though the season ended on a sour note, Hicks picked up both All-B1G and All-American honors with a monster '73 season just over the horizon. 
As Archie found his groove running behind Hicks, the '73 Buckeyes went 10-0-1 winning their first nine games before tying Michigan 10-10 in Ann Arbor. In one of the most lovely decisions ever made, the B1G AD's voted OSU to represent the conference in Pasadena, mostly due to Michigan QB Dennis Franklin's broken collar bone, and the Buckeyes smoked USC in the Rose Bowl 42-21 to cap an undefeated season. 
Hicks was a beast as the Buckeyes tallied 320 yards rushing in Pasadena, following a season long trend of running downhill. Clearly not lost in the fascination with Archie's exploits, Hicks again picked up All-B1G and All-American selections but those took a backseat to his sweep of the Lombardi and Outland Awards in addition to finishing 2nd in Heisman balloting behind PSU's John Cappalletti. 
Hicks was also the first Buckeye to go to three straight Rose Bowls in addition to his three B1G titles. He was inducted to the College Football Hall of Fame in 2001. 
Tom Cousineau - linebacker - 1975-1978

At a school like Ohio State where linebackers grow like tree in NoCal, Tom Cousineau doesn't always creep into the conversation when fans look back on the truly elite players in Buckeye lore. It probably doesn't help that he played just a few years after Randy Gradishar was carving his identity as maybe the best LB in school history but that doesn't take away Cousineau's rightful spot on this decade's facade. 
Cousineau played on three straight conference championship teams from '75-'77 and was the MVP of the '77 Sugar Bowl but saved his best for last in 1978, serving as the biggest bright spot in what was an otherwise dreary season that saw the Buckeyes go 7-4-1 culminated by a tragic end to Woody's reign in Columbus. 
His season started off with a bang as he recorded a school record 29 tackles against Penn State and kept on smothering rushers from there racking up 211 tackles, a mark that still stands as the school record. That's a pretty lofty achievement when you think of the names that have patrolled Ohio Stadium from a linebacker spot. 
Cousineau's dominant '78 season earned him a third straight all-conference selection and a second consecutive All-American nod. He also parlayed the record breaking season into the #1 pick in the 1979 NFL Draft. 
Randy gradishar - linebacker - 1971-1973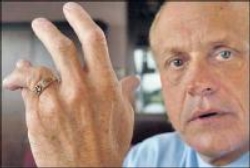 Though the reasons are many, two in particular stand out as to why Randy Gradishar is a no-brainer selection for the 70's Buckmore:
Woody tabbed Gradishar the best linebacker he ever coached. 
Gradishar's left ring finger is shaped like a "7". 
The Warren native was a three time All-B1G selection and a two time All-American for a team that went 19-2-1 over his final two years with a Rose Bowl crown capping a 10-0-1 senior season. 
Gradishar was the backbone of the '73 defense logging 134 tackles for a unit that allowed just 64 points all season with four shutouts. He was so dominant in '73 that he finished 6th in the Heisman voting giving the Buckeyes three of the top six vote getters (Hicks 2nd, Archie 5th). 
His 320 tackles were a school record upon his departure and still rank 11th today. In honor of his dominance, the Randy Gradishar Award is presented annually to Ohio State's top linebacker. 
Inducted into the College Football Hall of Fame in 1998, Gradishar also had a stellar NFL career winning the NFL Defensive POY Award in 1978 along with seven pro bowl selections, two Denver Broncos team MVP's and a spot in Denver's Ring of Fame. 
the notabables

Tom Skladany was the hardest choice to leave off the mountain as he's one of just seven three time All-American's in OSU history. Still, right or wrong, my decision to leave him off was largely the result of his position. In a decade featuring such ridiculous talent on both sides of the ball, there just isn't a strong enough case to put a punter up there. Skladany averaged 52.3 yards per punt in a lopsided loss to Michigan in '76, recorded the 4th and 5th best Punt Avg. seasons in OSU history ('75, '74) and ranks 4th in career Punt Avg. with a 42.7 mark. 
Pete Johnson was an impact player in every sense of the word. The Georgia native ranks 2nd in school history with 348 points and his 58 TDs are a school record. His 256 points in the '75 season are a school record as is his five TD effort that season against North Carolina.
Beyond Skladany and Pete, there are other names to toss around like Neal Colzie, Van DeCree, Tim Fox, Brian Baschnagel, Bob Brudzinski, Corny Greene and Chris Ward to name a few, but I feel good that Archie, Hicks and Gradishar are inarguable with the fourth spot a lot more debatable though I think Cousineau's body of work is the most impressive.