It's only been a year since Michigan hired Don Draper's corpulent doppelganger to resuscitate its foundering football program.
Brady Hoke's first season definitely could have been better (a fourth straight loss to Little Brother isn't exactly an elixir of good feelings) but it is very difficult to disparage victories over Notre Dame and Ohio State along with the first BCS triumph in over a decade en route to an 11-win season.
But you're doing that anyway: Because, you see, Notre Dame choked harder at Michigan than Charlie Weis on salad. Ohio State was an atrocious, fragmented mess yet still almost won in Ann Arbor. Plus, the Wolverines only went 2-2 in away games - they've got five roadies this season plus a neutral site ambush with Alabama.
And yes, the line of teams that have claimed ACC scalps in BCS matchups extends as long as the BCS has existed, let alone via gratuitous and repeated assistance from the zebras.
Of course, I believe absolutely none of that and neither should you. If devaluing triumphs at the expense of schedule, opponent or officiating shortcomings carried any validity, then Jim Tressel only won about 25% of the games at Ohio State that the NCAA acknowledges today.
The rest of his victories would have to be reclassified into a third category besides wins or losses. If you're not prepared to do that for Tressel, don't do it for Hoke either.
You're writing off Michigan's stellar 2011 precisely because it's comforting to do so, especially within the context that had been established over the previous decade where Michigan - good, bad, or just bad by Michigan standards - repeatedly fell to Ohio State.
It's not too early to appreciate Hoke's tenure, nor is it unhealthy to respect how he's exploited every single break he has inherited, most notably the full year of toxicity that engulfed the school whose name he curiously substitutes with that of another, different school.
You might not value this sudden resurgence as I do, because this is the Michigan I grew up despising, and this is the Michigan I'd prefer to die hating.
Maybe you enjoyed seeing Michigan home for the holidays two years in a row on account of full-blown football leprosy. Perhaps you took pleasure in watching Nick Sheridan, Steven Threet and Tate Forcier hemorrhaging footballs up and down the field.
Wanting Michigan to lose badly in its season finale is a mutually-exclusive endeavor. Wanting the Michigan football brand devalued - as a Buckeye fan - is akin to cutting yourself. It's a sickness that only hurts what you hold dear. Stop it.
Watching Tressel go full-Tressel early in the second quarter at Ann Arbor because he was already confident the Wolverines had little or no shot of scoring for the rest of the day does not contribute favorably to your most treasured obsession. You have no idea what day the Buckeyes play Indiana for a reason.
That three-year Rodriguez stretch had all of the delicious staying power of chewing gum. The Michigan that brought balance to the greatest and most competitive rivalry in college football post-Chic Harley may be more of a pain in the ass than the one you've enjoyed post-Lloyd Carr's blue period, but that Michigan is just as important to preserving the rivalry as Ohio State's maintained eminence.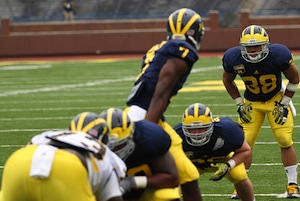 Hoke took the roster his predecessor left him and simply added competent coaching while restoring its proper culture in taking Michigan to a place it hadn't been since 1999: A win on the final Saturday followed by an on-field BCS celebration.
At last, Ohio State's greatest antagonist employs a commander worthy of that cachet.
You might believe Hoke's success was unexpected, but it definitely wasn't for anyone who paid any attention to the details of his coaching career beyond his record, which is marked with scars from all of his previous resuscitation projects.
Prior last year, Hoke routinely took on daunting rebuilding challenges nobody wanted. In Michigan he finally has the one worth crawling to campus to get.
The best part is that this benefits Ohio State too. Here is the part where I obnoxiously quote myself:
The fates of Michigan and Ohio State football are appropriately intertwined, and once Hoke finds success with attracting Ohioans that Ohio State is also recruiting that will force Ohio State to get better, whether it is in Ohio or elsewhere.  The same can be said for when the teams meet each other on the field every November.  You shouldn't be afraid of what's going to be redeveloping in Ann Arbor over the next few seasons.  Just don't be surprised.
Hoke's arrival could not have been better timed: Ohio State's turmoil - and as it turned out - Penn State's ignominy were both far more toxic than any of the stench left over from the Rodriguez era or the program's ongoing NCAA probation.
To make matters easier for Hoke, holdover cronies like Jim Bollman were either barely or poorly recruiting during Ohio State's lost year of 2011 (please save your "they were in a holding pattern because the NCAA punishment was unknown" negligence excuses for Urban Meyer's face - feel free to tell him it was okay to ease up on recruiting sophomores and juniors for any reason).
Hoke's team was busy recruiting Ohio's class of 2013 while poaching Ohio State's class of 2012. Now in year two, Michigan has relationships with many of Ohio's best seniors that Ohio State failed to nurture despite having the home field advantage and every high school door wide open.
The bad news for Hoke is that despite running off some dead weight and coaching up the players worth keeping, he's still a year away from not having the roster his predecessor left him. He won't be able to sell the lack-of depth chart or early playing time much longer, and Meyer's coaching staff isn't neglecting Ohio's future stars anymore.
There are only two things I do not like about Hoke: One is his "Ohio" shtick. It's widely misinterpreted by Michigan fans as being an effective insult to Ohio State, when in reality it's a very effective jab at Ohio University (and he knows this, as a veteran of both MAC schooling and coaching). It's this misinterpretation that bothers me, because it exploits my weakness of tolerating outright stupidity.
My three children have always casually referred to Ohio State as Ohio. I've owned this shirt since Hoke lived in Muncie, where he never wore red. We've sold this shirt at 11W for even longer than that.
And, of course, just check Ohio State's fight song lyrics - all of them. Ohio has been Ohio State's languid nom de plume for decades. It's the Mark Twain to our Samuel Clemens.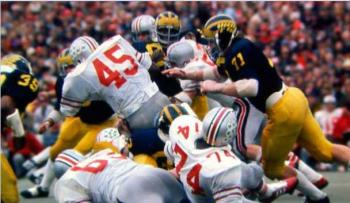 So my problem with "Ohio" is that it just isn't insulting enough. Hoke should have and could have done better than to create a bunch of doddering clones muttering Ohio at every opportunity, the same way Woody still has teenagers condescendingly saying That Team Up North from beyond the grave.
My only other problem with Hoke is that we generally love fat football coaches as much as we love fat guy touchdowns. It would be much easier to despise Hoke if he were square-jawed and svelte (trust me, you would hate Ron Zook if his coaching wasn't hilarious the same way you'd love Weis if he wasn't a such a petulant dickhead).
Michigan is mercifully back, which means we're no longer tormenting its out-of-place hillbilly coach, atrocious defensive coordinator, MAC-level recruiting or general football terribleness. There is a bear to poke again where there temporarily was a ticklebear.
We're back to making fun of the way it funnels the vast majority of its football players through the university's General Studies program just to see its alumni - and most entertainingly, its non-alumni - immediately take to the defense. We're ridiculing something besides its football, because Michigan football has returned.
The rivalry is back to being heated - not because tradition demands it on account of the way things once were, but because of the way things are becoming again.
The coming seasons should provide ample film clips that are shown decades from now when the rivlary hits another inesacable lull (with sincere apologies to the clips of Sheridan, Threet and Forcier which won't ever be repurposed for The Game's promotional pieces). So I'm thrilled Michigan has a coach of Hoke's ability holding up its side of the best sport's best story.
When his time is up in Ann Arbor many years from now, I hope Hoke is remembered the same way John Cooper is in Columbus: A championship-caliber coach with a single tragic blemish that's impossible to keep off of his epitaph.